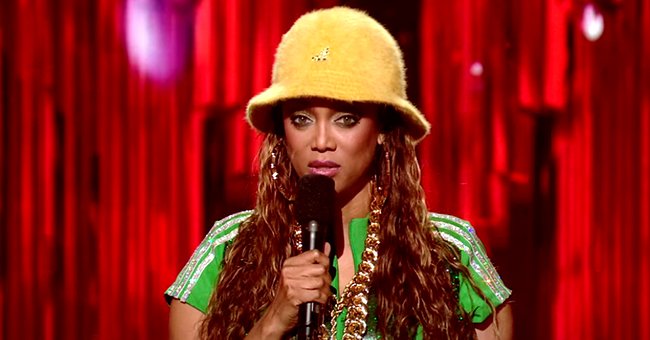 YouTube/Dancing With The Stars
DWTS Fans Slam Tyra Banks for Her Looks on Week 5 — See Reactions to Her '80s Themed Outfits
On Monday, "Dancing with the Stars" shared the look Tyra Banks would be wearing for the show's 80s Night theme. The fans of the series took to social media to complain about the host's looks for week 5.
For week 5 of "Dancing with the Stars (DWTS)" the ABC series shared an image of Tyra Banks, 46, wearing one of her three outfits for the show's 80s Night theme. The look they shared was of her wearing a gold metallic jumpsuit.
Her ensemble featured a zip-up motorcycle-style with the sleeves and the pant legs rolled up. The supermodel completed her look with a pair of pink satin stilettos and accessorized with gold earrings and two golden chain bangles.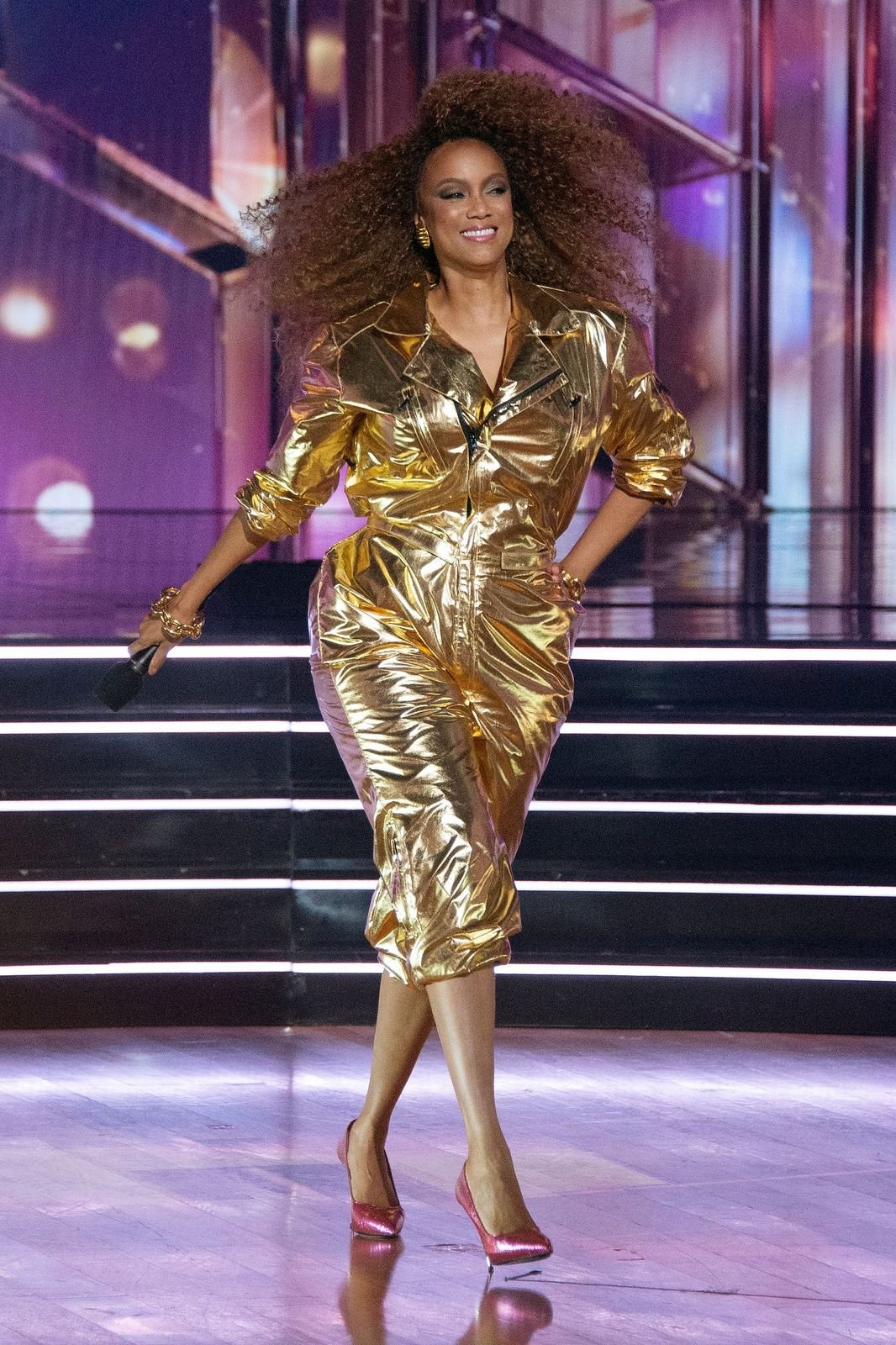 Tyra Banks on "Dancing with the Stars'" "80s them Night" for the fifth week of the 2020 season on October 12, 2020 | Photo: Eric McCandless/ABC/Getty Images
TYRA'S SECOND AND LAST LOOKS
Banks' second look for the evening was an incredibly stunning multicolor ankle-length woven wrap dress. The sparkly gown featured gold designs and she accessorized her look with a large gold chain necklace.
Other fans have also critiqued Tyra Banks' talkative and chatty way of presenting.
Her last look for the night was a sparkling green jumpsuit with short sleeves. She paired the outfit with a yellow bucket hat, she also had on layers of gold jewelry, and completed the look with a pair of thick square gold-framed glasses.
FANS CRITICIZE BANKS
The "America's Next Top Model" host seemed to stick well to the theme of the night. However, several fans found issues with her looks and some even judged her harshly with one person writing:
"I need to know who is allowing Tyra Banks to look like this on national television."
FAN'S MOCK TYRA'S OUTFITS
Another person commented with a screenshot of the host's last look and complained: "Gurl! You Look like Bob the Builder!" Some else shared a similar screenshot of Banks and added a "Fraggle Rock," character next to it, and asked who had worn the look better between the two.
Another DWTS fan went as far as sharing a golden trash bag sitting on several black ones and joked that Banks' outfit looked like that. The host joined season 29 of the dance competition this year.
TAKING OVER FROM TOM
The current sole host took over from Tom Bergeron, who had been hosting the competition series since it premiered in 2005. His co-host Erin Andrews was also let got at the beginning of the year.
Ahead of the latest episode of DWTS, Banks took to Instagram to share another startling look, a corset-style dress. She promised fans that she'd be bringing some fashion relief on the show's theme night and also mentioned her outfit changes.
IGNORING TROLLS
In a recent interview with "USA Today," Banks revealed that she wasn't going to allow trolls to get her down. The interview came one week after the host suffered a technical mixup that had her calling out the wrong names during the elimination round of the show.
Several people have taken to social media to complain about her taking over from Bergeron on the series. Addressing the criticism, the supermodel shared that she wouldn't bother engaging with negative people.
NOT GOING TO ENGAGE NEGATIVITY
Banks felt there was nothing positive to be gained from engaging trolls on social media. Some people actually went as far as threatening to boycott the show if the host replaced Bergeron.
Other fans have also critiqued her talkative and chatty way of presenting. She also vowed to keep changing clothes during Monday's episode despite a garment glitch in the elimination round.
Please fill in your e-mail so we can share with you our top stories!