'Avatar' Star Zoe Saldana Shows Her Fit Belly While Flaunting Her Slim Body in a Pink Swimsuit
Zoe Saldana recently shared a new photo showing off her flat stomach and toned legs. The actress donned a pink swimsuit in honor of Breast Cancer Awareness Month.
"Avatar" actress and proud mom of three, Zoe Saldana showed off her incredible body in a recent Instagram post dedicated to all breast cancer victims and survivors.
The post featured a photo of Saldana donning a pink two-piece swimsuit that showed off her tiny cute tattoos. The outfit also showed off her flat tummy and toned legs.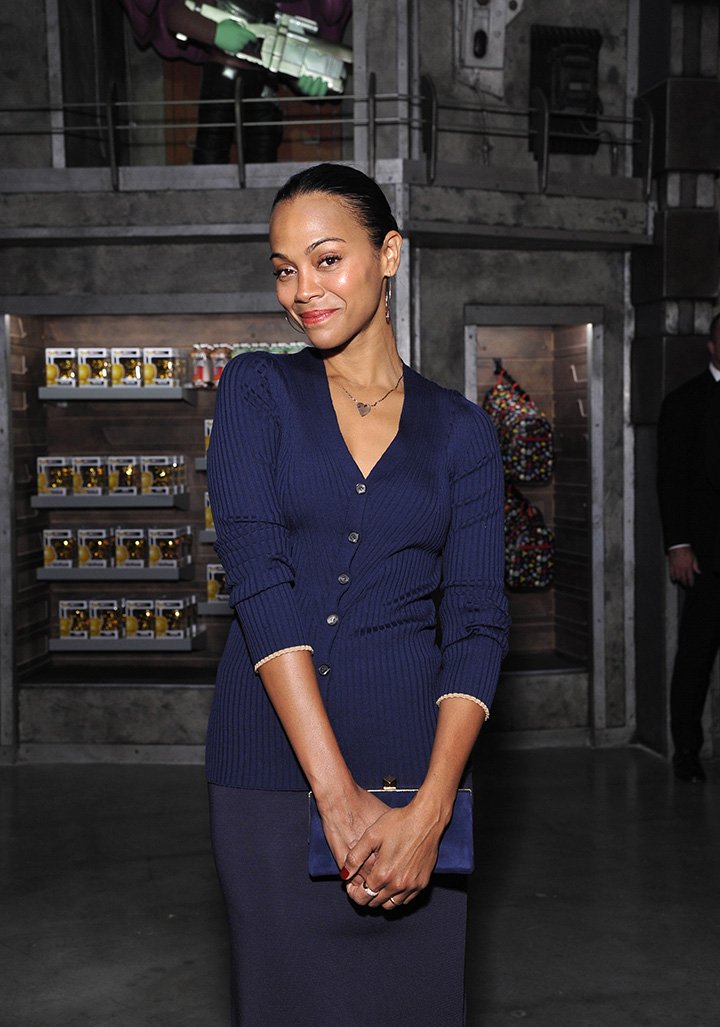 Leaning against a rail, Saldana rested her arms while positioning one leg akimbo. She rocked an ombre hairstyle that she let loose over her shoulders. She topped off her look with a red lipstick that complemented her pink outfit.
With a coy smile, the actress posed for the gorgeous picture. In the caption, Saldana explained that the post was dedicated to women who had suffered breast cancer. She wrote:
"'It's breast cancer awareness month, and I'm joining my friends @kitundergarments company for #kitstokickcancer!"
Saldana continued by adding that Kit undergarments company has partnered with another company and will be donating 5% of their sales for October.
She concluded by explaining that celebrities such as Kate Hudson, Katy Perry, Mindy Kaling, and Dakota Fanning have also been a part of the movement.
In April, Saldana gave fans a glimpse of her experiences when she shared a video of her twin boys fighting in the yard.
Though Saldana's photo was for a charitable cause, fans could not stop gushing over the actress' good looks and her incredible body. While one fan noted that Saldana pulled off the pink swimsuit, another fan said she could not believe Zoe has such a fit figure even after having three kids.
Saldana and her husband, Marco Perego, share three kids, five-year-old twin boys Bowie and Cy, and a three-year-old son, Zen. Raising this trio is no easy task, especially during the lockdown.
In April, Saldana gave fans a glimpse of her experiences when she shared a video of her twin boys fighting in the yard. She accompanied the clip with a caption, explaining that though being a parent to little boys is fun, it is also a lot of work.
While the boys might still be toddlers, this has not stopped the actress from sharing all aspects of her life with them. Saldana once explained that her kids understand she is famous, but that is only because she tells them everything about herself.
Parenting might be a tad tricky, but it appears Saldana has got the hang of it and there is nothing more that she loves than being a mom to her adorable boys.