Public Appearances, Photoshoots, Tons of Attention — Inside Gabrielle Union's Daughter's Life
Kaavia James, the adorable daughter of Dwyane Wade and Gabrielle Union, has won herself many fans worldwide due to her funny facial expressions, photoshoots, and appearances which have contributed to her fame as a toddler. 
Gabrielle Union and Dwyane Wade's daughter, Kaavia Wade, is known on social media as the "Shady Baby" because of her funny expressions which are the center of many memes. 
Since she was born on November 7, 2018, the adorable Kaavia has continued to entertain her 1.3 million followers on her Instagram page which is managed by her parents with posts of her moments. Let's relive some of the little tot's memorable moments.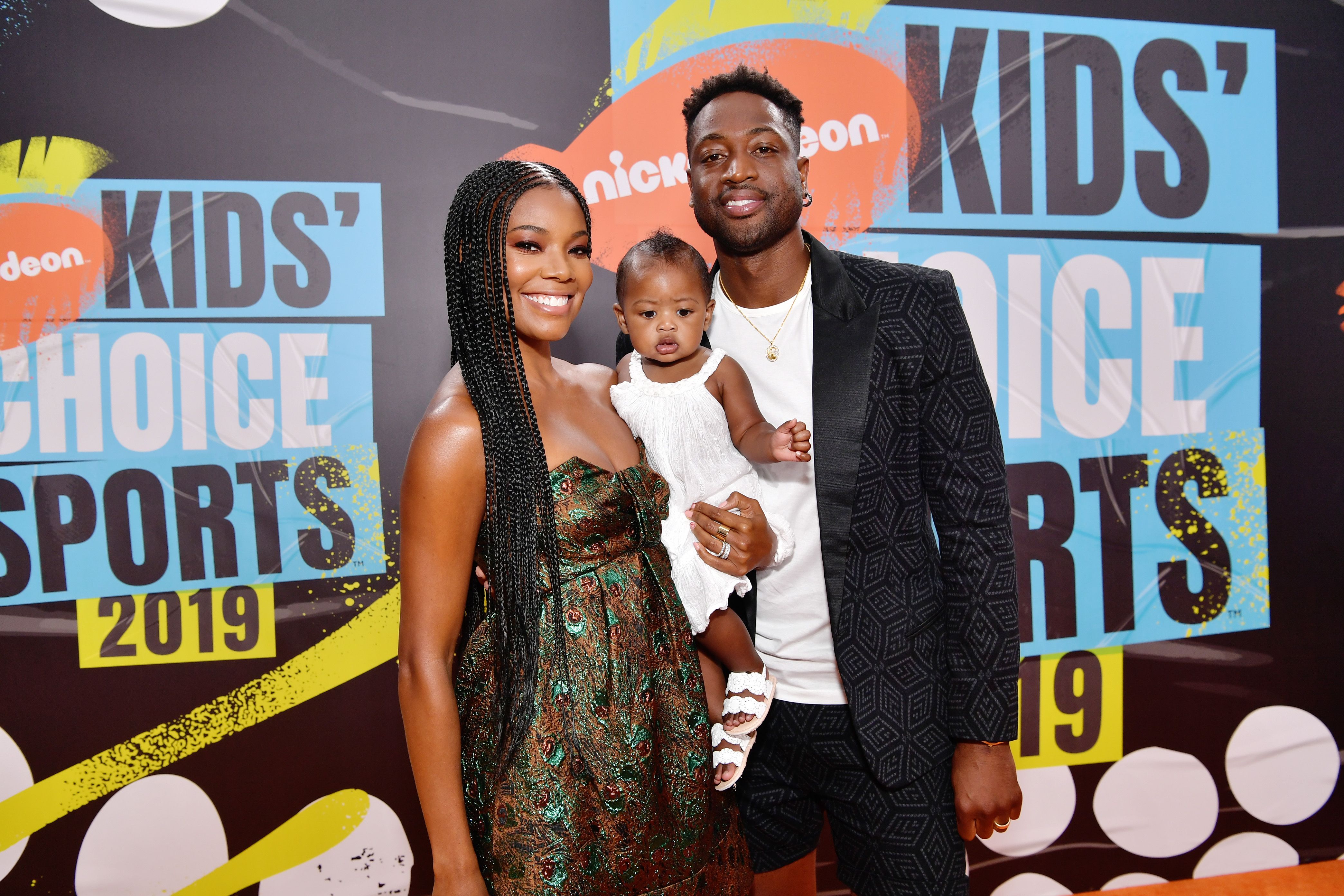 KAAVIA DISLIKES HER DAD'S BANDANAS
In June 2019, Kaavia shared a picture that showed her all smiles as her dad carried her in his arms while they spent time at the beach. In the caption to the post, the little tot showed her dissatisfaction with her dad's bandanas, writing: 
"He's back on those bandanas huh?! Just smile, it'll be over soon ?????? #1stTimeInSand." 
A more recent post during Easter on April 13, 2020, showed Kaavia and her dad wearing matching pink outfits while walking hand in hand.
In the caption to that particular post, the little tot said it was important for parents to walk their kids because the kids need the exercise. 
PAY ME MY MONEY ZAIRE
In February, Kaavia shared a picture of her, her mom and her older brother Zaire watching an NBA game. Union carried her daughter who looked at Zaire with her usual shady facial expression. 
In the caption to the post, the adorable baby revealed her reason for looking at her older brother that way, saying he thought she would not remember he owed her money. The Shady Baby added that Zaire was not slick before requesting for her money. 
SELF-LOVING KAAVIA
In her post from March 8, Kaavia took the time to show love to herself. She shared a short video clip that showed her admiring herself in front of the mirror, going back and forth to take one last look at how gorgeous she looked. She captioned the post:
"Oh girl, you've really outdone yourself this time! You cute, you real cute! Self talk game strong. #YouGotThisGirl."
In June, the cute baby celebrated Juneteenth with her fans by taking part in an Essence Cover Challenge, sharing a picture of herself and her mom posing in African print dresses. 
Union's test quickly backfired as Kaavia jumped to grab her snacks even before her mom left the room.
KAAVIA'S SWIMMING IS MOTIVATIONAL
The Shady Baby showed her sarcastic side in a post in August that showed her taking swimming lessons and showing her incredible swimming skills. 
In her caption, Kaavia dished out some swimming tips which also sounded motivational. The adorable baby tagged herself a motivational speaker in the caption of the post. 
SHADY BABY IN SHADES
Kaavia shared a photo on September 22 that showed her sitting on her baby trolley. She wore a blue top and blue shorts which she matched with colorful Crocs slippers.
She also wore some nice shades and looked so serious in her pose. The hilarious caption to the post read, "Same gurl, same."
NO ONE HONKS AT KAAVIA
A week ago, Kaavia shared pictures of herself on the driver's seat of an SUV, holding the wheel. It seemed someone upset her while she was testing her driving skills and she was ready for whoever it was. 
More photos showed her turning around, looking wondrously for the offender. In the caption, Kaavia asked if someone just honked at her before joking that she would stay in the parking space until next week. 
KAAVIA IS THE GEORGE CARLIN OF BABIES
Union said her daughter was like the George Carlin of babies as she compared Kaavia to the late American comedian during a chat with Ellen DeGeneres.  She said her daughter was the most adorable baby and that she had not seen a more serious baby in her life.
Union said it was her favorite cover yet, adding that Kaavia had brought a little light and joy to her life.
THE FRUIT SNACKS CHALLENGE
Kaavia and her mom spend a lot of time together performing loads of activities. During one of their special mom-daughter moments, Union put her daughter to the test with the trending fruit snacks challenge. 
The doting mom left one of her daughter's favorite snacks, Bitsy's Brain Food, in front of her, telling her to wait until she comes back before eating the snacks. Union's test quickly backfired as Kaavia jumped to grab her snacks even before her mom left the room. 
KAAVIA'S FIRST PHOTOSHOOT
The Shady Baby appeared on her first magazine cover when she and her mom graced the cover of Parents Magazine's May 2019 edition. 
Announcing her daughter's cover page appearance, Union said it was her favorite cover yet, adding that Kaavia had brought a little light and joy to her life, and challenges her to be a better version of herself. 
Union also paid glowing tribute to her daughter on her first birthday, sharing a cute photo montage of her baby's precious moments accompanied by a long message where she celebrated Kaavia. 
With Kaavia set to turn two on November 7, she already has the world at her feet and is already very Hollywood. Her numerous fans look forward to seeing more of her unforgettable moments and shady facial expressions.