See Rare Family Portrait Jason Aldean's Wife Brittany Shared of Her Husband & Beautiful Kids
Jason Aldean's wife Brittany shared a funny photo of her family as she asked fans whether the post was Christmas-card worthy. The picture indeed appeared to be something out of a holiday shoot. 
On Monday, Brittany Aldean took to Instagram to boast beautiful photos of her gorgeous blended family of six. Brittany and her famous country singer husband Jason, share four children altogether. 
Brittany, 32, shared two slides in the post, which saw fans reacting with laughter and joy thanks to the younger kids. Jason's two daughters from his first marriage looked gorgeous in red. The post is found below. 
PORTRAIT AHEAD OF CHRISTMAS
In the shots, we see Brittany in an ankle-length army green grown that features a high slit to her thigh and long baggy sleeves. Her husband looks smart in a grey suit and with a white undershirt. 
Jason's daughters Keeley, 17, and Kendyl, 12, are both wearing red dresses. Keeley's is a little longer than her younger sisters. Meanwhile, son Memphis, two, and Navy, one, sit in their parent's arms. 
In the first slide, Navy — who is in a white frilly dress — is turned away from the camera. In the second, we see her face while her brother's own is half-hidden as he leans down. 
"Christmas Card?? [Christmas tree emoji] I like the second one lol," wrote Brittany in the post's caption. Many agreed with her, with one person suggesting she use both the shots with a "front and back card."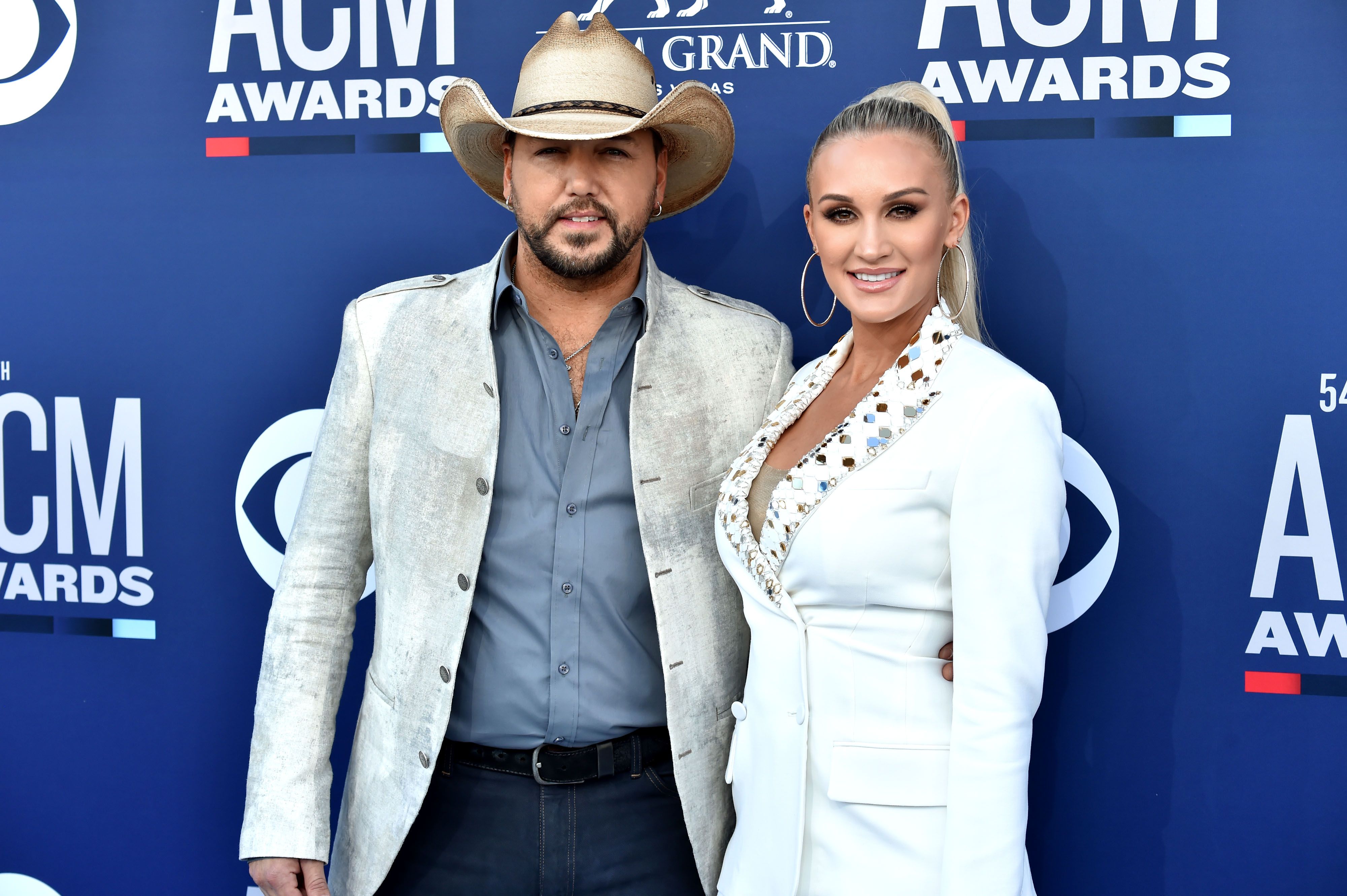 ABOUT THE YOUNGEST KIDS
Jason and Brittany started their blended family after tying the knot in 2015. After struggling with infertility for a year and a half, the pair welcomed their son Memphis on December 1, 2017. 
Two years later, they welcomed little Navy. Brittany said the young kids' closeness in age was intentional. Earlier this month, she even revealed that the two young children were almost IVF twins. 
In a recent post, Brittany recalled that she wanted to put in both her children simultaneously, but somebody talked her out of it, and Memphis "was transferred first." 
ABOUT JASON'S DAUGHTERS
Their big sister, Kendyl, has been eager to help out ever since her new siblings arrived. The young girl is also close to her father, who once showed up in an '80s costume for her father-daughter school dance. 
Meanwhile, a young Keeley is taking after her father's footsteps — but not all the way. The teenager is interested in music, but not of the country type. She learned to play guitar to do more rock stylings. 
ABOUT BRITTANY ALDEAN
As for mom Brittany, she may be best known for her run on "American Idol." Although she did not make it past the early rounds, the judges commended her stage presence. 
Brittany and Jason were in hot water at one point when they appeared in public while Jason was still married to his first wife, Jessica Ussery, in 2012. At the time, both Jason and Brittany apologized for indiscretions.
ABOUT THE KIDS' ROOMS
Since then, it's mostly been smooth-sailing for the pair, who are thrilled to be parents of young kids. In August, Brittany shared the setup of her children's rooms and it's clear she put in a ton of effort. 
Memphis' room sported a sailor theme while Navy's nursery was decked out with a castle reminiscent of the family's Nashville home. The incredible rooms might work just as well for Christmas cards.