Ciara's Baby Son Win Poses in $700 Gucci Ensemble Showing His Cute Black Hair & Diamond Pendant
Singer Ciara's husband, Seattle Seahawks quarterback, Russell Wilson, shared an adorable snap of his son dressed in Gucci to celebrate his recently attained "99 Club" status.
Singer Ciara's toddler son, Win, recently melted hearts in an adorable photo shared on her husband, Russell Wilson's Instagram page. The doting dad wrote:
"'99 problems but Win ain't one.' Madden #99Club."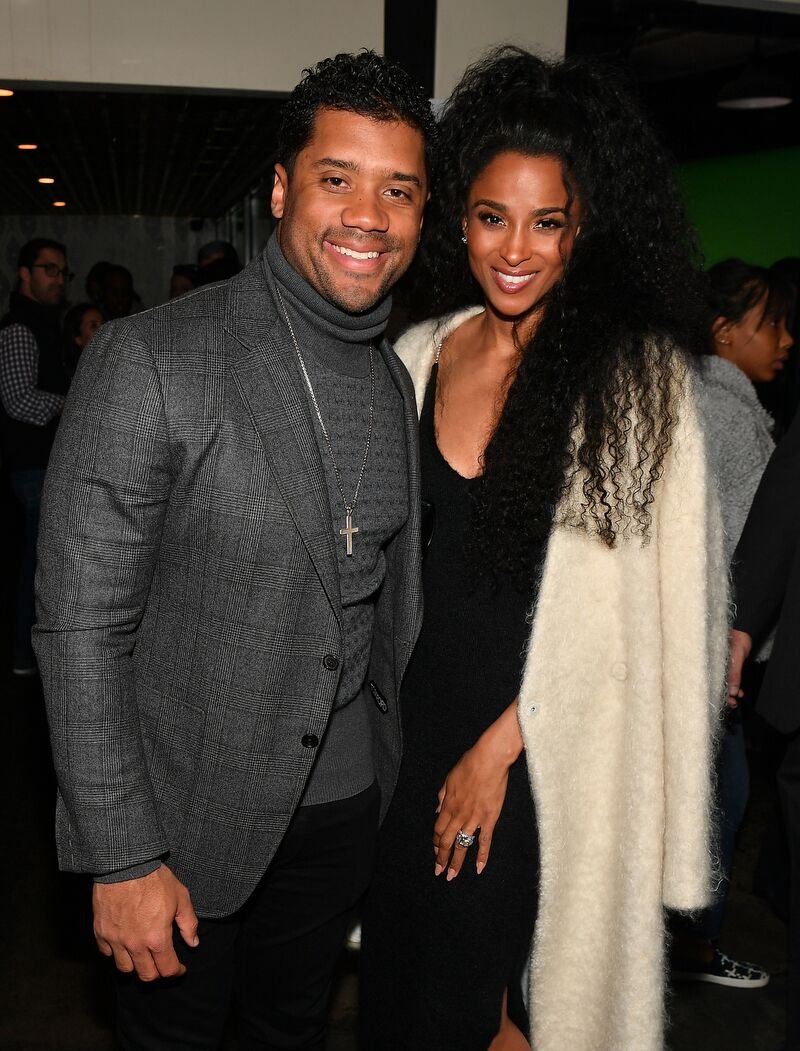 From the charming photo of Win, it was clear to fans that his famous parents were already packing his closet full of the flashiest and most lavish designer pieces possible. The adorable toddler was decked out in Gucci from head to toe.
Win's look began with his full head of dark locks and his new eye-catching gold chain necklace that read "99" which no doubt cost more than a pretty penny. He sported a relaxed look in his $450 blue and red Gucci sweater onesie and his $250 white leather sneakers.
The post came just hours after Wilson officially reached the "99 Club" status in the Madden NFL '21 video game ranks. The NFL star's fans and followers fell in love with the snap of his mini-me and gushed over Win while congratulating him.
Ciara and her kids got all dressed up to support the family patriarch.
Wilson was not the only member of his family who decided to celebrate his new "99 Club" status with a cute celebratory post on Instagram.
The NFL star's wife, Ciara, also took to her Instagram to celebrate her husband's success with her millions of fans. She posted the same photo of Win in his all-Gucci outfit with a caption similar to her husband's caption:
"I got 99 problems but WIN ain't one So proud of you @DangeRussWilson for being inducted into the #99 Club."
The adorable photo also captured the hearts of Ciara's fans and followers like it did Wilson's, reportedly garnering over two hundred thousand likes in less than an hour.
Wilson and Ciara's celebratory posts were not the first of the many posts they shared incorporating their young son and his special name in big events occurring in their lives.
In September, when the Seattle Seahawks went up against the Atlanta Falcons, Ciara and her kids got all dressed up to support the family patriarch. They all wore the number 3 jerseys and the colors of Wilson's team as they cheered him on in a post shared on Ciara's Instagram.
The singer shares two of her three kids, Win and Sienna, with Wilson, while she shares her oldest with rapper Future. She has been doing an amazing job of raising her children while doing her best to give back and supporting the community during the pandemic. Wilson is one lucky man to have such an incredible wife and family.