'BH90210' Star Tori Spelling Reveals Trolls Mocked Her Looks in Early Days of the Internet
She found fame thanks to her role as Donna Martin in the teenage drama series from the '90s "Beverly Hills, 90210," but she had to pay a high price on her self-esteem after being put under the spotlight.
47-year-old actress Tori Spelling was only 17 when she debuted on what was her breakthrough role in the iconic teenage drama series "Beverly Hills, 90210," the brainchild of her late father, TV producer Aaron Spelling.
While the role turned her into a star and gave her a lucrative career, it also put the then-teenager at the center of the spotlight, and she recently opened up about how all that attention and subsequent criticism undermined her confidence.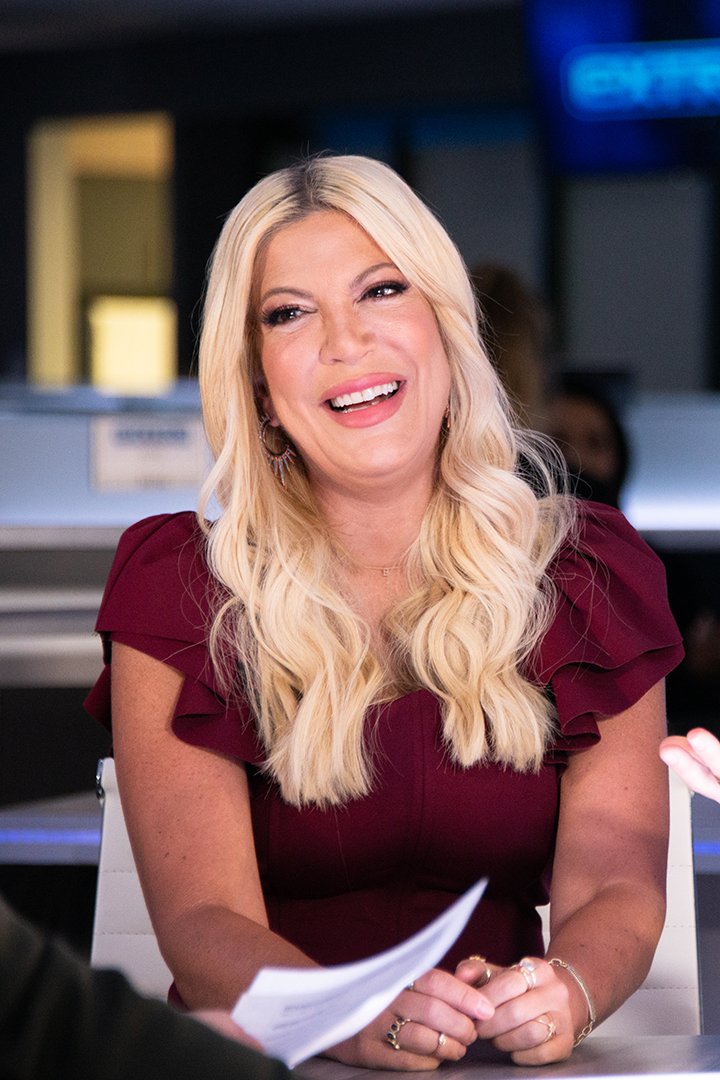 DIFFICULT MEMORIES
On October 18, 2020, thirty years after "Beverly Hills, 902010" premiered, Tori took to her Instagram feed to share a post with a long and confessional caption on which she recalled being the target of "internet trolls" in the early days of the Internet.
In the post, Tori shared a three-image slideshow that pictures her as she looks today and how she looked in character in "Beverly Hills," as she was featured on the cover of Rolling Stone in 1997, after starring in "Scream 2."
Back in February, Tori proved that she is very comfortable in her own skin when she posed for photos wearing a green one-piece swimsuit as she enjoyed a beach trip with her friends.
As we learned from the post's caption, the three images represent three important moments in her journey to self-acceptance about her appearance, one being her present, and the others being the moments she felt worst and best about it.
Tori started the caption by remembering her father's thoughts regarding the eyes of actors, which according to him were "the windows to [one's] soul." This is important because later, it was precisely Tori's eyes that were especially mocked by the press and the public. 
"I used to hate my eyes. When I started 90210 at 16 I was filled with low self-confidence. Then, internet trolls ( yep we had them back then too!) called me frog and bug-eyed," Tori recalled.
Tori then shared how hard it was for her to "being put under a microscope" at such a vulnerable stage of a person's development, and she admitted to having spent years asking makeup artists to make her eyes "look smaller."
LEARNING TO LOVE HER LOOKS
But after years of reportedly crying over her looks at the makeup trailer chair, and feeling miserable not only about the size of her eyes but also about others of her features, she finally came to realize that her eyes were actually her biggest asset.
As Tori explained, this only happened after she was featured on the cover of "Rolling Stone" in a reenactment of the famous shower scene from Alfred Hitchcock's "Psycho, writing:
"My eyes made that photo. They showed the emotion I was "feeling in my soul" in that picture."
"Cyberbullying existed then and it does now worse than ever. So, every time one of you ask me why I don't look straight on in photos and videos know why I make that choice," Tori concluded her post, hoping for her story to teach one thing or two to not only those dealing with their self-confidence, but also to potential bullies.
A NEW CONFIDENCE
Even though Tori revealed that even today she is very careful and self-conscious about what angles of her face are photographed, and that she is still haunted by the criticisms of the past, she has found her confidence and she is no stranger to flaunting her looks on social media.
Displaying not only her beauty but also her sense of fashion, which she balances with the realities of motherhood, Tori recently appeared in a photo on her Instagram modeling a sporty grey overall over a T-shirt as she returned from getting some groceries at Target.
Back in February, Tori proved that she is very comfortable in her own skin when she posed for photos wearing a green one-piece swimsuit as she enjoyed a beach trip with her friends at a lavish hotel.