Meghan Trainor Admits She Waited to Be on 'The Kelly Clarkson Show' for Her Gender Reveal
During her recent appearance on Kelly Clarkson's talk show, fellow singer Meghan Trainor excitedly revealed the gender of her baby, which even surprised the mom-to-be.
It's an exciting time for Meghan Trainor. With a new album and first-time motherhood on the horizon, the "All About that Bass" singer is positively glowing as her dreams unfold.
Married to Daryl Sabara since December 2018, the couple wanted nothing more than to start a family. But Trainor also had reasons behind the way she revealed the details about her pregnancy so far.
HOW SHE SHARED HER PREGNANCY NEWS
During a surprise visit to the "TODAY" show with Hoda Kobt and Jenna Bush Hager, earlier this month, Trainor broke the news of her pregnancy, hardly able to contain her excitement. Revealing why she chose to  break the news on the popular morning show, Trainor explained:
"We were thinking about who do I tell first, and I was like, I told Hoda since I was 19 going to the TODAY show (that) I will have the most babies in the world."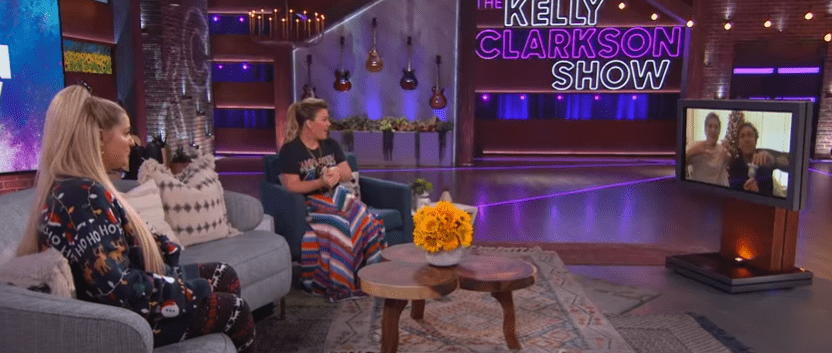 THE GENDER REVEAL
Trainor and husband, who married on her 25th birthday, decided to share the gender of their baby with Kelly Clarkson, and the reason for that is rather straight forward. 
He took the picture of her biting into a candy cane while wearing a Santa hat.
In a clip revealed on Tuesday, Trainor said that her guessing had been totally off because she went with the old wives' tales. Just over halfway through her pregnancy, the singer  and her husband announced that she is expecting a boy, and gushed to Clarkson:
"I saved it for you Kelly, I love you!"
HER NEW ALBUM
Trainor's creativity and musical talent already gave birth to a holiday album, which the Grammy winner announced last month. Getting into the holiday spirit with her album titled A Very Trainor Christmas, she's sure to keep the bells jingling.
The album's cover art turned into a joint effort from Sabara and Trainor's older brother Ryan. He took the picture of her biting into a candy cane while wearing a Santa hat, otherwise bedazzled with shiny Christmas decor.
ANOTHER CHRISTMAS ALBUM
Relatedly, country singer Carrie Underwood also announced her plans on releasing a Christmas album earlier this year. "My Gift" hit the shelves on September 25, and it even features her young son Isaiah as he made his debut on one of the tracks. 
Concerning the tracklist, Underwood said that she created a mix of the new songs the personal meaning, and older Christmas classics she hoped would become fan favorites as well.