See Throwback Photos Muhammad Ali's Daughter Laila Shared of Him Bonding with His Grandkids
Muhammad Ali's daughter Laila took to her Instagram to share throwback pictures of the late famous boxer bonding with his grandchildren.
In 2016, the world was greeted by the sad news of Muhammad Ali's passing, and four years down the line, his daughter Laila Ali revisits memories of the legendary boxer.
Laila shared a series of pictures of Ali bonding with his grandchildren. Laila said she missed her father while adding that her daughter Sydney shared a special bond with the late boxer.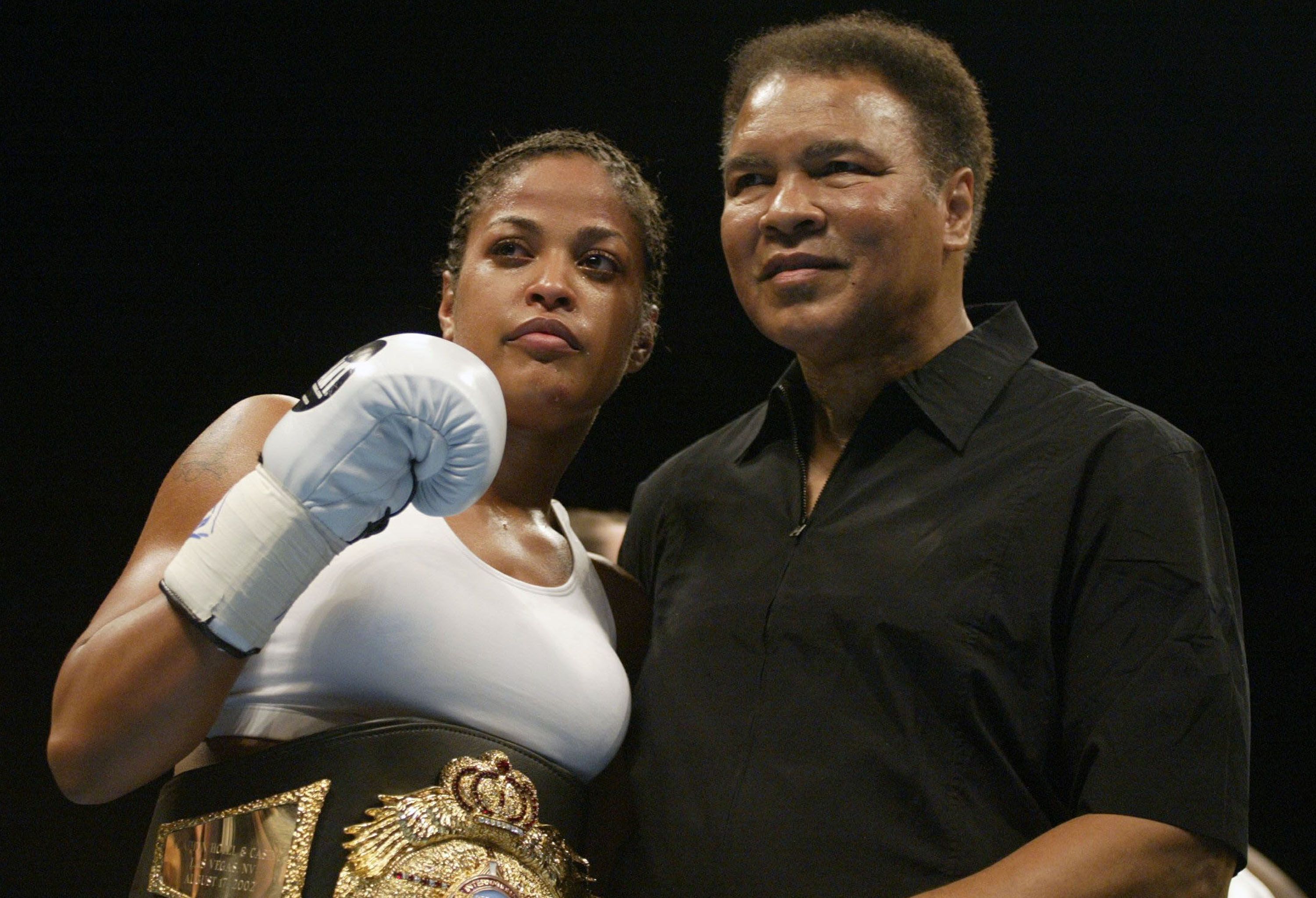 Laila, a former professional boxer and mother of two, has said that her father prioritized his family during his lifetime and would often create time to spend with his grandkids despite the state of his health.
In the picture that Laila shared, Ali could be seen holding up his grandchildren in different loved-up pictures. Laila captioned the post;
"We miss Papa! My daughter Sydney had a special connection with my father~They definitely met before this lifetime."
Ali, during the peak of his life, was voted the most popular man alive and is one of the most beloved men in the history of America. It is not surprising that a post that pays tribute to him would amass over 31 thousand likes.
Fans of the iconic boxer took to the comment section to express their love for the late fighter. One wrote that Ali earned his love as well, while another described Ali as a champion in the ring and also as a human. A third fan called Ali the "ultimate greatest."
He cemented his name as one of the best boxers in history following his victory against Joe Frazier and George Foreman.
For many, Muhammad Ali was a great boxer and a passionate philanthropist, but for his daughter Laila, he was a legacy she tried to live out.
Laila reportedly said that her father shaped her outlook on life. She noted that despite the glamour that came with being a child of the famous boxer, his dedication to giving back was his greatest gift to her.
The mom-of-two said she also tries to instill philanthropy as an important value in her children. Laila was equally successful as a boxer being a four-time undefeated boxing world champion.
In a post, Laila was reported to have said that all his nine children surrounded Ali on his death bed and remarked that he was sent off in a very peaceful way. For Laila, her father is as symbolic as the likes of Nelson Mandela as a figure of hope and an embodiment of strength.
Ali's daughter, Rasheda said that she regrets not asking her father the secret of his incredible self-belief despite the challenges he faced in his career. Rasheda said she told her father that he would be young, handsome, fast, and pretty when he got to the "other side."
While Ali's daughters have fond memories of him, the same could not be said of his son, Ali Jr., who was reportedly estranged from his father for some years. After he got a piece of his father's wealth, Ali Jr. allegedly left his wife and two children. 
Muhammad Ali is widely regarded as one of the greatest athletes of the 20th century. He cemented his name as one of the best boxers in history following his victory against Joe Frazier and George Foreman. 
Ali was diagnosed with Parkinson's disease in 1984, which many attribute to the physical pressure he was exposed to in his boxing career.
He received a Medal of Freedom in 2005 following his extensive work for humanity. The legendary boxer died on June 3, 2016, at the age of 74, following a brief battle with a respiratory problem.