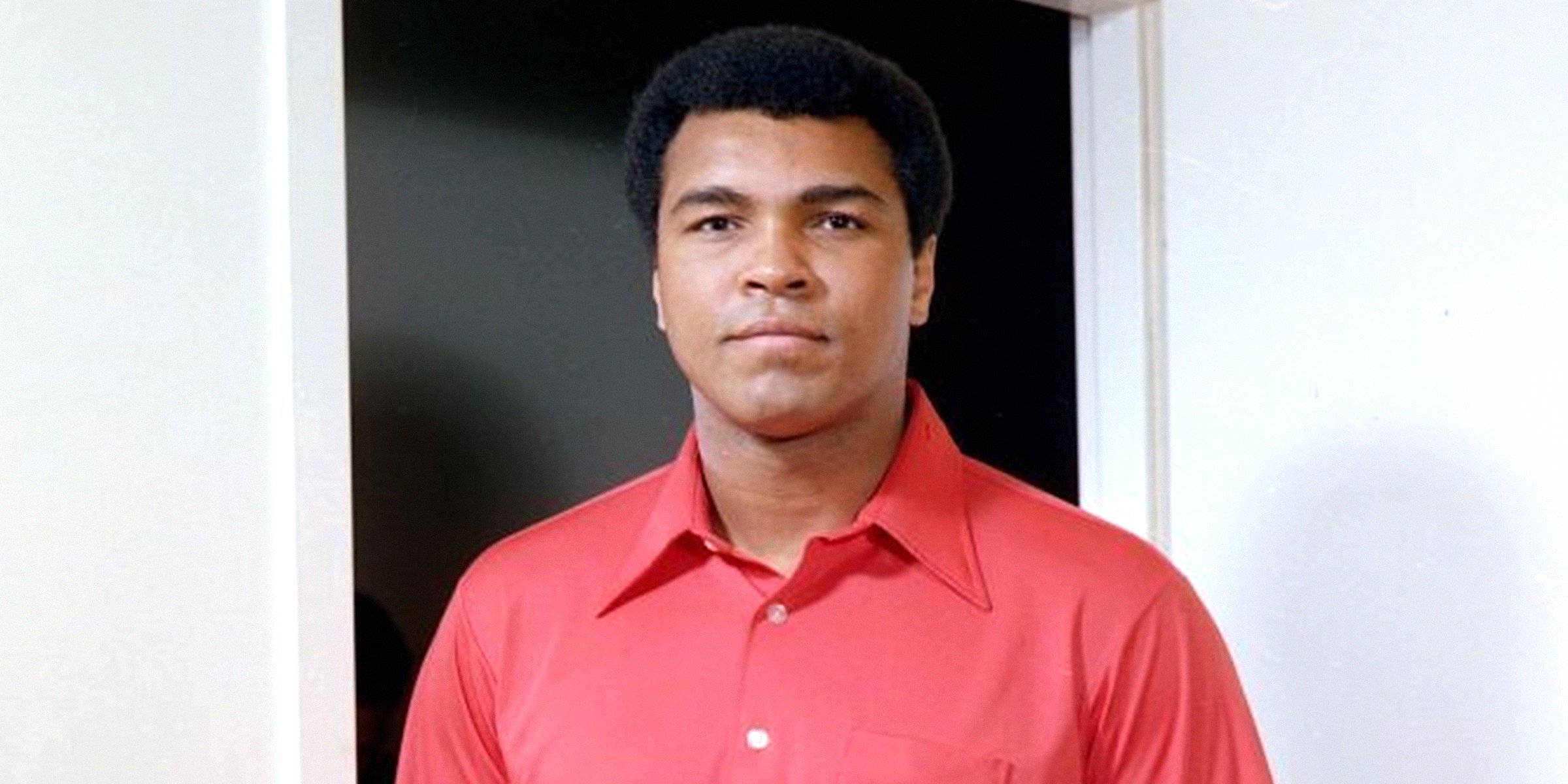 Muhammad Ali | Source: Getty Images
Muhammad Ali Had 9 Acknowledged Children – Meet Them All
Muhammad Ali passed on in June 2016, and the boxing icon was survived by his nine children: seven daughters and two sons. As they uphold his legacy, Muhammad's children have honored their father through social advocacy and adherence to his teachings.
Muhammad Ali's first marriage to actress Belinda Boyd was arranged between himself and her parents when she was a teenager. The couple married in 1967 and first welcomed Maryum Ali. They had their twin daughters, Jamillah and Rasheda Ali, two years later.
Muhammad and Belinda's last child is Muhammad Ali Jr. In 1972, the boxing champion was extra-maritally involved with Patricia Harvell, and the pair welcomed Miya Ali. In 1974, he was romantically linked to Aisha Fletcher, and the former lovers had Khaliah Ali.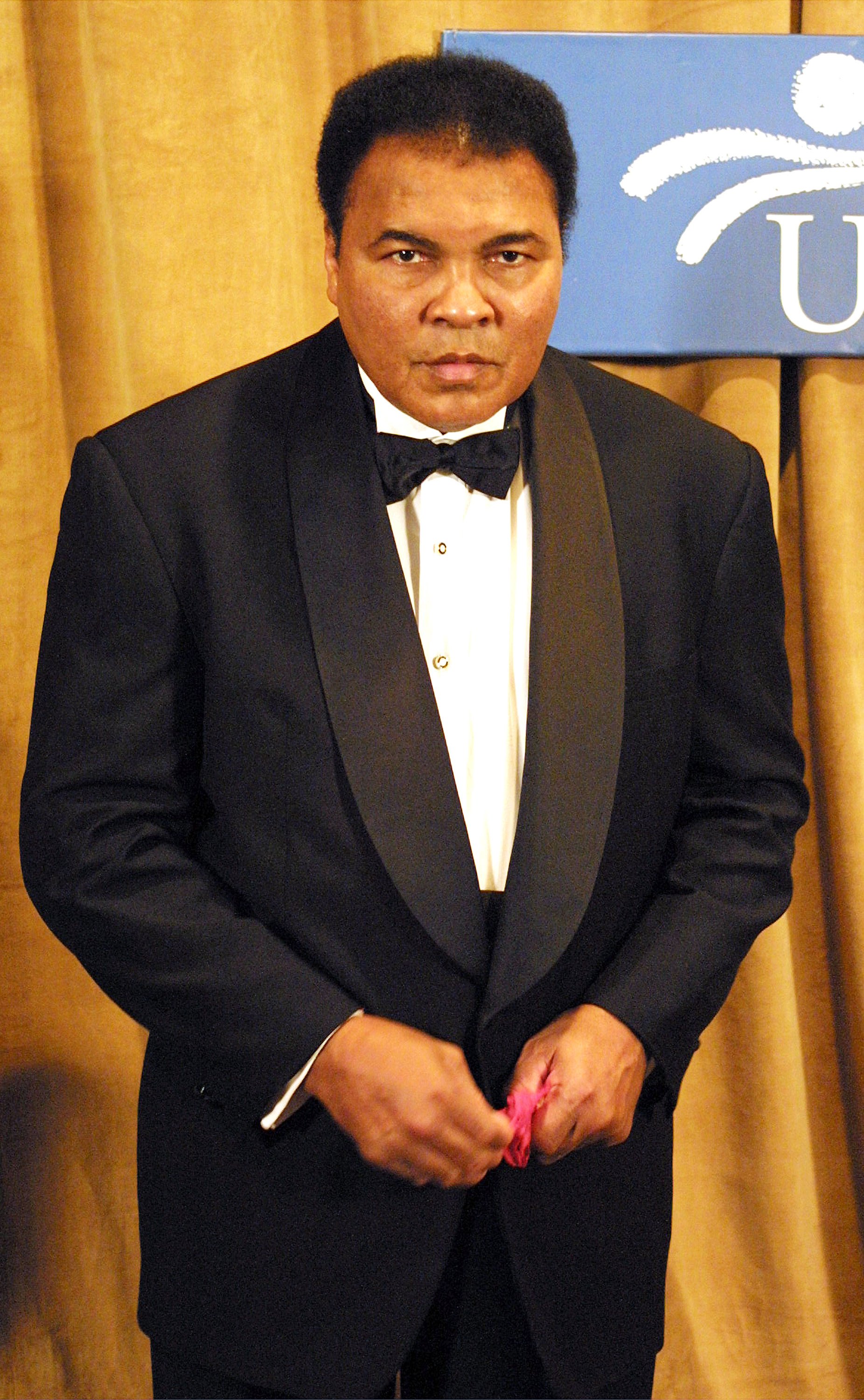 Muhammad Ali poses for a photo on March 14, 2001, in New York City | Source: Getty Images
In 1977, Muhammad took a third wife, Veronica Porché, and the pair had two daughters, Hana and Laila. With his fourth wife, Lonnie Williams, he adopted Asaad Amin as a baby. Meanwhile, Kiiursti Mensah-Ali is Muhammad's alleged daughter with a woman named Barbara Mensah.
Although the three-time boxing heavyweight champion had a colorful love life, he ensured his children felt prioritized as they all remembered him fondly. However, even with those warm memories, some wished they had shared a stronger bond with him.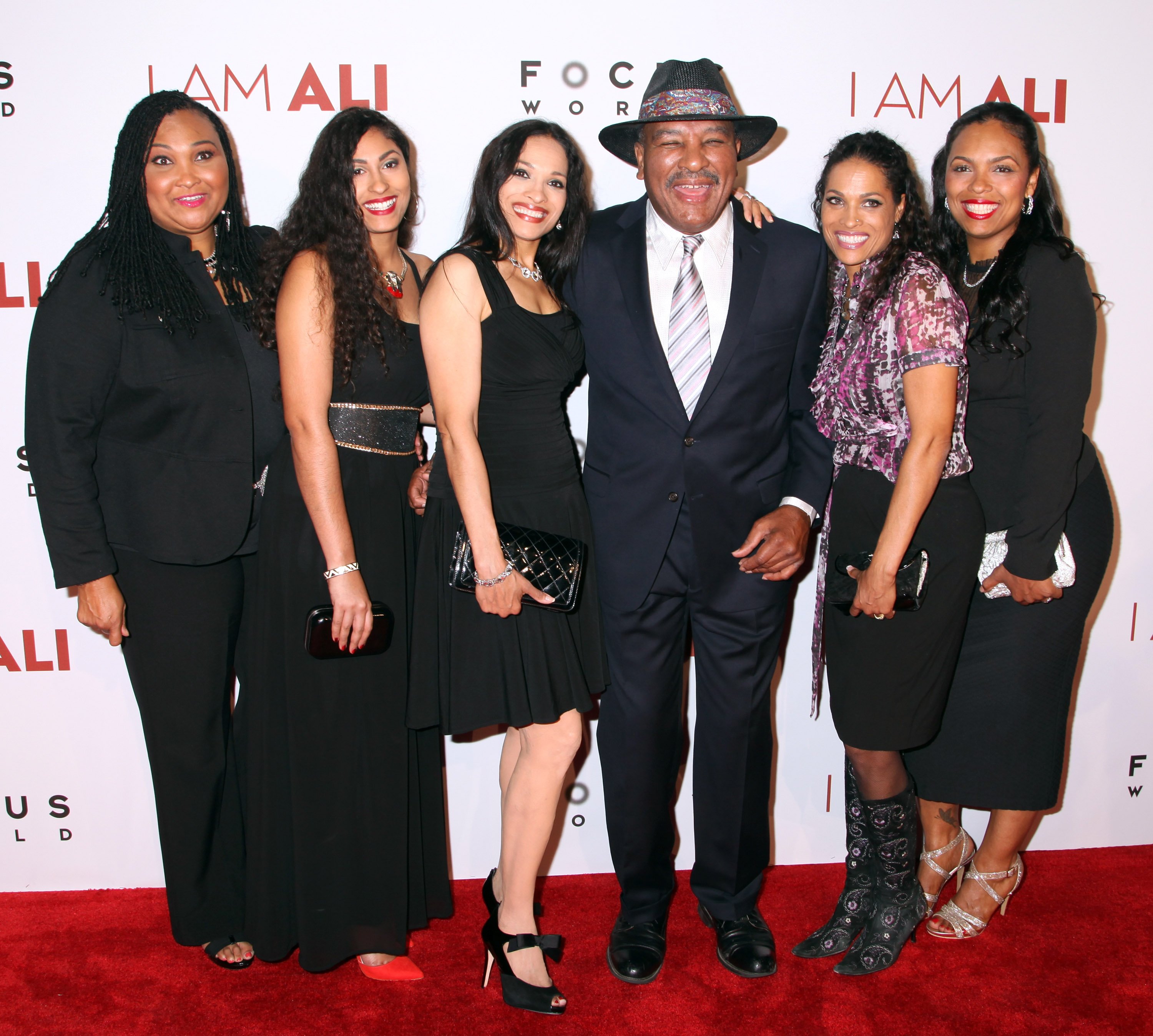 Maryum Ali, Guest, Rasheda Ali-Walsh, Rahman Ali, Jamillah Ali-Joyce and Hana Ali pose on the red carpet as they arrive at the Los Angeles premiere of Focus World's "I Am Ali" at ArcLight Hollywood on October 8, 2014, in Hollywood | Source: Getty Images
Maryum "May May" Ali
Maryum was born in 1968 and has always been a strong voice for social justice advocacy in all her work. As a child, she told her father that her purpose in life was to help people. She attained a bachelor's degree in Social Work, graduating Magna Cum Laude.
As an activist, Maryum is a well-known Public Speaker who often delivers keynotes for social and human rights organizations. She has been the spokesperson for The Parkinson Alliance for twenty years and appeared in a docu-series called "60 Days In."
In the documentary, Maryum went undercover as an inmate at an Indiana jail to determine what recommendations could be made for jail reform. Muhammad's firstborn is also an author. She wrote a children's book inspired by her dad called "I Shook Up The World: The Incredible Life of Muhammad Ali" in 2003.
As a young woman in her 20s, before dedicating her life to activism, Maryum embraced her creative side, releasing a hip-hop album titled "The Introduction" via the Scotts Bros Records label. She also worked as a stand-up comedian for over a decade.
Rasheda Ali
Rasheda was born alongside her twin sister in 1970. As her father was diagnosed with Parkinson's, Rasheda became an advocate, working with organizations raising awareness about the sickness. She's also married to restauranteur Robert Walsh, and the couple has two sons, Biaggio and Nico.
The most important lesson she took from her dad was being humble and remaining so even while facing adversity. Rasheda remembered him as a giving man who continued his philanthropy after people took advantage of him and even after he got sick.
Jamillah Ali
Jamillah Ali Joyce studied at the University of Illinois, where she majored in Communications. After working as a marketing director for the MARC Corporation in Maryland, she moved back to her home state, Illinois, to work in public services under Secretary of State Jesse White.
Today, Jamillah holds the position of Illinois Secretary of State Employment Counselor in Chicago. She's married to an attorney named Michael Joyce, and the couple has three children, two of whom are in university and one a kindergarten student; Nadia, Amira, and Jake.
Muhammad Ali Jr.
Muhammad Jr. drew his first breath in 1972 in Philadelphia. His relationship with his dad was quite strained as it coincided with when Muhammad's Parkinson's symptoms began to show. Muhammad Jr. grew up mainly with his grandparents as his dad was out boxing and his mother pursued acting.
His mother is famously known as Belinda Boyd, but her Muslim name is Khalilah. Belinda was 17 when she married Muhammad's dad, who was 30 then. The couple initially didn't have a relationship, but she agreed to the arranged marriage, and they soon had children. Still, the union had its tumultuous moments.
Miya Ali
Miya was born the same year as her half-brother, Muhammad Jr. She didn't spend much time with her dad, leading to her peers often denying that she was the famous Muhammad Ali's daughter in school. However, Muhammad came to Miya's aid when she called him crying about the teasing.
He showed up at her home and walked hand-in-hand with Miya in her neighborhood to show people that she was, indeed, his daughter. At her school's assembly, he had her point out the kids that teased her. As they each came up front, Muhammad shook their hands, telling them that he was Miya's "daddy."
Khaliah Ali
Khaliah Ali was born in 1974 to a 16-year-old mother. She currently works as a social justice campaigner like her older sisters and serves as a Philadelphia Juvenile Center board member. Khaliah is also a passionate Black Lives Matter activist alongside her son Jacob.
Hana Ali
Hana is Veronica Porché's first child with the boxing champion. Hana has written many books about her father's life. She described herself as a "daddy's girl" who thought her dad "could do no wrong." However, after she learned about his infidelities, she gained a full picture of Muhammad as a less-than-perfect human being.
Laila Ali
Laila is Hana's younger sister and a retired professional boxer. Laila became enamored with the sport at 18 when she saw women boxing for the first time. Although Laila led a very successful boxing career, she said she wouldn't encourage her own children – should she have them – to pursue the sport.
Asaad Amin Ali
Asaad Amin's biological mother gave him up for adoption, and Muhammad adopted him in 1986. He entered the sports industry and briefly pursued baseball before deciding to coach it at Ellsworth Community College in Iowa Falls.
Asaad had the privilege of spending his whole childhood with an ever-present Muhammad, as the father of nine had retired by the time Asaad joined the family. Asaad knew his father loved spending time with him and his siblings and was grateful for everything he received from the sporting legend.
Kiiursti Mensah-Ali
Kiiursti Mensah Ali is the alleged daughter of Muhammad, whose mother claimed she was his "love child." In 1998, a DNA test was carried out to determine the truth of these claims, and it concluded that Kiiursti was not biologically related to Muhammad.
Two days after Muhammad's burial, Kiiursti's mother, Barbara Mensah, announced that she had footage depicting her former lover at sex parties arranged after his fights. She said she wanted "as much as she could get for it," as she understood the value of those kinds of videos.
Please fill in your e-mail so we can share with you our top stories!
The information in this article is not intended or implied to be a substitute for professional medical advice, diagnosis or treatment. All content, including text, and images contained on news.AmoMama.com, or available through news.AmoMama.com is for general information purposes only. news.AmoMama.com does not take responsibility for any action taken as a result of reading this article. Before undertaking any course of treatment please consult with your healthcare provider.