Melanie Griffith, 63, Wears Pink for Breast Cancer Awareness Month While Showing off Toned Body
Melanie Griffith is one of the latest celebrities to bare her underwear to aid women's cancer research, and the 63-year-old actress looked fabulous for the cause. 
Celebrities including Zoe Saldana, Dakota Fanning, Kate Hudson, and Melanie Griffith bore it all in Kit Underwear. To support Breast Cancer Awareness Month, they hope to help raise money for research into the prevention and treatment of women's cancer. 
Actress Melanie Griffith looked ageless as she participated in the movement, aware and grateful for the part her longtime trainer Gunnar Peterson plays in her fit and toned figure.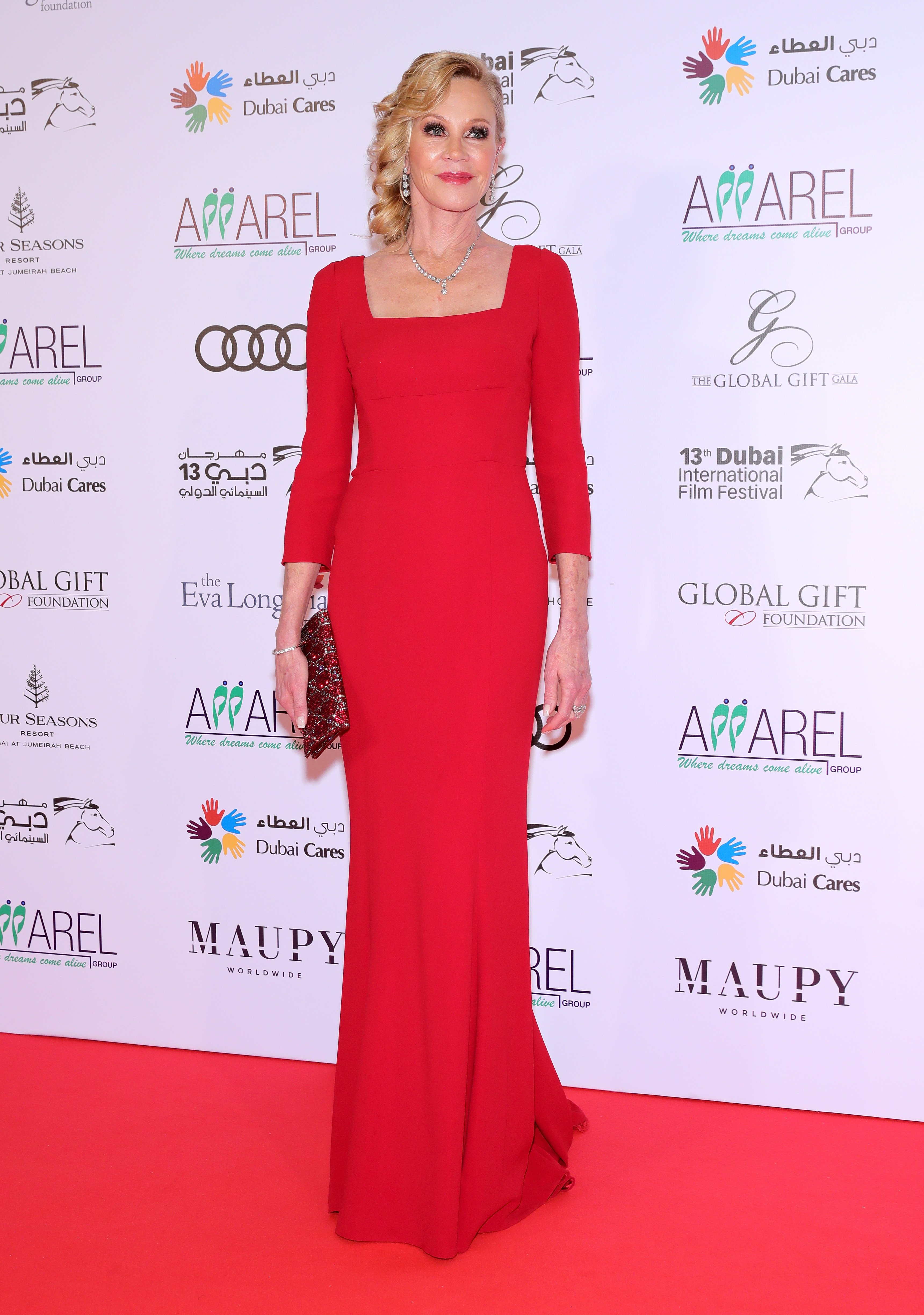 HER SHOW OF GRATITUDE
In July last year, Griffith gave fans a glimpse into the workout routine; her personal trainer Gunnar Peterson worked out to keep her body strong and toned. They've worked together for more than seven years, and the actress totally "adore" him.
With Peterson's help, she maintains her stunning figure, which showcased it the picture taken to help The Breast Cancer Research Foundation. Reportedly, they will also donate another $1 to the WCRF for every woman that posts an underwear selfie using the hashtag #kitstokickcancer during the month. 
GRIFFITH'S CONTRIBUTION
In the picture Griffith posted in honor of Breast Cancer Awareness month, she looked shower fresh with a towel wrapped around her hair. Posing on the edge of her magnificent bathtub, she looked timeless in the pink underwear set and wrote:
"I'm joining @kitundergarments in wearing pink in honor of Breast Cancer Awareness month."
SHE HAS AN ACTIVE LIFESTYLE
But she doesn't just live it up in the gym. The 63-year-old actress loves the outdoors and has a home in the Colorado mountains. She loves to hike when there and have shared lots of updates on especially her snow-filled escapes.
The family matriarch took immediate and aggressive action.
When she does sweat it out in the gym, Griffith prefers a variety of cardio and strength training. From cable pulldowns to focused time on the elliptical, she keeps her workouts interesting and engaging of all her muscle groups.
Other celebrities chose to celebrate National Breast Cancer Awareness month differently, like "Chrisley Knows Best" star Savannah Chrisley, who's mom survived breast cancer.
Julie Chrisley almost didn't have herself tested, but when she received a surprise cancer diagnosis, the family matriarch took immediate and aggressive action with a double mastectomy. Today she is cancer-free and her daughter's "hero."