See Snoop Dogg's Grandkids Zion & Elleven's Striking Resemblance & Their Adorable Bond (Video)
Rapper Snoop Dogg's granddaughter, Elleven, and grandson, Zion, melt hearts in a recent video shared by their dad, showing their sweet sibling bond and resemblance.
Rapper Snoop Dogg's son, Cordé, recently took to Instagram to melt his followers' hearts with a sweet video of his two children, his son, Zion, and his daughter Elleven, showing their cute sibling bond. He wrote:
"Link always in bio."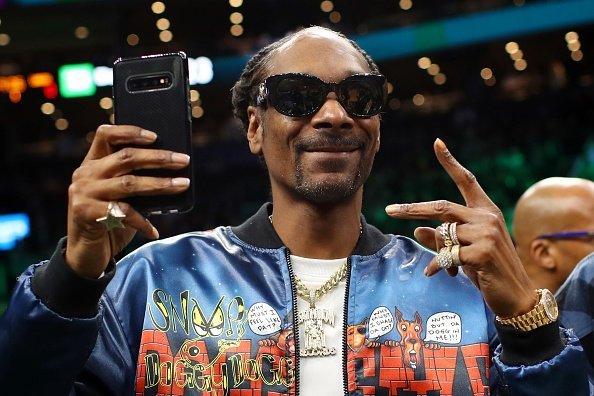 The video which was shared as a teaser for Cordé's music video, began with a view of his daughter, Elleven, walking away with her adorable Sesame street backpack in view. The frame transitioned to another clip of Elleven with her big brother, Zion, as they playfully ran side by side down a hallway. 
Next, the cute brother and sister duo who share a striking resemblance were seen all strapped up safely in a car as they happily chatted away and smiled at the camera.
The tight-knit bond between the siblings was lovely to see as they sat side by side giggling and having fun. Too touched by the precious moments captured in the video, Cordé's fans and followers gushed tearily over how cute the children were. 
Cordé would have given his dad another grandchild after his daughter, Elleven, but sadly, in 2019, tragedy struck.
As fans can already tell from Snoop Dogg's son's video, the rapper's grandchildren are as cute and adorable as they could be. 
The famous rap artist has admitted that his cute little ones are always going to get the best version of him as a grandpa at all times. In a 2015 "Today" interview months after Zion was born, the rapper opened up about what kind of grandfather he is. He said:
"I'mma be a gullible, get away with everything kind of grandfather. You know that's the third generation of what we're doing."
The proud father and grandfather even thanked his son, Cordé, for making him a grandfather as he reflected on the light that his grandson brought into his life.
Early in 2019, Snoop's second son, Cordell, revealed that he and his girlfriend Phia Barragan were expecting a baby girl together. The little one arrived later in the year as the rapper's third grandchild. Cordé would have given his dad another grandchild after his daughter, Elleven, but sadly, in 2019, tragedy struck.
The 26-year-old welcomed his child, a boy named Kai Love, on September 15, 2019. Sadly, the little one passed away just ten days after, leaving the family devastated.
Shante Broadus, Snoop Dogg's wife of over two decades, publicly mourned the loss with a touching video on her Instagram. Years later, the family is still healing and has learned to cherish all their happy moments with their precious little ones.