Bethenny Frankel Slams Tyra Banks for Allegedly Banning 'Real Housewives' Stars on DWTS
"Real Housewives of New York City" star Bethenny Frankel has slammed DWTS host Tyra Banks for allegedly banning "Real Housewives" from appearing on the show. 
Reactions have trailed reports that "Dancing With the Stars" host Tyra Banks allegedly wants to ban "Real Housewives" from contesting on the competition show. 
Former reality star Bethenny Frankel took to her Twitter page to slam Tyra Banks for the alleged ban. In a now-deleted tweet, Frankel bore her feelings on the matter.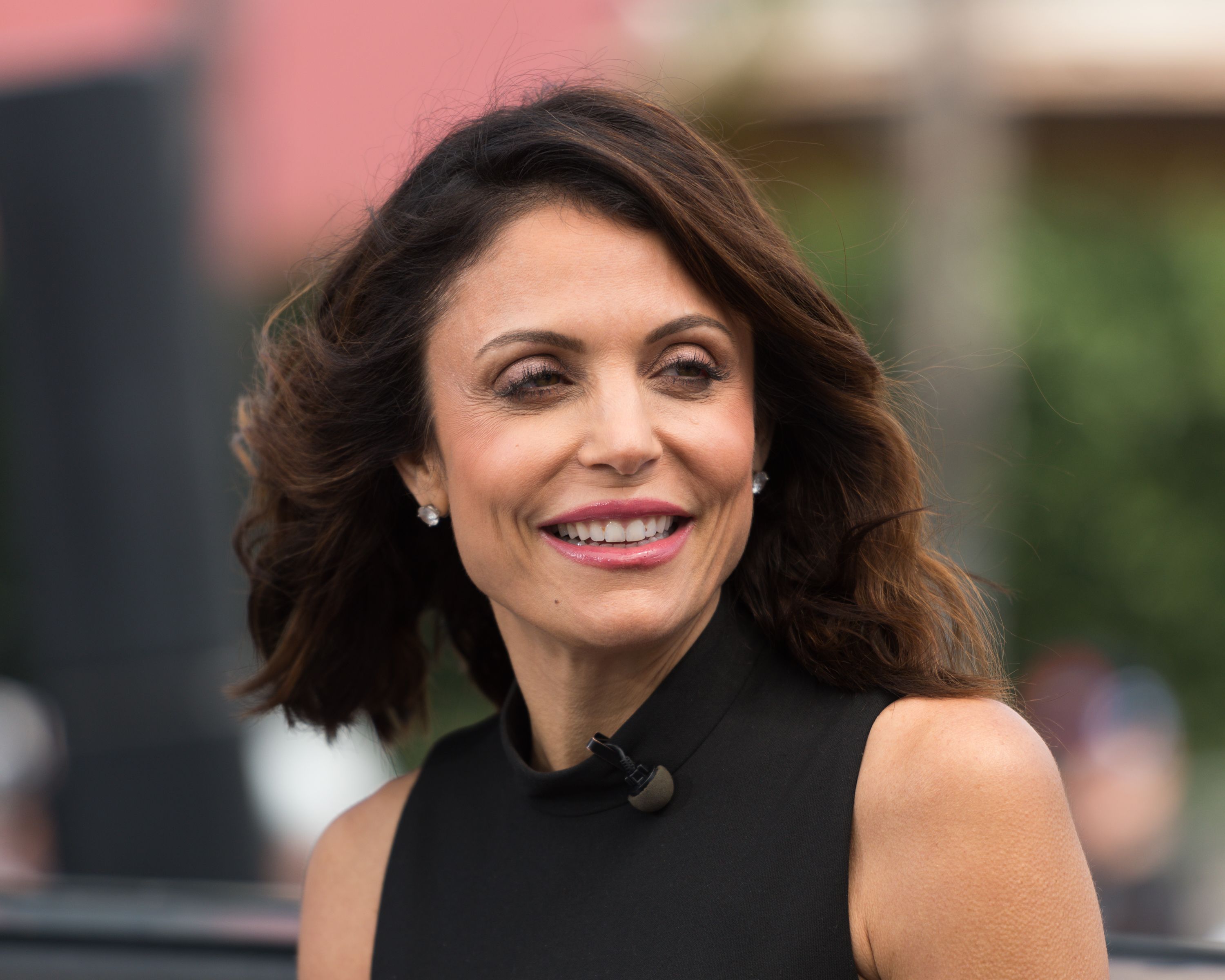 The reality star said it was good to know that Banks had included her in her "No more Housewives" mandate on DWTS. Frankel revealed that DWTS's casting director, Deena Katz, had asked her to be on the show multiple times. 
Concluding her tweet, Frankel had one last word for Banks, telling her that even though she had quit the reality show and was no longer a housewife, nobody was bigger than the game. 
After deleting the tweet, Frankel clarified her comments in another tweet, saying she deleted the post because of the great relationship she had with Deena Katz. Frankel added that Banks was welcomed to her podcast anytime, as the television host had built a successful brand all by herself. 
Banks was named as the new host of DWTS's 29th season, taking over from former host Tom Bergeron.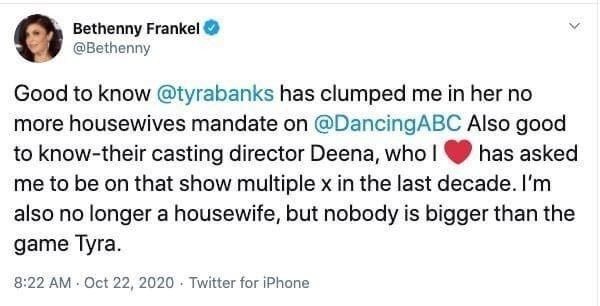 Frankel's comments came after a report claimed that Banks did not the "Real Housewives" stars to appear on "DWTS." The report went ahead to say she only wanted to book them as a last resort. 
However, Banks has reacted to the reports, claiming it is false in its entirety. The DWTS host's longtime publicist, Ellana Rose, told Page Six that her client is a massive fan of "Real Housewives" and a businesswoman. She said: 
"[...]why would she say anything against the 'Housewives?' She has nothing to do with casting." 
I deleted that last post Bc I really like & have a great relationship with Deena Katz from #DWTS. If @tyrabanks wants to come on my podcast, she is welcome anytime as she has built a successful brand on her own in her own way. #justbwithbethenny

— Bethenny Frankel (@Bethenny) October 22, 2020
Rose further said that Banks is familiar with some "Real Housewives" stars as she used to work with fellow model Cynthia Bailey, while Eva Marcile got her career start on Banks' "America's Next Top Model." 
Besides being familiar with "Real Housewives" stars, Banks is also a fan of Bravo chief Andy Cohen and has been on his show, "Watch What Happens: Live" several times.
Rose also added that it was probable that Banks will honor Frankel's request to be on her podcast. The model was named the new host of DWTS's 29th season, taking over from former host Tom Bergeron, who had been the show's host since its debut in 2005. 
Stepping into such a role and taking over from Bergeron can be a huge task for anyone, but Banks, who admitted Bergeron left big shoes to fill, said she was up for the challenge.
Meanwhile, Bergeron revealed in a recent interview that he had more time since his DWTS firing. However, he has not spent any of that time watching Banks' performance on the show. 
Bergeron said he is more focused on the future, adding that he enjoyed driving down country roads in his vintage 1978 Volkswagen Beetle. Now, that is one great way to enjoy one's ample time.