Sofia Vergara Shares Pic on Instagram of Husband Joe Manganiello Looking Almost Unrecognizable
Sofia Vergara's handsome husband Joe Manganiello is nearly unrecognizable in a recent snap the " Modern Family" star recently shared on Instagram.
Those of us who remember Sofia Vergara's husband Joe Manganiello as the hottest werewolf of all time from his 5-season stint as Alcide Herveaux in the HBO hit series "True Blood will be bewildered.
The actress shared a snap on Instagram of a "Modern Family" cast reunion on the occasion of her "step-son" Jesse Tyler Ferguson's 45th birthday, but what stunned fans was the tall blond man with a weird mohawk standing beside her -- and it's apparently Joe Manganiello.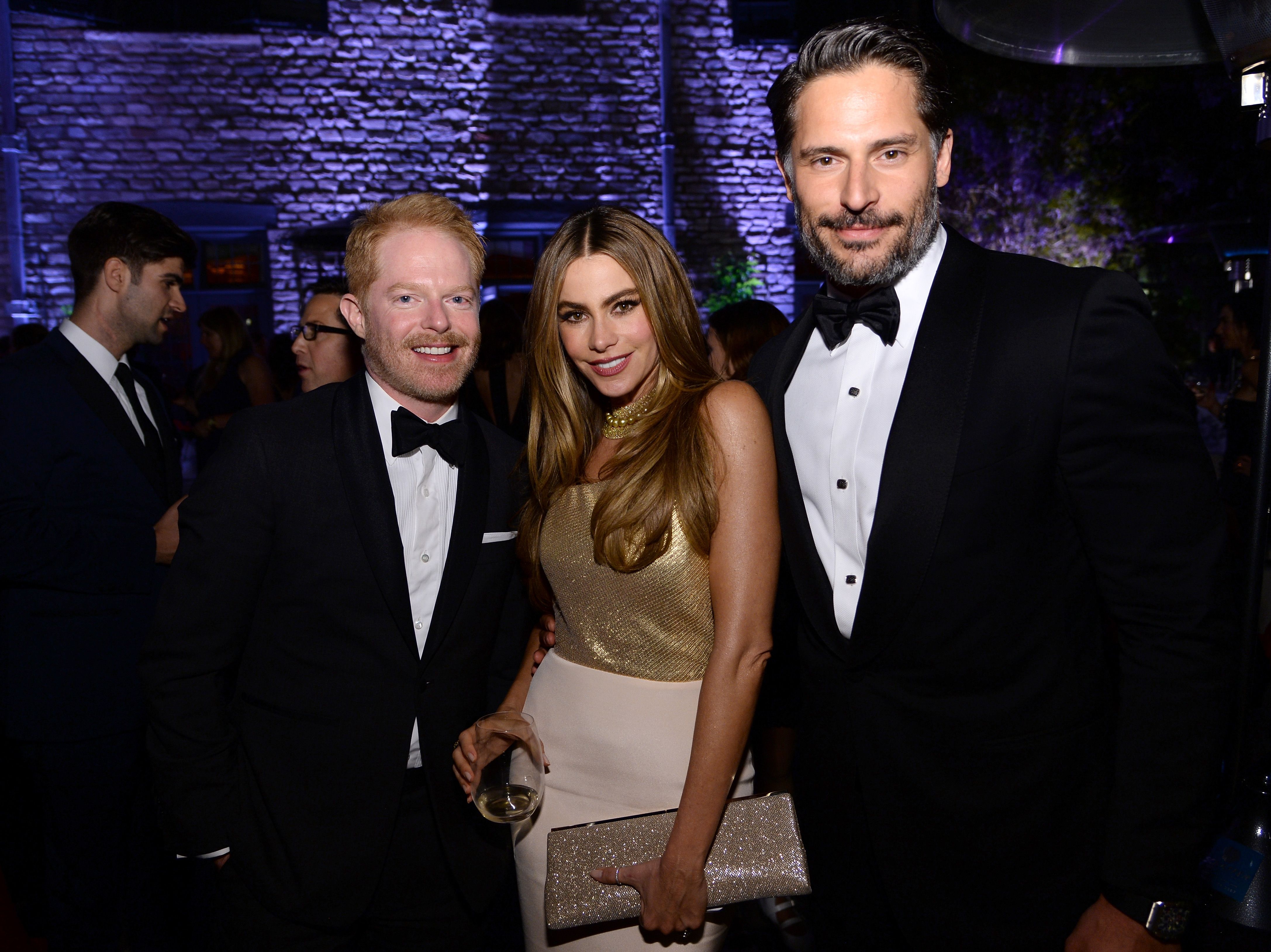 FAMILY REUNION
In the photo, Vergara, wearing a black satin corset top, flowery-printed pants, and a face mask is flanked on one side by Ferguson, Sarah Hyland, and Julie Bowen, and on the other by the mysterious stranger.
Manganiello isn't just sporting a strange hair color and cut, he is also holding a chihuahua wrapped in a blanket. He is wearing ripped black pants, a t-shirt, and a black zip-up jacket.
Manganiello has posted a snap of himself on his own Instagram account, with the same pup and the same hairstyle -- and no explanation. It turns out that the pup is Manganiello's beloved Bubbles, who goes everywhere with him.
The new look is probably for the scenes he is shooting for the director's cut film, "Zack Snyder's Justice LeagueJustice League."  Manganiello played a villain in the movie, but he is keeping mum on the details.
Manganiello plays the lead, Max Fist, in the new action film that will be released In early December 2020
"Justice League" fans are in a frenzy as it turns out that the new film isn't just a re-edited version of the 2017 movie. New sequences are being filmed with Manganiello, Ben Affleck, Ray Fisher, and Amber Heard.
The new "Justice League" will also have new sound, a plethora of new special effects, and will comprise of four 1-hour-long episodes that promise to reinvent the whole universe. Manganiello had originally been considered for "Superman," but the film's schedule had clashed with the series "True Blood."
His most recent film, "Archenemy" premiered at Los Angele's Beyond Fest on October 7, 2020. Manganiello plays the lead, Max Fist, in the new action film that will be released In early December 2020. 
It's hard to imagine a better-looking couple than Manganiello and Vergara -- even with the blond mohawk. The couple married in 2015, and the actor proposed just 6 months after they started dating. It turns out that Manganiello had had a crush on Vergara for years, and who can blame him...
The stunning couple has been happily married for nearly 5 years and will celebrate its anniversary on November 21, 2020. Vergara is divorced from her high-school sweetheart, Joe Gonzalez, with whom she shares her only son, 28-year-old actor Manolo Gonzalez Vergara.