Fans Praise Craig Melvin & His Wife Lindsay Czarniak as They Wear Matching Outfits in New Photo
"Today" co-host Craig Melvin and his wife, sports journalist, Lindsay Czarniak have been married for almost a decade, and one of her most recent social media posts proves just how good they look together.
Craig Melvin and and Lindsay Czarniak's love story is one of a kind. Since both of them used to work at WRC-TV in Washington DC, it was only natural for them to meet in the media world.
They met for the first time at the station, shortly after Czarniak returned from China after covering the Beijing Olympics. From that point on, they have been inseparable.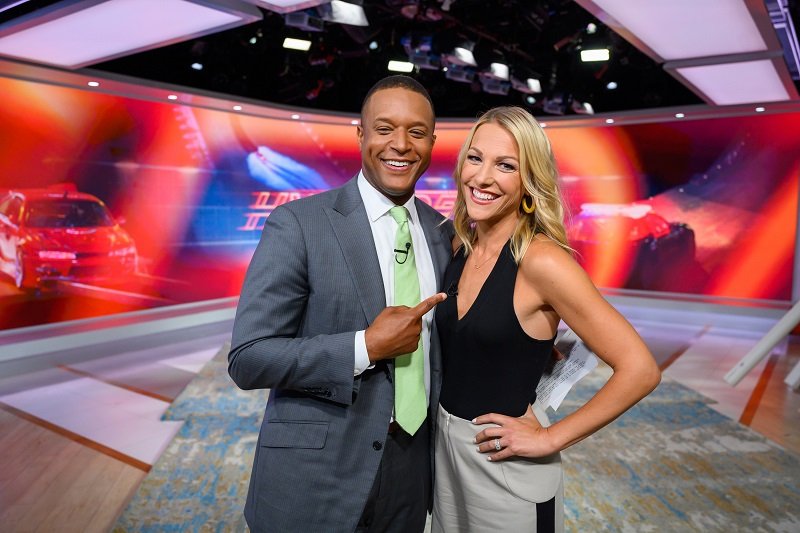 CRAIG MELVIN AND LINDSAY CZARNIAK'S RELATIONSHIP
Initially, they decided to hide their romance from their co-workers. However, when they realized that they really wanted to be with each other, they revealed their relationship's true nature.
Fortunately, they are still together even after nine years of marriage, and Czarniak's Instagram post from October 24 proves that they are one of the best-looking couples nowadays.
In the photo, Melvin and Czarniak appeared flashing their striking smiles at the cameras while wearing matching blue outfits. In Melvin's case, he opted for a white shirt, a blue tie, and a matching suit.
Czarniak also looked beautiful rocking a strapless, blue dress that featured a small triangle-shaped opening. Her hair and make were on point, as always.

As soon as the sports journalist shared that post, some of her fans and followers took to the comment section to praise the pair for making a "great couple" and for being "stunning." Another netizen wrote:
"I love how the two of you have your independent careers and still support each other and raise amazing kids all at the same time."

CRAIG MELVIN'S THOUGHTS ON RACISM
Speaking of kids, Melvin and Czarniak currently share two children, Delano and Sybil. Earlier this year, the "Today" co-host made headlines after pointing out that he has felt racially charged due to strangers' comments about his children's good behavior.
Melvin admitted that whenever he hears that from a stranger, he would think, "did you not expect my kids to be well-behaved?"
For a Men's Health article released in July this year, Melvin wrote some details on how he feels about raising his children, revealing that he had not had "the talk" with his son yet.
He pointed out, though, that he knows he will have to talk to his son about how to carry himself in a world that "doesn't' always make sense."