Mary J Blige Flaunts Leg Tattoo in Her Signature Thigh-High Boots & Blonde Hair (Photos)
Iconic R&B singer Mary J. Blige showed off her beautiful leg tattoo while wearing her signature thigh-high boots. She also looked fabulous with her long blonde locks.
R&B songstress Mary J. Blige is living proof that age is just a number. With her timeless beauty at 49, she can be mistaken as one of the young superstars nowadays. 
Aside from being a singer, Blige is one creative soul who loves to express her art physically. On October 23, she delighted her fans on Instagram with two pictures of herself in a rocker-chick outfit.
HER TOP FASHION LOOKS
Blige leaned against a wall while serving a serious look at the camera. "The Umbrella Academy" star is nothing short of amazing. Her tattoo peeked out at the top of her thigh-high boots.
The boots-loving singer wore a bronze long-sleeved top which she tucked in her black leather shorts with an animal-printed belt. She added a black sleeveless leather jacket as her stylish layer.
Blige, notorious for sassy hairstyles, let loose her long blonde hair. She completed her voguish look with assorted silver accessories on her neck, a large pair of hoop earrings, and fashionable rings. 
In the second snap, Blige sat on a wooden stool with a fierce look. From this angle, the ultimate queen of hip hop and soul casually showed off her red-manicured fingers.
Many fans were at a loss for words over her beautiful pictures which boast of her age-defying beauty, while others commented that her style is always on point. One fan wrote:
"Wow haven't changed one bit still beautiful"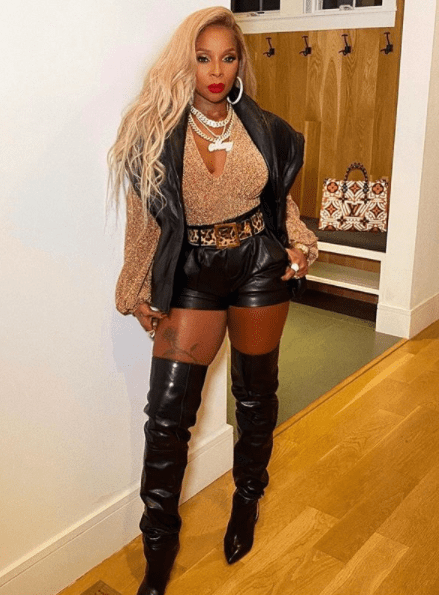 A LIFETIME MUSIC ICON
Blige has been dazzling fans with her looks through the years. In last year's BET Awards, the legendary songstress rocked a floor-length, glimmering, sequined frock dress.
The 2019 Lifetime Achievement Awardee also wore her signature platinum blonde hair which was styled into long ringlet curls. She glammed up with a bold smokey eye and nude lips.
Blige shared that she lost her aunt to breast cancer, which prompted her to go for annual mammograms.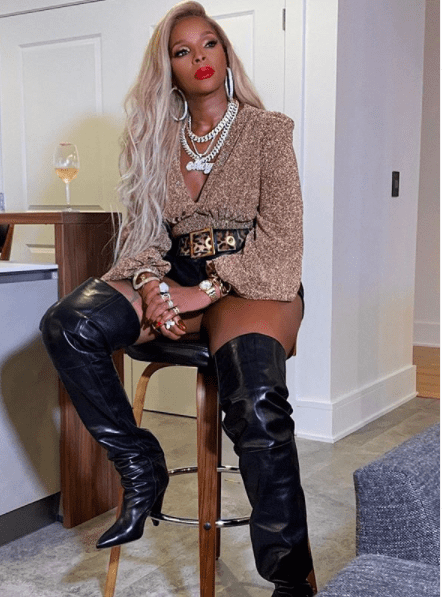 A VOICE FOR BLACK WOMEN
Behind her thriving music career, Blige has a meaningful reason for her success. The nine-time Grammy winner wanted to use her voice to bring attention to Black women's barriers when it comes to breast cancer screenings. 
According to the CDC, breast cancer has a 40% higher mortality rate among Black women than White women. Blige shared that Black women, who are mostly private, should open up so that they can be informed about breast cancer. 
Blige shared that she lost her aunt to breast cancer which prompted her to go for annual mammograms. She encourages other Black women to do the same for early detection and prevention.
Recently, actress Shannen Doherty revealed that she was diagnosed with stage four breast cancer after battling it for five years and three in remission. 
The "Charmed" actress, who wanted to be real about her real situation, shared that she did not want her followers to hear the news from someone else.