See Twitter Reactions to Viral TikTok of Barack Obama's Daughter Sasha Rapping Explicit Lyrics
Sasha Obama, daughter of former US President Barack Obama, recently became a viral sensation online for rapping explicit lyrics and Twitter users couldn't handle her extraordinary skills.
Many Twitter users were surprised after Sasha Obama, the youngest daughter of former U.S. President Barack Obama and former first lady Michelle Obama, rapped a song on TikTok.
The 19-year-old's video made rounds on Twitter, and many of its users could not believe that someone like her, coming from a known family, would rap explicit lyrics.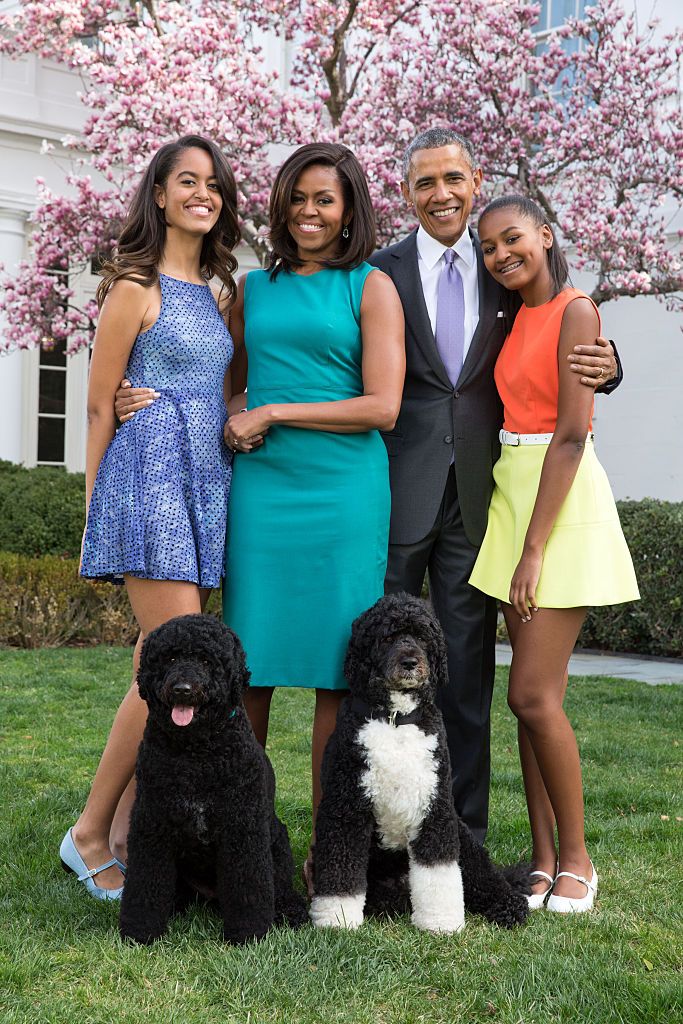 SASHA'S EFFORTLESS RAP
Sasha's TikTok video was posted by Twitter user @THEEEhottie on October 25. In the video, she sings a rap song with two other female friends.
The trio took turns rapping to rapper Moneybagg Yo's song 'Said Sum." The tweet, which earned more than 18,400 retweets and 91,200 likes, wrote that Sasha is a city girl, a reference to the said song.
Sasha, whose elder sister is Malia Obama, rapped the lyrics effortlessly. Aside from her chic street fashion, she also casually flaunted her perfectly done nails.
FANS' REACTIONS ON TWITTER
Many Twitter account users were thrilled to learn that Sasha has good taste in music. One female Twitter user wrote that she loved Sasha for being "unapologetically black."
Another one commented that Sasha is one of the young women who have grown bold and confident, while others were relieved that she seems to be enjoying her youth. One Twitter user added:
"Sasha Obama is awesome.PERIOD."
Sasha Obama: *rappin city girls

Michelle obama: *off camera pic.twitter.com/CxBxkIp3ep

— Big Girl Slay 💋 (@Biggirlslay) October 25, 2020
NOT A HAPPY LOCKDOWN
For her part, Michelle earlier shared in a virtual interview with talk show host Conan O'Brien that the ongoing coronavirus pandemic did not give her family a happy lockdown at home.
As she developed an empty-nest syndrome, the former first lady shared that missing her girls was the tough part.
She admitted that the early stages of home quarantine excited the whole family. After months of staying at home, her daughters were "itching" to go back to college as they no longer wanted to be with them.
Sasha Obama is awesome.
PERIOD.

— BitCloutForums.com - Heidi (@HKrassenstein) October 25, 2020
MICHELLE'S ADJUSTMENTS
Sasha, who is now in college, has been busy with her remote classes. Michelle recalled feeling emotional when they dropped their youngest daughter to her college dorm last year.
As she developed an empty-nest syndrome, the former first lady shared that missing her girls was the tough part. But she knows that Sasha is doing it for her future.
Despite the distance and adjustments, Michelle is relieved that she and Sasha can see each other on weekends or during holiday breaks, which will be extra special because they are complete.
Sasha became one of the public eye's favorite subjects under the spotlight. The young woman rose to prominence after Barack won the presidential race in 2009.
When the youngest Obama, who has an active social life, was reportedly admitted to the University of Michigan, one university enrollee described the former first daughter as a "normal student."