Jennifer Lopez Shows off an Elegant Dior Outfit as She Accentuates Her Slim Waist with a Belt
Multi-talented entertainer Jennifer Lopez showed how much of a style icon she is as she shared an image of herself looking stunning in a Christian Dior outfit that accentuated her shape.
Fashion and style are personal to every individual, and for multi-talented entertainer Jennifer Lopez, she has, over time, proven that she knows what works and suits her body.
Taking to Instagram, Lopez shared a picture of herself looking elegant in a Christian Dior outfit, which she accessorized nicely, and the overall look had fans swooning.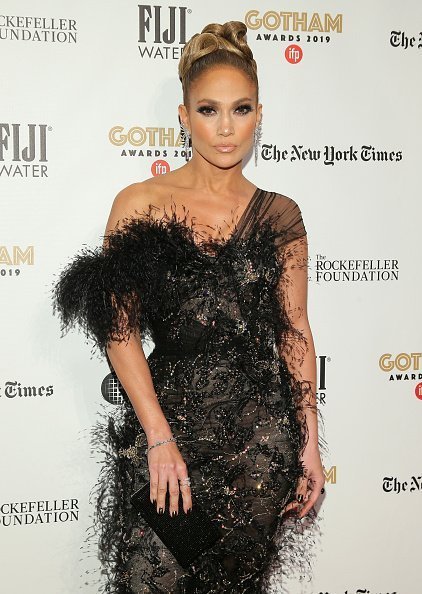 The image showed Lopez in a full-length flower-patterned gold-colored skirt, which she paired with a black, yellow, and gold striped long-sleeved shirt.
She matched the top and bottom outfit pieces with a black belt that accentuated her slim waist, and her usually long curly hair was neatly packed and stuffed under a black newsboy cap. Captioning the image, she wrote:
"It's a @dior kind of day ✨ #PaTi #spanglishversion @spotify @itunes."
Worthy of mention is her gold loop earrings, which glistened against her lightly made-up face, and the black medium-sized leather purse which she held as she looked away from the camera.
The picture which was taken in the elevator also featured Lopez holding a mug with the initial "J" inscribed on it with gold fillings. The overall feel of the image showed how confident Lopez was in any outfit she wore.
Lopez has that range from classy chic looks to bossy vibes when it comes to serving fashion and style goals.
The post garnered a lot of comments and likes from fans and lovers of Lopez, with most giving accolades to her style and the pieces of outfit she wore. Some expressed that Lopez was a stunning beauty even at 51 and someone complimented her, saying:
"We love a classy queen✨??."
While Lopez might have opted for a full-length skirt this time, her range of dressing is vast, and over time, she has proven that she can confidently pull off any kind of outfit. 
Lopez has that range from classy chic looks to bossy vibes when it comes to serving fashion and style goals. Earlier this year, Lopez broke the internet when she rocked a revealing white bralette with a plunging neckline that showed off her flawless skin.
A mother to adorable twins: Max and Emme, Lopez's children, mainly her daughter Emme also follows in her mother's fashion footsteps. Like Lopez, the preteen has a fantastic sense of style.