Mookie Betts' Father Served in the Air Force — What to Know about His Parents
Through the years, MLB star Mookie Betts has built a successful career as a professional baseball player. However, his success was made possible, thanks to his parents' resilience and support.
Since becoming a dad in 2018, Mookie Betts has strived to be the best father to his daughter. In his course of parenting, the professional baseball star has looked up to his parent's infallible parenting tactics as the yardstick for a flawless upbringing.
Mookie Betts' parents, Diana Collins and Willie Betts instilled in him the discipline required to become a sportsman from a young age. They did all that without compromising on their love, care, and support for him.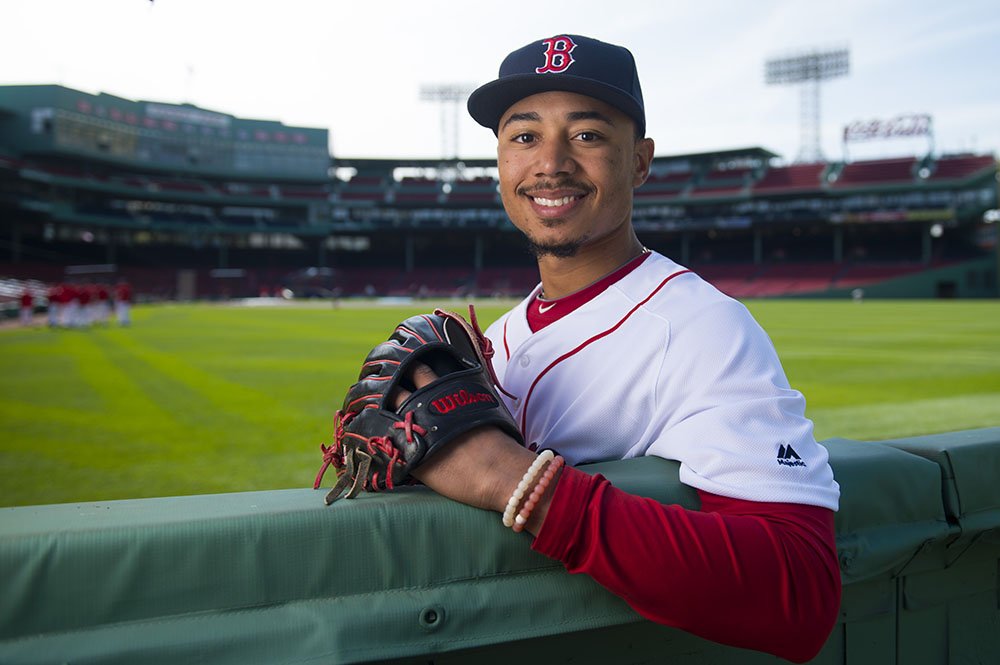 His father, Willie Betts, was a Vietnam War veteran who served in the Air Force, while his mom held a post at the Tennessee Department of Transportation.
Notwithstanding their tasking professions, the two nurtured Mookie's interests in sports and molded him into one of the greatest baseball right fielders to walk the earth. Aside from their excellent roles in pushing Mookie's career forward, this is what is known about Mookie Betts' loving parents.
SOME FACTS ABOUT MOOKIE BETTS' PARENTS
Diana Collins and Willie Betts welcomed their son, Mookie Betts, in 1992, while still a couple. Although the duo eventually divorced during Mookie's time in elementary school, they maintained a prosperous co-parenting relationship.
Willie, born in 1943, grew up in Louisiana, Jim Crow South, until he was four. His family later moved to Louisville, where he developed several blue-collar skills. He eventually joined the Air Force during the Vietnam War. After leaving the Air Force, Willie pursued a career as a mechanical railroad superintendent until his retirement.
The athlete's mom, Diana Collins, grew up on her grandfather's farm in Paducah and was always a lover of sports. In high school, she excelled as a softball player while brushing up her bowling skills. 
Interestingly, Collins passed on the bowling skills to her son. The two have competed in several bowling tournaments as a team, further strengthening their bond. Collins worked at the Tennessee Department of transportation until her retirement in August 2018.
HOW DIANA COLLINS PUSHED HER SON'S CAREER
Diana Collins first observed her son's potential as a baseball player when he was only three. She immediately began grooming him into a budding star. When Mookie was five, his mom tried to get him signed to a local league in Nashville. 
However, due to the young lad's small and skinny stature, the local Little League in Nashville rejected him. Two other teams rejected the athlete afterward, with the last team's coach pointing out that he wanted bigger kids to make his team competitive.
That was the nudge Collins needed to build her team, comprising all the rejected kids around, including her son. She became the coach of the team for a season before someone else took over.
Admittedly, her team of "rejectees" was not competitive and won only a few matches, but they managed to win the one that mattered. Collins once recounted how her team eventually had a face-off with the first team that rejected Mookie. They gave their best and finally won the match, teaching Mookie Betts an essential lesson about winning.
MOOKIE'S PARENTS SUPPORTED HIM 
Diana Collins and Willie Betts continued to offer their unwavering support to their son even after he began to shine in local league teams. They made sure they attended all his tryouts, practices, and games, including those outside Nashville.
Although the two lived apart after their divorce, it became impossible to tell because of their constant presence in their son's life. While Collins coached Mookie and cleared his way until he made a name for himself, Willie taught their son how to win, with the ability to think, plan, and work as a true sportsman.
Gradually, Mookie became a force to reckon with in high school baseball. Soon, he became the Boston Red Sox's fifth-round pick in 2011, marking the start of his professional baseball career.
MOOKIE BETTS' BIOGRAPHY
The Los Angeles Dodgers right fielder, Mookie Betts, was born in 1992 in Nashville, Tennessee, where he spent most of his life. His parents named him Markus Lynn Betts at birth, a nod to the initials, "MLB." He adopted the nickname Mookie at the onset of his career, in honor of NBA star Mookie Blaylock.
Following his parents' divorce, he began spending his time between summers at his dad's place and school years at his mom's. The arrangement helped him experience unique upbringings from both parents.
When he was 12, the athlete encountered a road accident along with his mom and stepdad. The car crash, which left him severely bruised with broken toes, a dislocated wrist, and a swollen jaw, almost ruined his baseball career.
However, the youngster decided a single setback was not enough to hinder his dreams. His parents helped him move on faster than anyone anticipated. Decades later, Mookie has no telltale signs of the accident.
Mookie Betts has a series of famous relatives, including MLB star Terry Shumpert, who is his first cousin. He's also a distant cousin to the Duchess of Sussex, Meghan Markle.
Additionally, the star has a daughter, Kynlee Betts, whom he welcomed in November 2018. Mookie Betts shares his baby with his longtime partner, Brianna.
MOOKIE BETTS' CAREER
In 2011, the Boston Red Sox selected Mookie Betts in the Fifth Round of the Major League Baseball draft as a second baseman. He was the 172nd overall pick in the draft, rescinding his commitment to the University of Tennessee for a $750,000 contract.
He played in the Gulf Coast League (GCL) Red Sox for two seasons and with the Greenville Drive in 2013. He received a promotion to the Salem Red Sox and subsequently played in other minor leagues before eventually snagging a promotion to the Boston Red Sox in June 2014.
Mookie Betts played in the team until 2019, building a solid reputation as a baseman and a center fielder. Red Sox traded Mookie to the Los Angeles Dodgers on February 10, 2020. 
He signed a 12-year contract with the Dodgers in a deal worth $365 million, including a $65 million contract bonus. The agreement remains the wealthiest contract the Dodgers have made to date.
Remarkably, Mookie achieved these feats thanks to his parents' unfailing guidance and support through the years.