Meet Boxer Anthony Joshua's Handsome Son Who Looks Just like Him
Anthony Joshua engages fan's screens with pictures of his cute son on Instagram. The boxer wastes no time flaunting the striking resemblance between him and the young toddler.
The astonishing similarities between Anthony Joshua and his young son, Joseph, has been seen in several Instagram posts. One photo showed the adorable duo standing in front of a beach while another slide showed Joshua's father next to the duo, smiling. A fan stated:
"3 generations of black men. God bless you, guys."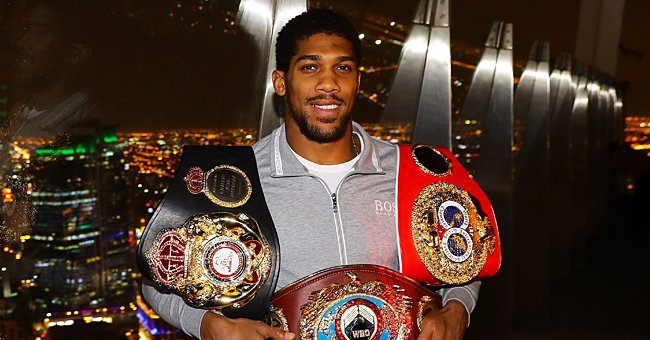 The father-son relationship seemed to bloom beautifully as a moment in the swimming pool was captured, where Joshua tossed the little boy in the air. He captioned it:
"To infinity and beyond."
Devoted fans stormed another post of the pair with comments saying they were thrilled with the father's public display of love for the four-year-old. The post showed them in black hoodies and shorts while they stuck out their tongues.
Meanwhile, an excited fan screamed "Goals" when the famous Briton posted a picture of himself and his little JJ on the cover of  GQ magazine. They were both on bikes, with the little boy in the lead.
The famous star admitted his struggles with homeschooling for little Joseph as the little one loved watching documentaries and nature's "Grandmasters of the Calculated Kill."
The 29-year-old star had dedicated his life to boxing, even at the expense of his personal life as he is no longer in a relationship with the mother of his child, Nicole Osbourne.
He once stated that he was more focused on boxing than relationships, and his mother, Yeta, was still the number one woman in his life.
Things eased out during the lockdown when the boxer was able to focus on his family. He invited his niece and cousin over to spend some time with him, his mother, and his son. 
After earning an estimate of 61million euros in the course of his career, the gold medallist lavished more on his loved ones than himself explaining that nothing is more important than family.
The famous star shared that boxing made him feel like a man while being a father made him think more of the future. He added that it takes a family to raise a man. 
As Joshua took advantage of the lockdown to spend as much time as he could with Joseph, he admitted that he struggled with homeschooling him as the little one loved watching cartoons instead. 
The heavyweight champion also shared that his journey of finding a balance between fathering his child and staying efficient in the boxing world had not been easy because little JJ thought of him as only a father, not a boxer.
After Joshua's devoted fans saw a picture of little Joseph in a fierce pose, they all believed he was a chip off the old block. They added that he might be the next Anthony Joshua.