'The Project' Host Carrie Bickmore Debuts Post-lockdown Haircut — See the Photo
Carrie Bickmore of "The Project" debuted a new gorgeous haircut during her first post-lockdown appearance on the show after restrictions were eased in Melbourne.
"The Project" host, Carrie Bickmore, is back with a bang as she debuted a fire new hairstyle to commemorate the end of lockdown in Melbourne, Australia.
Yesterday, the renowned television personality took to Instagram to show off her new look with a lovely photo in the studio. Bickmore looked gorgeous in a sleeveless peach top that flaunted her toned arms, which she paired with a yellow high-waist skirt with floral patterns.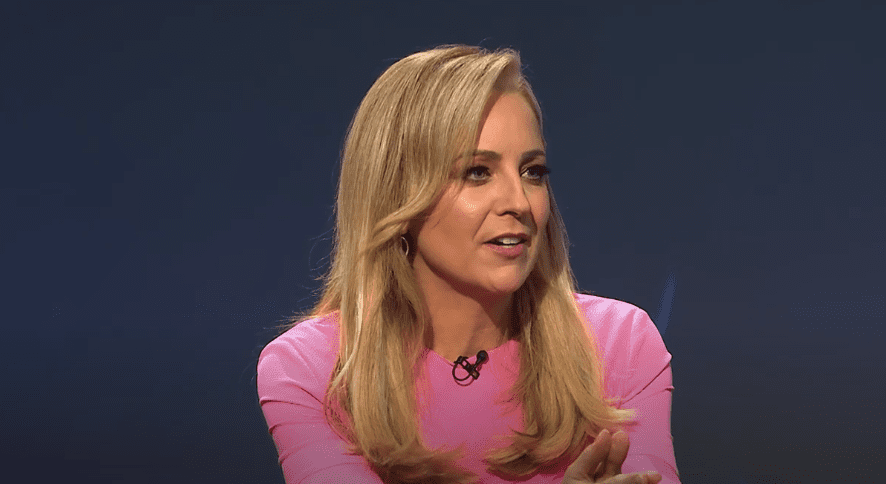 The 39-year-old host was seen sitting and had her hands clasped together and in front of her as she smiled at the camera. She accessorized with a pair of stylish dangling earrings and finished off the look with her stunning new hairstyle.
During the lockdown, Bickmore kept fans entertained with her hair journey.
Ditching her long blonde locks, Bickmore confidently rocked a very stylish edgy, sharp bob cut that stopped just above her shoulders. The lovely photo was captioned: 
"Thanks, @marieuva, for holding my hand and the scissors as I cut away 2020 today! Yay, lockdown is over."
Bickmore concluded the caption, thanking her hairstylist for pushing her to do something different with her hair. She lauded the change calling it as good as a holiday. 
Before the haircut debut, Bickmore gave fans a glimpse into the styling process via a fun Tik Tok video, which she later shared on Instagram.
In the clip, she was seen wearing a faded tie and dye t-shirt while rocking her long blonde tresses as she mimed a voiceover in the background that said, "girl, don't do it."
The TV presenter gently ran her fingers through the length of her hair and repeated after the background voice that she wasn't going to do it but was just thinking about it. 
Suddenly, the scene switched to show Bickmore, this time, wearing a bright sweater and with her hair chopped as she exclaimed, "I did it!" She played with the wavy hair and looked excited by the change. 
During the lockdown, Bickmore kept fans entertained with her hair journey as she interestingly shared details with them about how she manages to hide her grey hairs.
She shared a photo of her grey roots on Instagram due to her inability to visit the salon during the pandemic and then took to her story to show fans her secret superweapon for concealing her greys whenever she wants to go on national TV.
The host uploaded a photo of the L'Oréal Paris Magic Retouch and advised fans to go for it. The award-winning presenter made headlines last month when she tugged at fans' hearts with an adorable photo of her daughter Evie with her dad, Chris Walker.
Fans couldn't help but gush about how the five-year-old was a replica of her famous mother.