Ayesha and Stephen Curry Own Halloween as They Rock Matching Vampire Outfits with Kids
Famous basketball player Stephen Curry, his wife Ayesha, and three children won Halloween with their wholesome matching vampire costumes. The adorable family struck quite the figure as they posed in a new Instagram photo.
Renowned basketball player Stephen Curry posted a sweet photo of him and his family's Halloween costumes on Saturday. In the picture, they were all clad in matching vampire outfits as they posed for the camera.
Curry, carrying his son Canon, was dressed in a white frilly long-sleeved shirt, a black waistcoat, and black pants. With his hair braided into cornrows, he finished the look with a black pair of boots and a long black cape, which gave him the desired vampire look.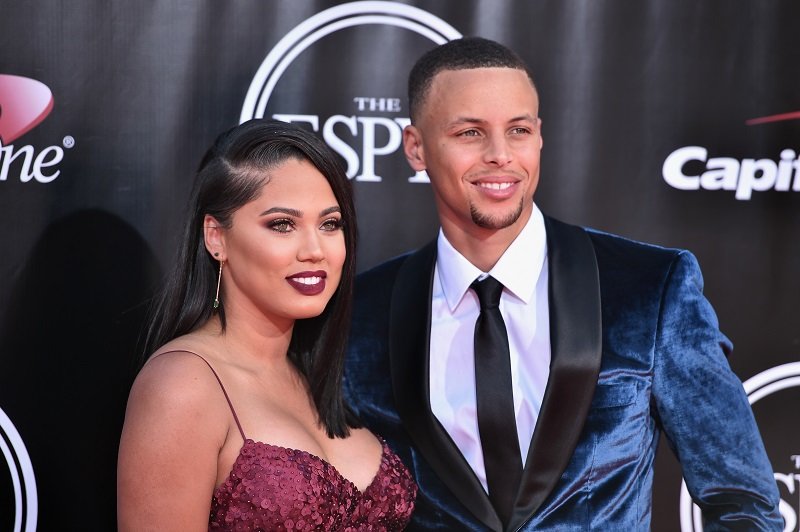 On the other hand, his wife Ayesha had her long hair tinted a shade of maroon and had on grotesque makeup. She was dressed in all black, but the rest of her outfit was hidden by her adorable little girls, Riley and Ryan.
The cute pair stood in front of the 31-year-old with different facial expressions. Riley had a huge grin on while Ryan only stared gloomily into the camera. They were both dressed in grandiose vampire costumes. Curry captioned the adorable post:
"Happy Halloween from the Curry's. "Count" ing my blessings. Ha!"
THE CURRYS
The star and his wife tied the knot in July 2011, and one year later, on July 19, 2012, they welcomed their first daughter Riley. Three years later, Ayesha gave birth to their second child Ryan in July 2015.
In 2018, the happy family welcomed another July celebrant, Canon, born on the fourth of July. Ever since, the Curry's have stamped themselves as one of the world's favorite families.
Ayesha received heavy backlash from her fans for changing her signature dark hair to new platinum blonde locks.  
MAKING SWEET MEMORIES
With several wholesome photos and videos of them making the rounds, the family never fails to leave sweet impressions in the hearts of their viewers. Early last month, Ayesha posted an adorable family photo on her Instagram feed.
In the picture, Stephen was reclining on a couch with his three kids surrounding him as they all stared in concentration at a phone in 8-year-old Riley's hand. The photo, taken by Ayesha, was also posted with a sweet message to her husband. 
QUOTES ON FATHERHOOD
The basketball star is also known for several of his famous fatherhood quotes. The 32-year-old once revealed that the biggest responsibility was being a parent, and every day he learned something new from watching the kids grow up so fast.
Steph also once said that he wanted his children to be confident and understand that they are unique. He explained that God put outstanding qualities in each child, and parents need to embrace them all. 
AYESHA LOOKS GOOD IN BLONDE
Stephen is not just a fantastic father but also a loving and supportive partner. Last month, Ayesha received heavy backlash from her fans for changing her signature dark hair to new platinum blonde locks.
However, the father of three came to his wife's rescue with a sweet message in the comment section. He told her she looked beautiful and implored her to disregard all the "meanies" out there and just do her thing. The loving gesture moved several fans.