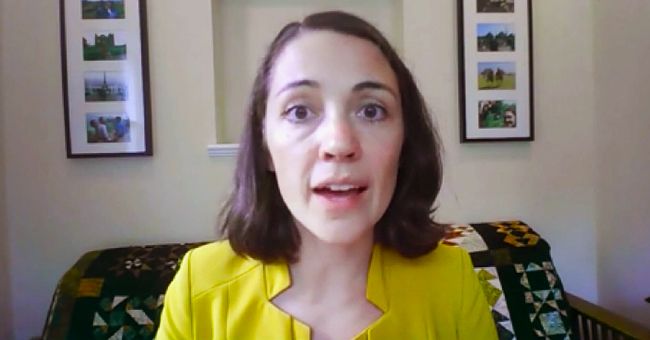 twitter.com/GretchenTG
See the Tweet That Went Viral after TV Mom Shared a Photo of Herself Working from Home

Gretchen Goldman's hilarious tweet about life behind the scenes in her home office during a national television interview she gave during COVID-19 has gone viral.
Scientist Gretchen Goldman is a serious woman, and she was interviewed on CNN on a serious subject, the future of USA's federal climate change program after the appointment of Neil Jacobs as the head of the National Oceanic and Atmospheric Administration.
But as serious and controversial as the topic is, it was nothing to Goldman's subsequent exposé of the truth, the whole truth, as it is lived behind the scenes of the interview.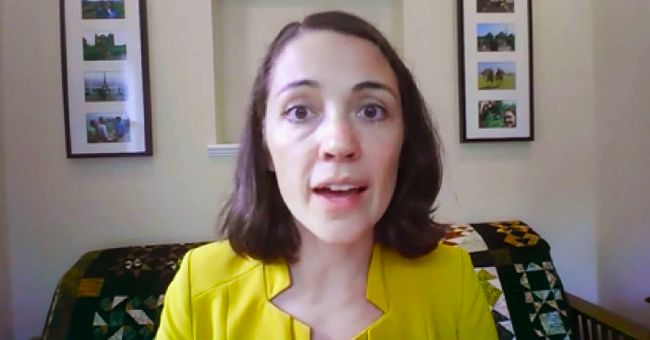 Gretchen Goldman CNN interview | Source: Gretchen Goldman/ Twitter
THE WHOLE TRUTH
What Goldman revealed was that the well-groomed scientist neatly dressed in a tailored jacket, talking to CNN in a lovely, neat lounge is living a lie, like so many other moms currently working from home.
Goldman bared all by sharing two side by side photos that contrasted the illusion transmitted around the nation to the reality lived inside her house, her real life.
This organized chaos, Goldman pointed out, is the reality of women all around the country
THE ILLUSION VERSUS THE REALITY
The woman on CNN is facing the camera, which is placed at exactly the right height. Behind her, we catch a glimpse of what appears to be her lounge, with tasteful art hanging on the wall.
Goldman shared a snap taken from the side while she was being interviewed, that showed her sitting on a wooden chair, with her computer on top of another chair perched on a coffee table.
The well-dressed scientist was in fact wearing mismatched cotton shorts along with her tailored jacket, and the lounge all around her is a chaotic sea of toys and children's books. She captioned the tweet:
"Just so I'm being honest."
GO VIRAL
This organized chaos, Goldman pointed out, is the reality of women all around the country who are working from home, and sharing their space with their children. There is no such thing as a neat and quiet home office anymore.
Goldman's post struck a chord and went viral. quickly garnering over 300,000 likes, thousands of comments, and over 35,000 shares. The reaction was a surprise for the scientist. She said:
"I had no idea it would get so much attention."
Goldman has started an avalanche of similar revelations from women who are dealing with the same situation: small children stuck at home with no-where else to escape to, and a snowballing mess they can't control.
Rather like Professor Robert Kelly and his wife, Jung-a Kim, who were being interviewed online by the BBC about conditions in South Korea, only to have their rowdy children Marion and James crash the party. And that is the new reality for moms and dads everywhere.
Please fill in your e-mail so we can share with you our top stories!