Kandi Burruss' Stepdaughter Kaela Rocks Red Coat, Knee-High Boots & Top Hat in Halloween Snaps
"The Real Housewives of Atlanta"  star Kandi Burruss' stepdaughter, Kaela, joined in the Halloween fun rocking a red coat, strappy knee-high boots, and a top hat. 
Kaela Tucker, daughter of "The Real Housewives of Atlanta" reality star Kandi Burruss, did not let the coronavirus pandemic stop her from celebrating Halloween. Like everyone else, Kaela dressed up for the spooky occasion.
Instead of putting on scary makeup and costumes, Kaela managed to pull off a Halloween look mixed with a little bit of fashion. She took to Instagram to share her take on Halloween.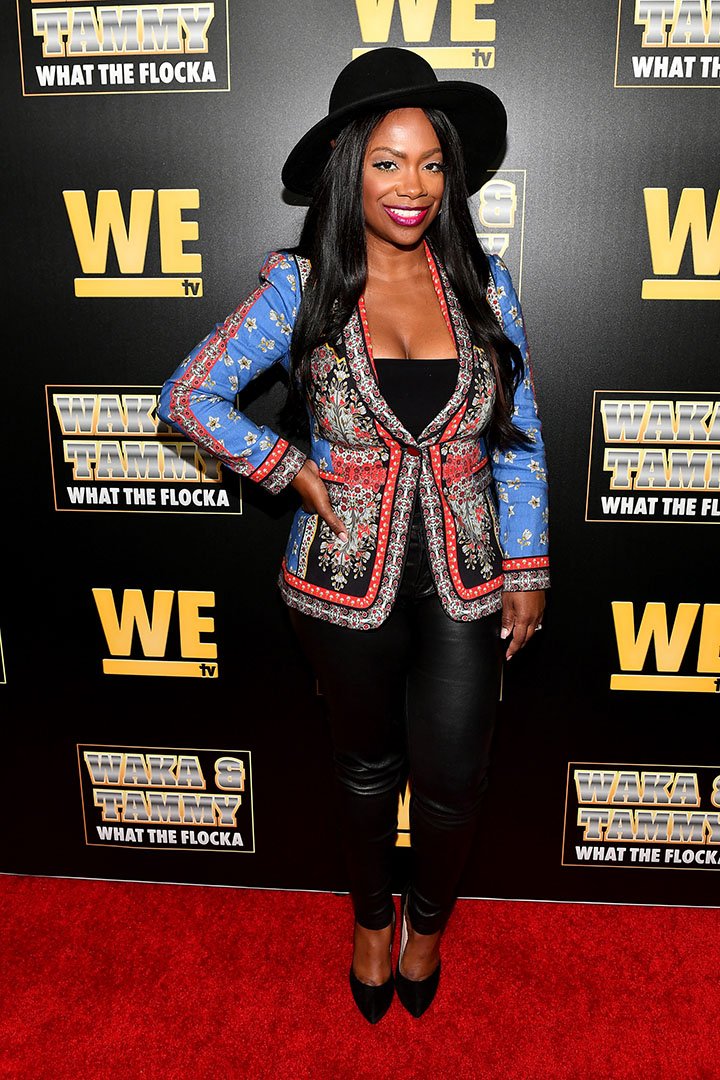 A CLEAN HALLOWEEN LOOK
Kaela thought about transforming herself as the fictional movie character Michael Myers, but she changed her mind and decided to go for a clean Halloween look. She is shown in her picture wearing a red coat.
Judging by her costume choice, the 24-year-old appeared to be dressing up as "The Nutcracker" soldier. The coat she was wearing had gold outlines with a slanted black design on the front.
She paired her red coat with black pants, which she strapped up with stylish knee-high boots. She also sported a top hat and a cane. 
Many fans were delighted by Kaela's Halloween costume. Some fans noted her gorgeous pair of boots, while others described her look as amazing.
More of Kaela's Instagram followers were speechless while looking at her latest snap. Another set of fans commented with heart emojis and fire emojis. One fan wrote:
"Nobody & i do mean NO BODY could have pull this off BUT ?YOURS!!!?? [sic]."
BIG PROJECTS FOR KAELA
Burruss, who recently opened a new restaurant with her husband Todd Tucker, earlier hinted that their daughter has big projects in the works.
Though the proud stepmother did not spill any details, Kaela has been open about her passion for fashion. Last year, she contemplated moving to New York to study fashion.
The reality star's love for her well-blended family is everlasting.
A BLENDED FAMILY
Like Burruss, Tucker has been supportive of Kaela's ambitions. The doting father loves to bond with Kaela, even if it meant going to a strip club.
Burruss, who is also mother to Blaze, Ace, and Riley, also shares a special bond with her stepdaughter. She previously shared a sweet snap with Kaela during the latter's 23rd birthday.
Amid the criticisms that she "left out" her stepdaughter, the reality star's picture with the latter showed otherwise. The reality star's love for her well-blended family is everlasting.
Meanwhile, within the Burruss-Tucker household, the reality star could not help but be smitten by baby Blaze. The little tot has been showing off her quirkiness, which Burruss finds cute and adorable.
Recently, the doting mother shared on Instagram a picture of Blaze crying in a beautiful white dress. Despite the baby's mood, many fans could not handle her daughter's cuteness.