'Soul Food' Star Nia Long's Eldest Son Massai Poses with Grandma after Voting for the 1st Time
Actress Nia Long of "Soul Food" and "Fresh Prince of Bel-Air" fame took to her Instagram page to post a picture of her older son Massai Dorsey after he voted for the first time. 
Actress Nia Long could hardly contain her joy after her 19-year-old son Massai Dorsey voted for the first time in the US elections on Tuesday. The proud mom shared a picture of Massai and his grandmother after voting.
In the photo, Maasai smiled excitedly. He wore a red and white hooded jacket with the "I Voted" tag on his chest. He also wore a black head warmer.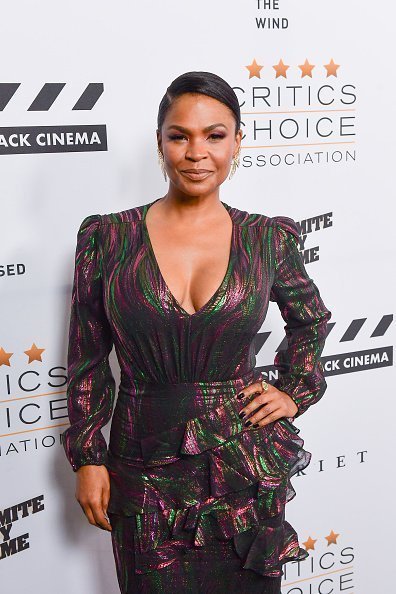 Massai's grandma smiled as she posed beside him. She wore a black jacket and rocked braided hair. She also wore a beautiful necklace and earrings. In the caption to her post, Long wrote: 
"Today my son @massaidorsey voted for the first time. I'm so proud of him. His ballot never showed up in the mail. He reregistered. Still no ballot."
Continuing with her narration of her son's travails in trying to vote, the actress said Massai jumped on a flight early to ensure he exercised his right to vote in the elections. 
She enjoined others to go out and cast their votes before thanking her mother for joining Massai in the morning to cast his vote. 
Massai earned the right to star in the film and worked with his mother in it.
One can understand why Long is excited about Massai voting for the first time. She has always taught her sons about Black Power, using some old movies like "Malcolm X," "Boyz n the Hood," and "Juice," which are some of her favorite movies, to drive her lessons home. 
Long and Massai have a close bond and even worked together in Tyler Perry's "The Single Moms Club" when Massai was only thirteen years old. It was a role the actress suggested that Massai should audition for after reading the script. 
She revealed in a magazine interview that she was nervous he would not get the job and did not want to break such news to him. Hence, she told him to give it his best shot as only that mattered. 
However, Massai earned the right to star in the film and worked with his mother in it, an experience they both enjoyed. They discussed their working relationship in a chat with Mom.com.
Long said the most challenging thing about working with her son was the work that went into it. She had to get him on set and get him ready for his lines while also looking out for him when he was not on set. 
Long shares Massai with her ex, Massai Dorsey. She is currently engaged to former basketball player Ime Udoka. The couple got engaged in 2015 and share a son, Kez Sunday, who was born in 2011.