Glimpse inside Kat Von D's Colorful Life — from an Ink Master to a Recording Artist
Kat Von D, a famous tattoo artist and former "LA Ink" reality star, is making a name for herself in the music industry. Get a glimpse of her colorful life from being an Ink Master to a recording artist.
Kat Von D has lived a colorful life. Despite the controversies surrounding her, she continues to move forward with life and explore new ground. This time, she has set her sights on the music scene. 
Thrilled about her recent jump into the music industry, the TV personality took to Instagram to share a behind the scene picture of her upcoming music video for her first single, "Exorcism."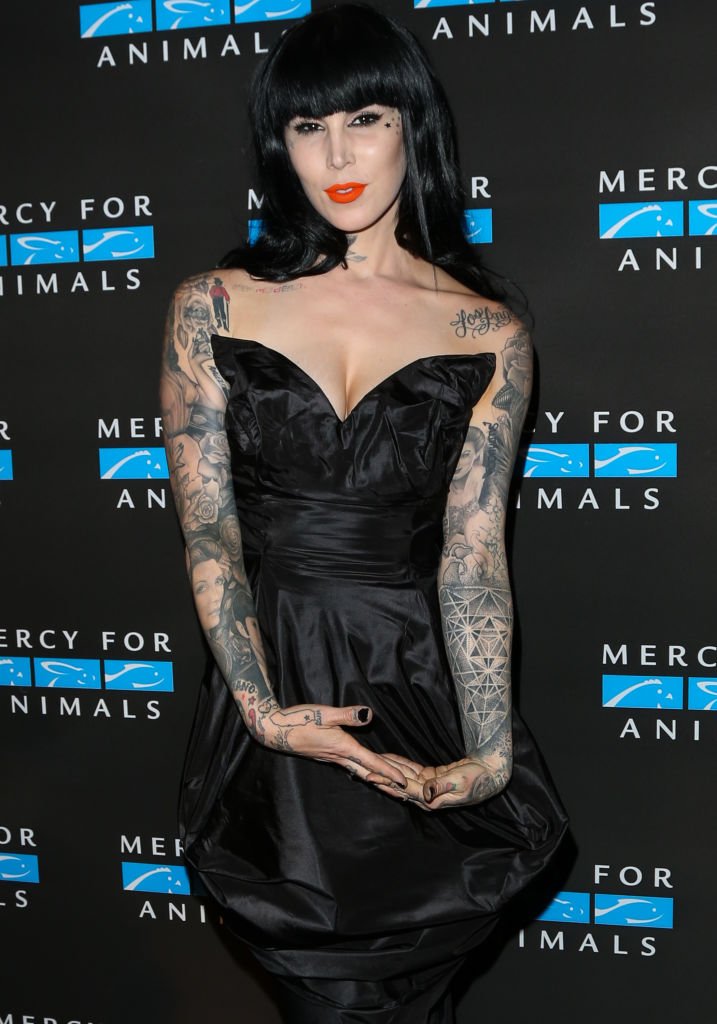 HER FIRST-EVER MUSIC VIDEO
The former reality star, whose real name is Katherine Von Drachenberg, is shown in the picture wearing an all-black outfit. She also donned black eye makeup and red lipstick. She wrote in the caption:
"Behind-the-scenes photo taken when we were shooting the music video to my first single "Exorcism" [coming soon]! ? photo by: @prayers ? hat by: @majestyblack (sic)"
The 38-year-old tattoo artist's striking picture generated 57,564 likes. One of Kat's fans wrote in the comment section that she was excited to hear her music.
MUSIC AND MAKEUP AS HER ESCAPE
Before her rise to success in the tattoo industry, Kat, who came from a devout Seventh-Day Adventist family, lived a conservative life as a child. 
It took a while for Kat to appreciate unique art and music. When she became a teenager, she fell in love with makeup and beauty products, and punk-rock music.
The young Kat's discovery became an "outward expression" of unspeakable thoughts running inside her head. It was also in punk-rock music where she fully expressed her style as well as her art.
TATTOO AS A LIFELONG CAREER
Kat dropped out of school and started tattooing at the age of 14. Her first piece of work was an image of a gun, followed by a small skull on one of her friends.
Fast forward to adulthood, Kat's love for tattoo art led her to new experiences, including the time when she became a Guinness World Record holder for the most tattoos done in 24 hours.
Despite her success, Kat also had her fair share of controversies.
Aside from making tattoos for a living, Kat launched her cosmetic brand with a vegan touch, which earned many praises from cosmetics enthusiasts across the globe. However, she later sold her cosmetic company.
Although she is no longer running her makeup company, Kat is still in the creative loop doing projects that are dear to her while also spending priceless moments with her beloved family.
Despite her success, Kat also had her fair share of controversies. But she continues to rise above the issues and improve herself for the better.
Kat's love for makeup as a teen was the reason why she thrived in the beauty and art community. A similar situation happened to her friend, Jeffree Star.
Star, whose real name is Jeffrey Lynn Steininger Jr., had a rough childhood. Because of his painful experiences, makeup became the beauty icon's source of freedom and happiness, which turned into a life-changing career.