Cardi B's 10 Fashionable, Exclusive and Extravagant Outfits of 2020 — Look through Her Style
Cardi B held nothing back when it came to style in 2020. With eye-catching costumes and outfits, the "Love & Hip Hop" alum went from angelic to devilish looks and everything in between. 
Grammy Award-winning Cardi B knows how to rap, but she's very much into fashion as well. An ambassador for Reebok since late 2018, the 28-year-old makes sure to keep the designer wear going in her other outfits.
Wearing clothes from Fashion Nova, Cardi B also gets help from the celebrity stylist Kollin Carter, who makes sure she shines her best in styles from Balenciaga, Mugler, and Chanel. Without further ado, let's take a look at her top looks for 2020.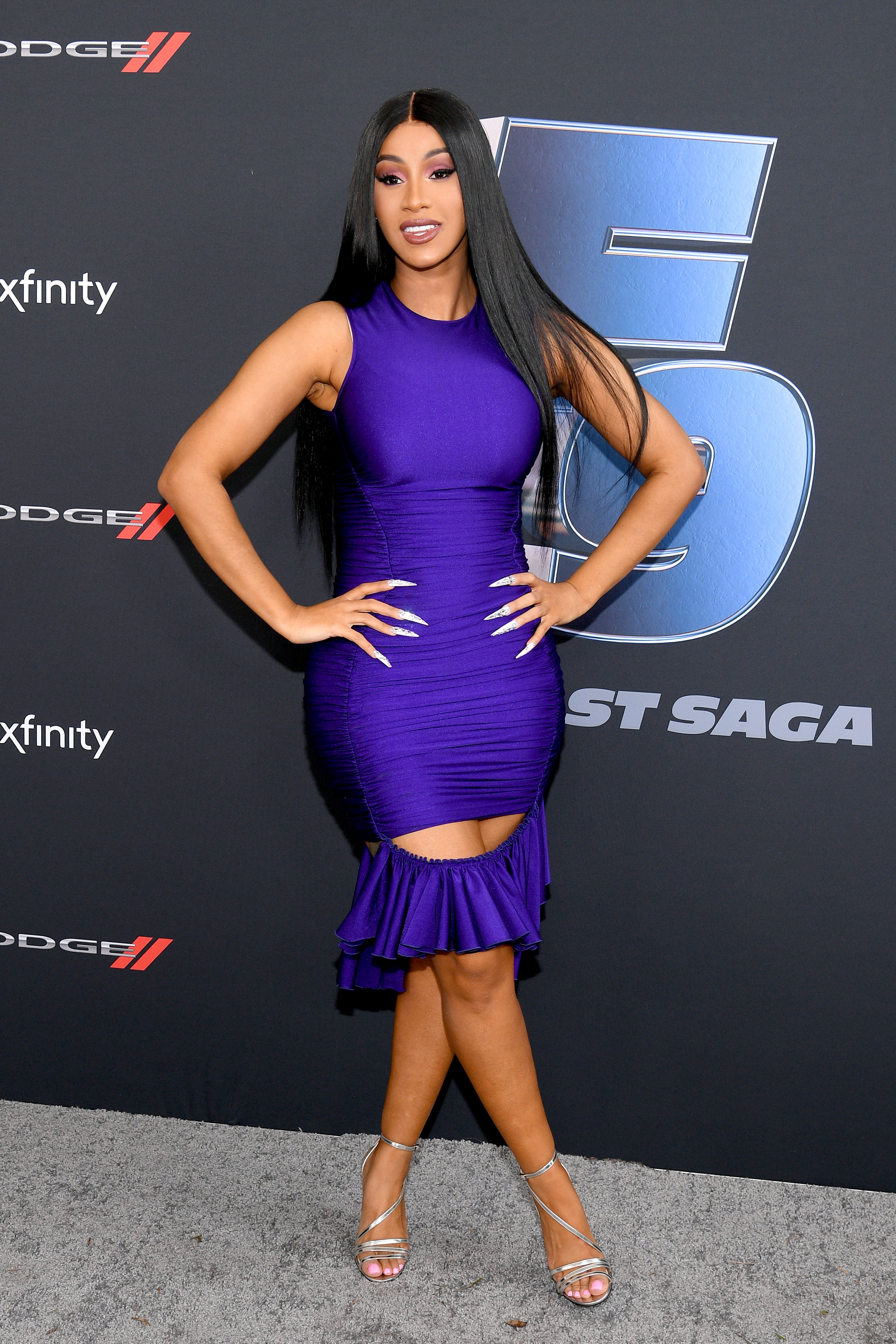 BEAUTIFUL IN BROWN
In July, Cardi B showed that she is ready for anything the day can dish up. Dressed in a brown cropped top and matching short skirt with button detailing on the side, she paired it with large brown hoop earrings and a bag that featured the same pattern as her clothes.
With her blond hair tied into a neat ponytail, the rapper shared her look for the day with fans on social media. Alongside a slideshow of images, she wrote, "I'm on my way ...thanks @sirbabajagne skirt into a shirt!"
A DIFFERENT SHADE OF DREAMY
Cardi B, who recently filed for divorce from her husband Offset, showed off her love for color early in August. Opting for a short-skirted outfit, the rapper's black braided hair contrasted beautifully with her face and matching make-up.
The outfit itself sported different colors, including purple, pink, blue, and green, and it gave the impression of different fabrics sewn together for the final result. Matching material also got weaved into her hair, which completed the look.
FOR THE LOVE OF JACKETS
Even though Cardi B knew that it wasn't exactly jacket-wearing weather, she couldn't resist stepping out in a patterned belted brown jacket with a matching hat, clutch, and high heeled sandals.
HEARTS FOR HAIR
Towards the end of August, Cardi B showed the love she has for her hair quite literally. Posting a video of her pink hairdo, the mom of one blew her fans a kiss as she asked their opinion on her tied up locks.
The born New Yorker secretly tied the knot with Offset in September 2017, and the carefully crafted hearts knotted on her head showed that she loves love even though she is heading for divorce court.
FASHION TWINS
Kicking off September as a fashion double, Cardi B and her adorable daughter Kulture twinned in pink while rocking their individual styles as well. 
Born in July 2018, Kulture rocked a pair of white sunglasses just like her mom but went for a patterned pink dress, where Cardi B wore a hooded pink dress.
PEARLED UP AND READY TO GO
At the end of September, Cardi B stunned with a white pearl-encrusted cutout dress with laced-up side panels. With her black hair flowing over her shoulders, the "I Like It" rapper's leggy display revealed her leg tattoo amid the glittering gems and rhinestones.
Rhinestones also featured on a two-piece leopard-print bikini she donned recently, even though she was more pre-occupied with the matching pumps she wore to complete the look.
GETTING INTO THE HALLOWEEN SPIRIT
The 28-year-old rapper, who recently had a smash hit with her single "WAP," got an early start on Halloween celebrations with a striking red outfit complete with horns.
Dressed in a tight-fitting red leather devil costume, she bared her teeth while crouching on the floor, complete with red stilettos and matching long fingernails. Cardi B then went opposite with an angelic look dressed in a skimpy silver outfit that glittered.
CHANNELING MEDUSA FOR HALLOWEEN
For Halloween, Cardi B looked nothing short of spectacular in her creative gold Medusa costume. With a snake body, golden bralette, and snakes popping out of her hair, the makeup completed her look perfectly.
Proud of the amazing look, the rapper shared it with her fans, and she made sure to give credit where it's due. It was a collaboration between Laurel DeWitt, who designed the snake's body, and Baba Jagne, who came up with the top and skirt.
In the latest in the singer's life, TMZ reported that Cardi B changed her mind about divorcing Migos rapper Offset after starting proceedings almost two months ago.
The publication said that Cardi B officially filed documentation in Georgia to get her divorce filing legally dismissed, as the pair reconciled during her birthday celebrations in October.