JuJu Smith-Schuster Gets Fined $5,000 during a Game by the NFL — Here's Why
The NFL, like many other leagues, can be quite strict when it comes to making athletes follow the rules. Unfortunately, 23-year-old wide receiver JuJu Smith-Schuster learned it firsthand.
JuJu Smith-Schuster, currently playing for the Pittsburgh Steelers, shared an already-expired Instagram Story showing a photo of a document he received from the NFL on October 29.
To sum up the lengthy document's content, the league fined him for not wearing his socks all the way up to his pants.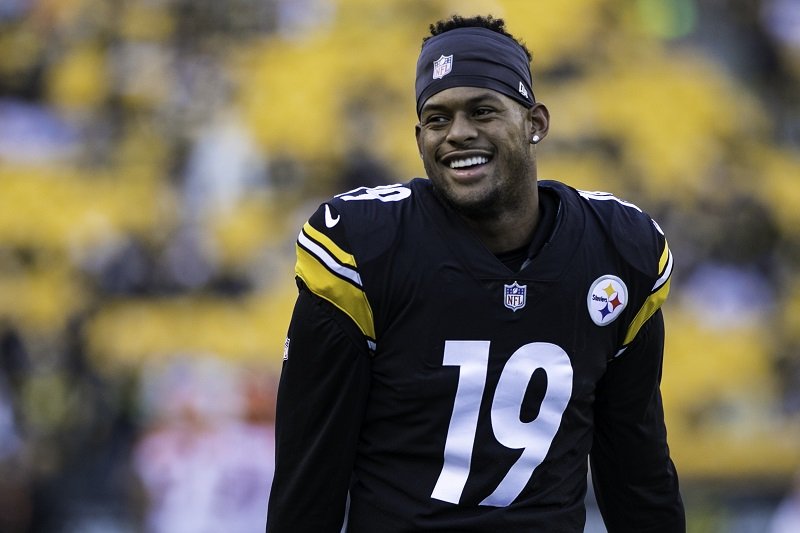 JUJU SMITH-SCHUSTER'S FINE
For those who are not really into sports, it might sound like a made-up rule. However, the NFL rulebook states that a player's socks are supposed to cover the whole area from the shoe to the bottom of the pants.
The stockings must meet the pants below the knee, too, and that's what apparently Smith-Schuster failed to do during the October 25 game between the Steelers and the Tennessee Titans.
Consequently, he was hit with a $5,000 fine. Smith-Schuster's teammate, running back James Conner, was fined $5,000, too, for the same reason.
This was not the first time Smith-Schuster made headlines this season. Back in October, he admitted to having "so much fun" doing TikTok dances while on the field.
JUJU SMITH-SCHUSTER ON TIKTOK
While Smith-Schuster has a bright future in the NFL, he has also amassed plenty of social media followers, thanks to his touchdown dance videos and behind-the-scenes content he frequently shares.
The wide receiver told People that connecting with his fans through TikTok was "really cool," adding that he was a late bloomer to the app.
[Smith-Schuster] is having fun "all the time," even if he doesn't get the ball.
Smith-Schuster also said that he started uploading videos to show people his true, authentic self as TikTok enables him to highlight his personality and what he is like when he is not on the field.
One thing worth mentioning is that the NFL star is big into dancing so seeing him as a contestant of "Dancing with the Stars" in the future wouldn't be too surprising.
This season has not been as prolific for Smith-Schuster as some fans would have expected, though, as he has not been as influential as other players, including rookie Chase Claypool.
However, Smith-Schuster pointed out that he is happy with the team's positive record, adding that he has fun "all the time," even if he doesn't get the ball. That's the spirit, champ.