See Safaree Holding Daughter Safire as He Kisses Her in an Adorable Photo
Safaree Samuels' daughter, Safire Samuels, is the most adorable toddler and she is melting hearts on Instagram in a recent photo posted by the rapper, where they shared a happy father-daughter moment. 
Safaree Samuels is pictured holding his baby girl up as he gives her a kiss. The toddler wore a grey animal-print long-sleeved T-shirt and tights, complete with a matching bow headwrap by "Posh Peanut" and white socks, her ears glistening from the gleaming earrings.
Samuels dressed fashionably in a black and white designer shirt and adorned himself with multiple pieces of shiny jewelry, including two thick bracelets and several fashion rings on his fingers. The music producer also wore multiple neck chains.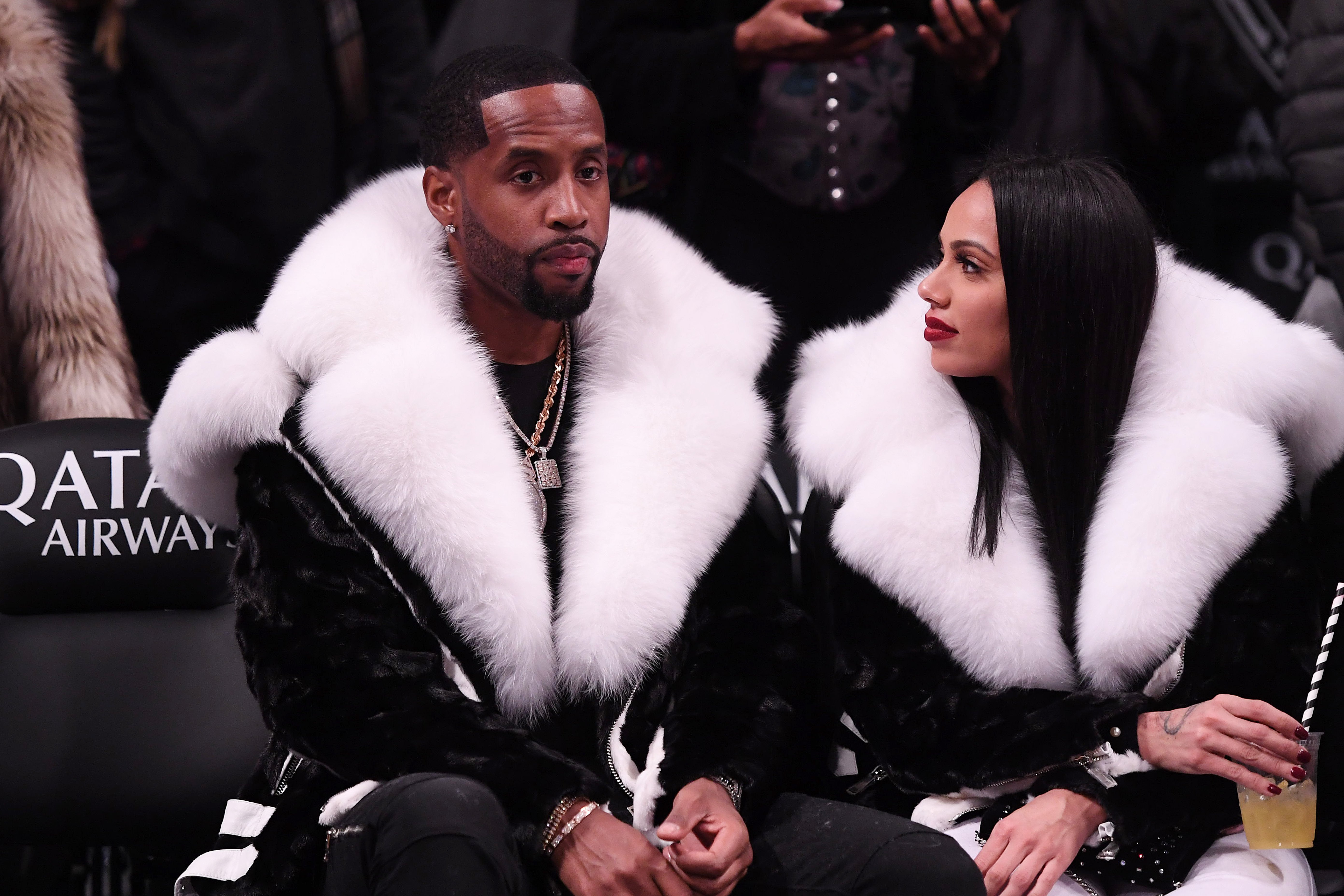 Fans were delighted to catch a glimpse of Samuels' nine-month-old daughter and flooded the comments section. "She's really beautiful Safaree wow," commented one fan while another said, "Erica's genes are strong. [That's] all I see, but she's beautiful."
Fans have been curious about what the "Love and Hip Hop" star's daughter looked like and he admitted that he kept her away from the spotlight on purpose. In his caption, he confessed:
"I wasn't hiding you from the world I was hiding the world from you."
Safire is Samuels' first child with reality star Erica Mena, 32, although Mena already has a 13-year-old son, King Conde, from a previous relationship.
The two sweethearts wed in October 2019, shortly after announcing that Mena was pregnant during a VH1 "Love and Hip Hop" special. Safire was born on February 2.
Samuels and Mena chose to keep their daughter out of the spotlight during the first months of her life, preferring to show only glimpses of her face and body. 
Initially, the rapper only shared a photo of his daughter's tiny hand holding his finger a day after she was born. At the time, even her name had not been revealed.
Subsequent photos posted by the music producer only showed the toddler facing away from the camera while lying in her father's arms.
Safire's mother, Mena, also posted the adorable baby girl facing away from the camera to protect her privacy. Now that they have formally introduced their baby on social media, fans are thrilled.
It is no surprise that baby Safire has been kept away from the public eye since Mena has done the same with her first child, King Conde. 
Not much is known about King as Mena prefers to keep his life private. Mena did not have a great relationship with
her son's father
, Raul Conde, a member of the rap group, "Terror Squad."