Getty Images
Snoop Dogg's Daughter Cori Looks Gorgeous Flaunting Legs and Bald Head in Oversized Red Sweatshirt and Sneakers

Snoop Dogg's daughter, Cori Broadus, is as stylish as she is beautiful in a recent photo posted to her social media. The curvy model dazzled her fans as she flaunted her legs in an oversized sweater.
Cori Broadus showed just why her modeling career is taking off as she posed for a photo while holding up two fingers. The young star showed off her style in a red oversized sweater from Fashion Nova.
Broadus paired her look with a pair of fresh white, high-top Nike Air Force 1's and white ankle socks. She added a dark blue cross-body bag with black straps.
Cori looked gorgeous with her long lashes and glossy lips, her short natural hair which she has been rocking since 2018 gave her look a unique twist.
Her fans loved this look on the young star and they took to her comment section to praise her style. One fan commented, "GIVE US LEGSSSS...YAAA BABYYY," while another added, "that's real cute. And Babie that red Pops super cute on you (sic)."
Cori, 21, is the youngest and only daughter of legendary rapper Snoop Dogg. His real name is Cordozar Calvin Broadus Jr., although he has used other stage names, including "Snoop Lion," which he adopted after a trip to Jamaica in 2012.
Snoop Dogg also has two sons with his wife Shante, Corde, 26, and Cordell, 23. The rapper also has another son Julian, 22, from another relationship.
For Snoop Dogg, having a daughter was a real game-changer in his life as he was forced to see a different perspective. He told the Guardian in 2011:
"Women are getting empowered. The more power they get, the more voice they get to shift certain things around. Now I have a daughter, I understand. When I didn't have a daughter, I didn't understand. I was speaking from the mind of a young adolescent."
Being a father changed the "Westcoast" rapper for the better. He is completely involved in his kids' lives even though his own father was absent during his childhood.
Snoop Dogg passed on his passion for music to his daughter Cori. In 2019, Cori released a cover song where she showed she was clearly talented. She also has her own YouTube channel where she posts live sessions of her singing.
Apart from singing, Cori joined the major online fashion store, Fashion Nova as a brand ambassador for their "Curve" collections. This makes two models for the Broadus family along with Cordell, who has walked the runway for the major fashion brand, Tommy Hilfiger.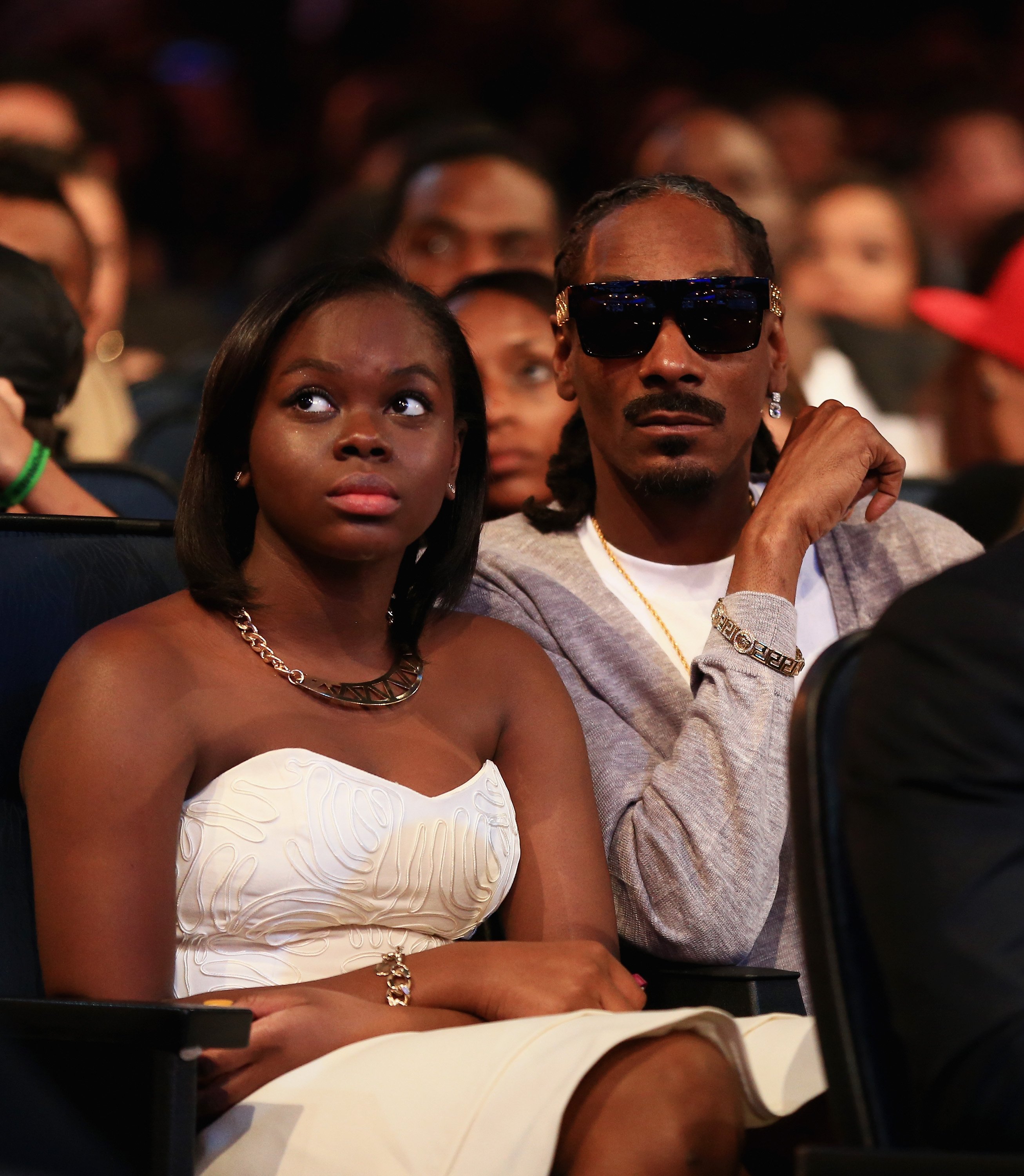 Snoop Dogg and Cori Broadus attend the BET Awards '14 at Nokia Theatre on June 29, 2014 in Los Angeles, California.| Source: Getty Images
Snoop Dogg has a lot to be proud of when it comes to his kids. He has succeeded both in personal and professional life with a long list of accomplishments since he entered the music scene in the early '90s.
The rapper boasts an impressive resume that includes the Billboard Chart number one album, "Doggystyle" and a hit reality television show, "Snoop Dogg's Father Hood."
Please fill in your e-mail so we can share with you our top stories!