5 Easy and Tasty Holiday Recipes for Christmas Cookies
Holidays generally mean people get to unwind while eating all sorts of food and cookies. However, no one wants the stress of preparing long and tedious recipes; that's why we will have a look at some alternatives.
In 2020, "Good Housekeeping" released 90 different recipes for some ideas on how to make Christmas cookies. One of the recipes they shared was the decadent Christmas Spritz cookie recipe.
In the following article, we've compiled five different recipes for people who are looking for simple and easy methods. The recipes include delicious three-color Christmas cookies.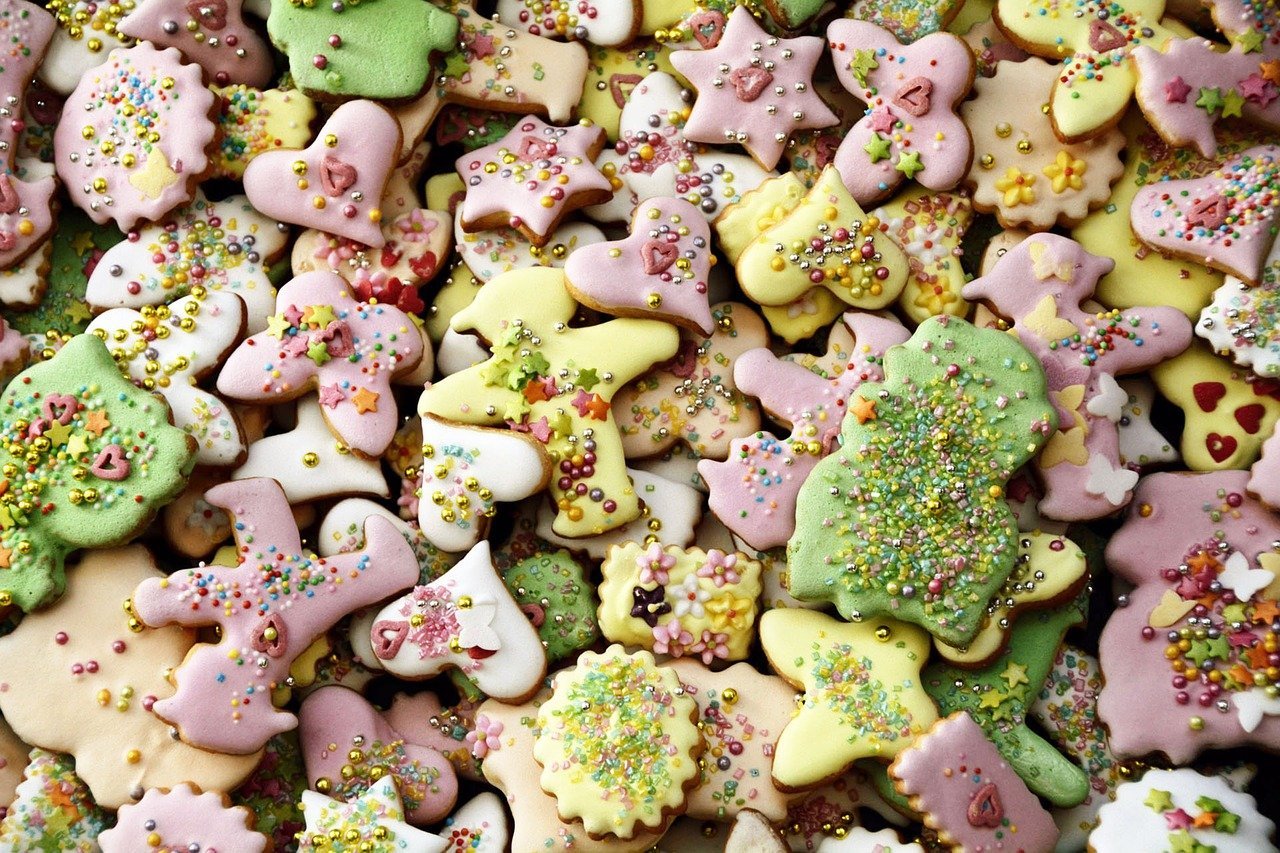 Tri-Color Christmas Spritz Cookies
(
Duration: 1 hr 30 min, Yield: 45 to 50 cookies
)
Ingredients:
2 sticks / 1 c. unsalted room temperature butter
2/3 c. sugar
1/4 tsp almond extract
1/4 tsp pure vanilla extract
1 large egg
2½ c. all-purpose flour, plus more for dusting
1/4 tsp kosher salt
Green gel food coloring 
Red gel food coloring 
Cookie press with a wreath disc
Method:
1. Oven racks to be placed in the upper and lower thirds of the oven and preheat to 350 degrees F.
2. Beat the butter and sugar in the bowl for 5 minutes in a mixer on medium-high speed until fluffy and light. Add almond, egg, vanilla extract, and mix until combined. Reduce speed to low, add flour and salt, and combine.
3. Dough should be placed on a flour-dusted surface except for 1/4 cup of it. Add green gel food on the dough in the bowl until the color matches a wreath, around 3 to 4 drops. Mix on low until completely green. Place ready dough on a flour-dusted surface and gently fold together.
4. In the 1/4 cup of white dough placed back into the bowl, add 3 to 4 drops of red gel food coloring to get a fire truck-like hue and mix on low until the dough is completely red. Remove the dough to a flour-dusted area and fold until it joins together.
5. Make ping-pong-sized balls from the white dough and add to a cookie press—one marble-size piece of the green dough and one more marble-size of the red dough.
6. Repeat this pattern until the barrel is full. Put a wreath disc onto the cookie press barrel and press cookies onto an ungreased baking sheet. Repeat the method twice.
7. Bake 2 batches of cookies for 8 to 10 minutes until firm but not brown on the bottom. Cool the cookies for 1 minute on baking sheets, and then remove them to a wire rack to cool for around 30 minutes. Bake the third batch and repeat the cooling process.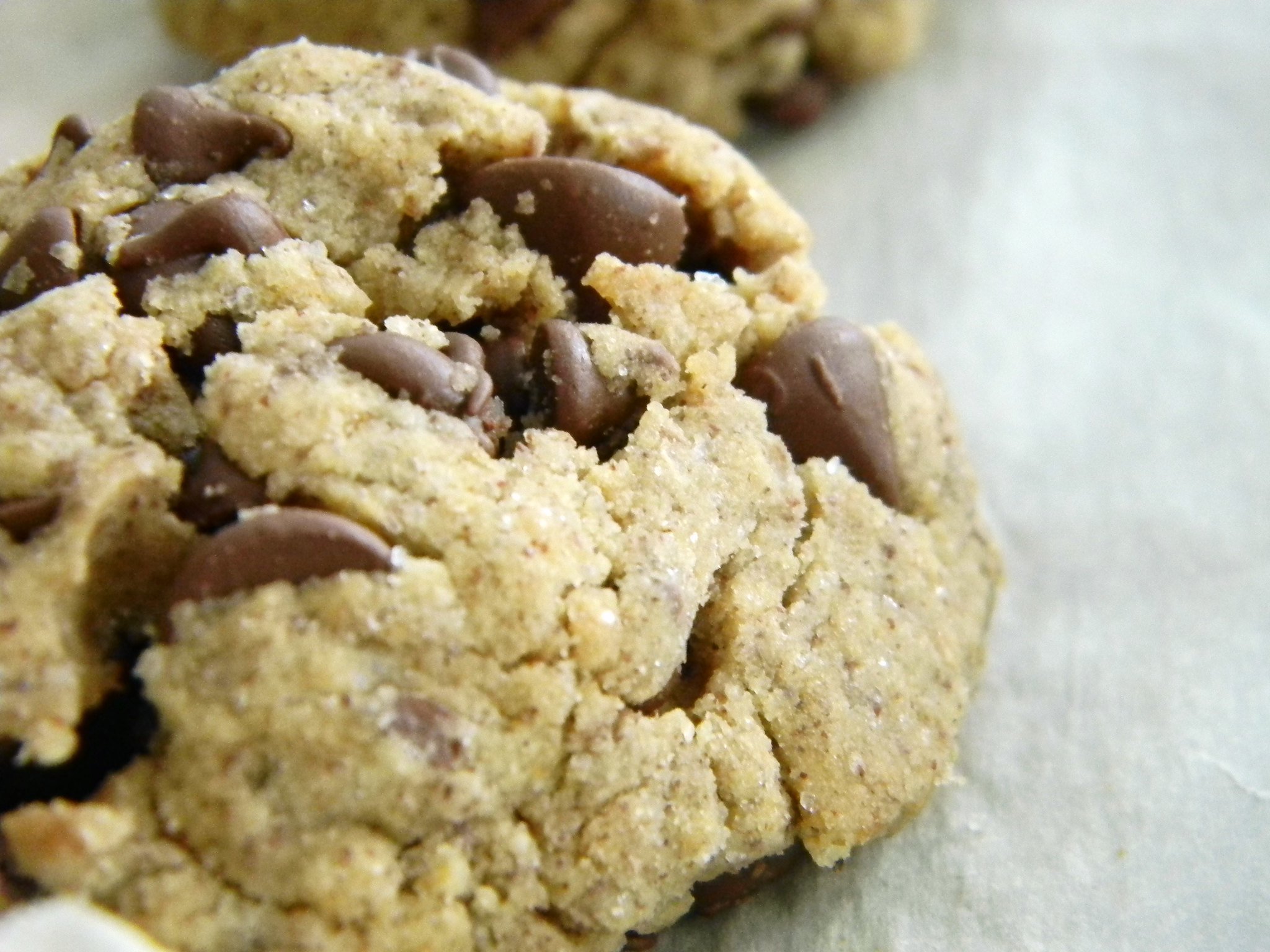 Vegan Chocolate Chip Cookies
1/2 c. sugar 
3/4 c. dark brown sugar, packed
1 tsp salt
1/2 c. refined coconut oil, melted
1/4 c. non-dairy milk
1 tsp vanilla extract
1½ c. flour
1/2 tsp baking soda
4 oz vegan semi-sweet chocolate chunks
4 oz vegan dark chocolate chunks
Method:
1. Whisk together sugar, salt, brown sugar, and coconut oil until all is combined.
2. Add in vanilla and non-dairy milk until the sugar has dissolved, leaving a smooth batter.
3. Sift in baking soda and flour, then fold the mixture with a spatula, without over mixing.
4. Evenly fold in both types of chocolate chunks, then chill the dough for around 30 minutes and preheat oven to 350°F (180°C).
5. Use an ice cream scoop to put the dough on a parchment paper-lined baking sheet. Leave around 2 inches of space between the cookies and the edges of the pan to allow spreading.
6. Bake for 12 to 15 minutes or until cookies begin to brown. Cool completely before consuming.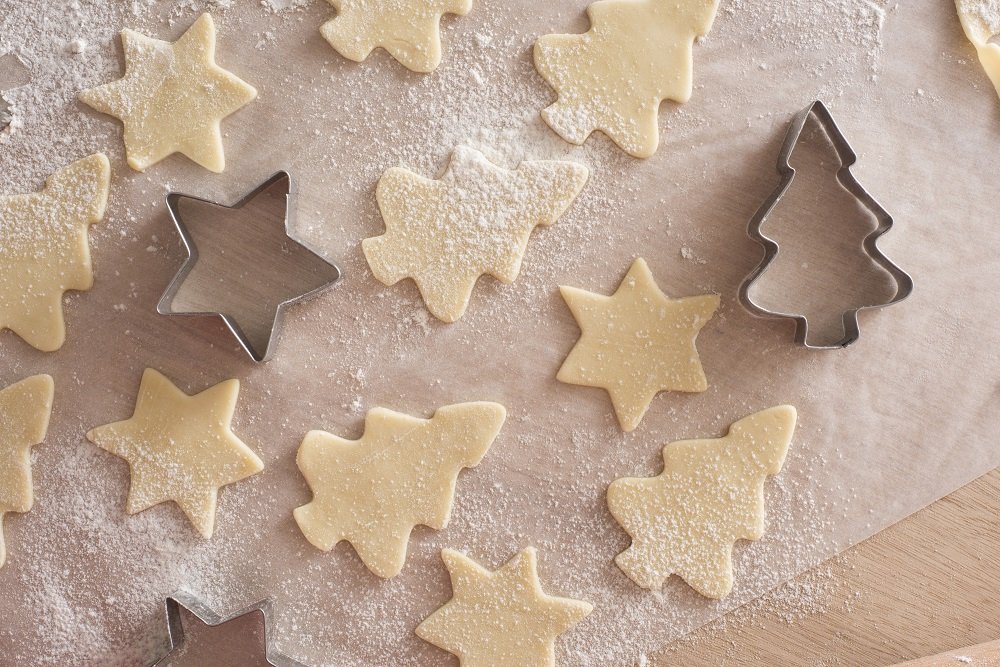 Cookie Shooters
(
Duration: 1 hr 0 mins, Yield: 12 cookies
)
Ingredients:
3 c. all-purpose flour
Cornstarch
1 1/4 tsp baking soda
1 1/2 tsp baking powder
1 1/4 c. unsalted butter
1 1/4 tsp salt
3/4 c. granulated sugar
1 1/2 c. packed brown sugar
1 tbsp vanilla extract
2 large eggs
2 oz chocolate chips or chunks
12 oz mini semisweet chocolate chips
Method:
1. Whisk flour, baking powder, cornstarch, salt, and baking soda in a large bowl.
2. With the mixer on medium-high speed, beat sugar and butter for around 5 minutes until creamy and fluffy. Add eggs one by one, beating each one between additions.
3. Beat in vanilla, then the flour mixture, and beat on low until ingredients have just combined. Add in chocolate chips and mix until evenly distributed, then transfer the dough to a gallon-size resealable plastic bag and refrigerate until firm.
4. Preheat the oven to 350 degrees F. Roll the dough into golf-ball-size pieces and place them in 1 cup of a nonstick popover pan. Repeat the same method for the remaining 5 cups.
5. Use fingertips and the rounded end of a wooden spoon to press dough in the center, then the upside of the cup to make a very thin and even layer of dough. Patch up any tears with extra dough and repeat the method with the remaining dough balls.
6. Bake for 8 minutes, then use the wooden spoon end to gently press the dough down and against the sides of the pan to deflate. Bake for 2 more minutes, then repeat the deflating method.
7. Once again, bake for another 2 minutes or until edges are golden brown and crisp. Transfer the cookies to a wire rack and press to deflate once more.
8. Tenderly loosen the sides of the cookies from the pan using an icing knife, then cool for 10 minutes. Loosen the sides of the cookies again and put the wire rack on top of the pan.
9. Hold the rack against the pan before inverting the baked cups onto it and then allow to cool completely. Repeat the process again with the remaining dough and cooled popover pan.
6. Using a small pastry brush, paint the insides of the cookies with a thick layer of melted chocolate. Set chocolate for around one hour, then serve filled with milk, coffee liqueur, or chocolate liqueur. When filled, serve within 5 minutes.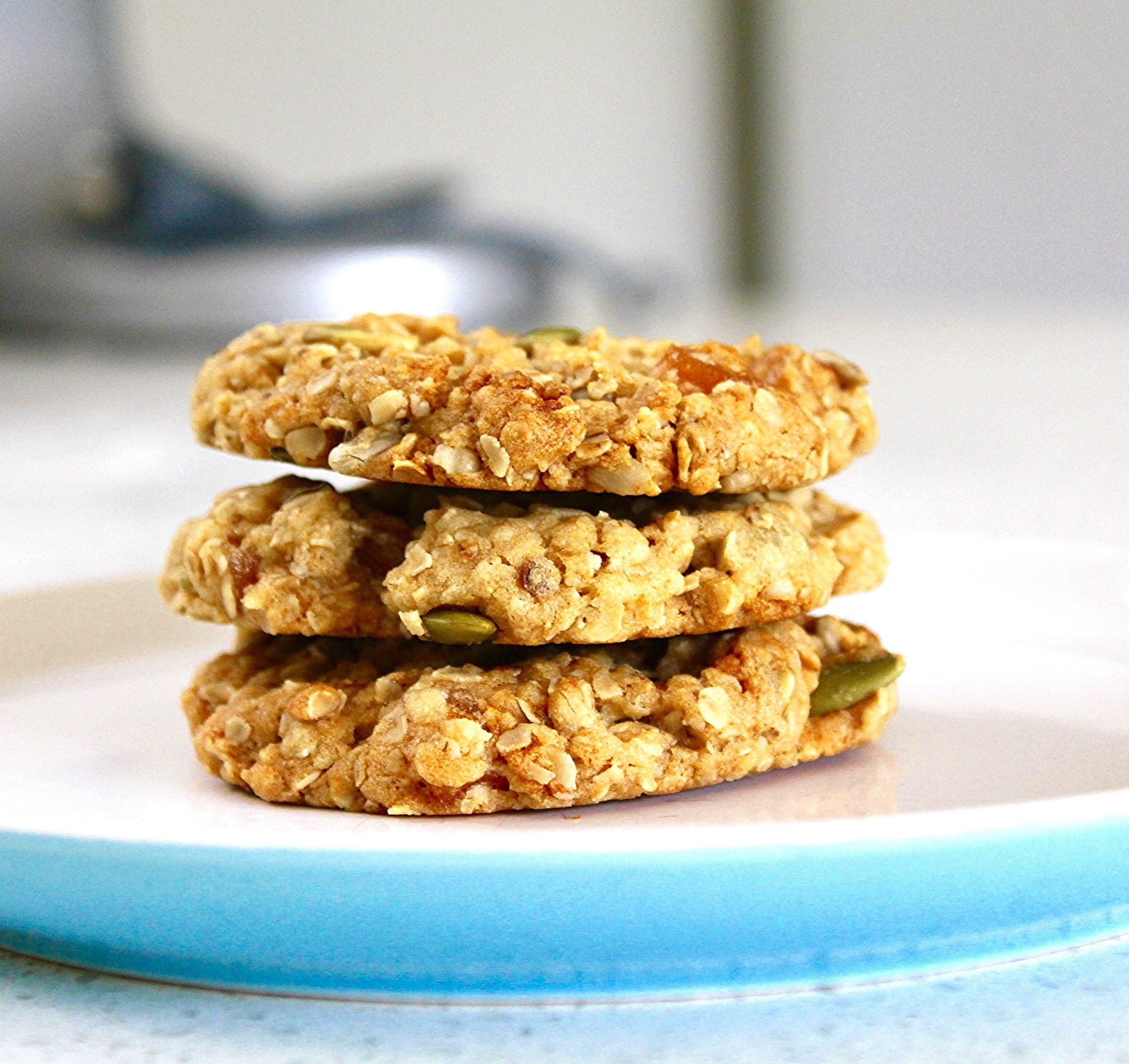 Pumpkin-Cherry Breakfast Cookies
(
Duration: 1 hr 0 mins, Yield: 16 cookies
)
Ingredients:
2 c. whole-wheat flour
1 c. old-fashioned oats
1 tsp. baking soda
1 tsp. pumpkin pie spice
1/2 tsp. kosher salt
1 15-oz. can of pure pumpkin
1 c. olive oil
1 c. brown sugar
1 large egg
1/2 c. roasted salted pepitas
1/2 c. dried cherries
Method:
1. Start by heating the oven to 350°F. Whisk flour, oats, baking soda, pie spice, and salt in a medium bowl.
2. Use an electric mixer to beat pumpkin, sugar, oil, and the egg on medium speed to combine. Lower speed to low and slowly add the flour mixture, cherries, and pepitas.
3. Make 16 mounds and place onto parchment-lined baking sheets with 2-inch spacing in between. Flatten them into disks and bake for 20 to 25 minutes until they're dark brown at the bottom. Transfer to a wire rack to cool completely.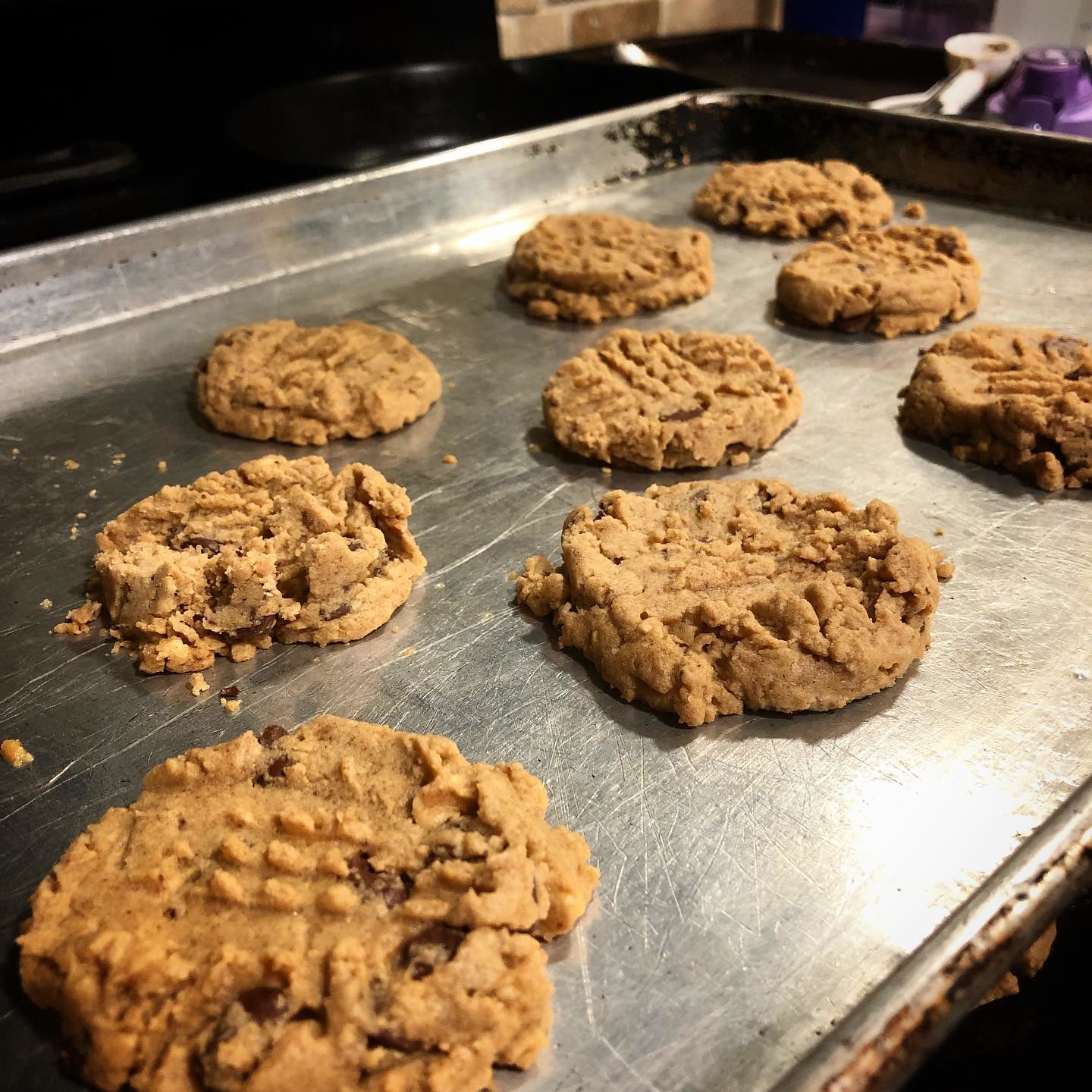 4-Ingredient Keto Peanut Butter Cookies
(
Duration: 25 mins, Yield: 12 cookies
)
Ingredients:
1 cup peanut butter
1 egg
1/2 cup low-calorie natural sweetener
1 teaspoon sugar-free vanilla extract
Method:
1. Preheat oven to 350 degrees F, and line a baking sheet with parchment paper.
2. In a bowl, add peanut butter, egg, sweetener, and vanilla extract before mixing until forming a dough.
3. Roll the dough into 1-inch balls before placing them on the baking sheet. Press down on each ball twice with a fork in a criss-cross pattern.
4. Bake cookies for around 12 to 15 minutes in the oven until the edges are golden. Cool the cookies on the baking sheet for one minute before removing them to a wire rack to cool completely.