Rich Koz Is a Gifted Man behind Iconic Svengoolie — Facts about Him and His Character
Actor and broadcaster Rich Koz, best known as horror-movie host Svengoolie, once admitted that the product he used to hold in his stick-on mustache was irritating his gums.
Born in March 1952, Rich Koz is a Chicago television legend who has been involved in the entertainment industry since the 70s, when he replaced Jerry G. Bishop and took on the mantle of Svengoolie, host of the eponymous horror movie TV show.
Interestingly enough, Koz revealed during a 2017 interview with Chicago Magazine that, as a child, he used to be afraid of different things, including skeletons and darkness.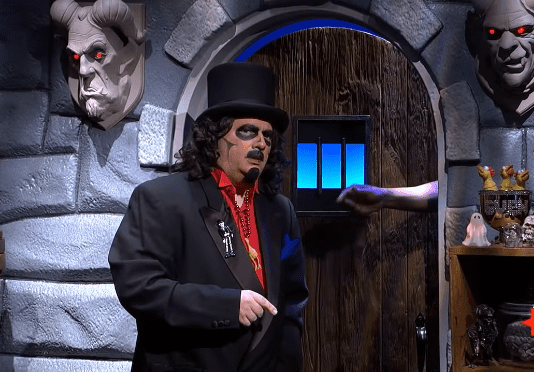 RICH KOZ AS SVENGOOLIE
During the same interview, he shared some details of how he ended up becoming the Son of Svengoolie, and it was all thanks to Bishop. According to Koz, when Bishop was working on the radio, he used to ask people to send in jokes.
[Koz] received a Chicago Emmy Award for Best Entertainment Series.
Koz started sending his when he was a freshman at Northwestern University, and Bishop really liked them. The current Svengoolie pointed out that Bishop liked them so much that he got him working for him out of his own pocket.
In fact, when Bishop started working at WMAQ Radio, he took Koz with him as a producer. Rich Koz also said that it was Jerry Bishop who came up with the idea that Koz should become the Son of Svengoolie.
Dr. Banner/ Hulk Mark Ruffalo telling me he used to watch me, with his dad, when he lived in Kenosha! What a nice guy! pic.twitter.com/3OskbVhZo2

— Svengoolie (@Svengoolie) March 1, 2020
In fact, Bishop wanted to stop being the horror-movie host because, one day, he might run for office, so he didn't want his opponents to discover pictures of him as Svengoolie.
Although Koz had Bishop's blessing to replace him, the audition process was not easy. Initially, he looked just like Bishop's character, but the people in charge of the audition believed that the "whole hippie thing" would no longer work.
Come meet Sventa Claus at a fundraiser/animal adoption event this Saturday afternoon at the Elmhurst Animal Care Center in Elmhurst, IL! Find a new furry friend ( no, not me)- get an autograph and picture with Sventa! Info at https://t.co/9NLfZ2CRCS pic.twitter.com/trySv1nJqO

— Svengoolie (@Svengoolie) November 27, 2018
BECOMING THE SON OF SVENGOOLIE
Koz came back with the now-famous beard and mustache and also changed the color of the wig. Still, it was not enough to impress those conducting the auditions, so he put on a top hat, a double-breasted coat, and a long chain and landed the part.
Between 1979 and 1986, he worked at WFLD-TV as Son of Svengoolie. However, when Fox purchased the station, they took the show off the air, so Koz had to host shows as himself.
@NoelleFoley happy to finally meet you! Here's a photo from your dad's visit to our show that I mentioned! pic.twitter.com/iDQILteImx

— Svengoolie (@Svengoolie) March 18, 2019
Later, in 1995, Koz dropped the "Son of" from his name with Bishop's blessing, too, and returned as Svengoolie on the independent station WCIU-TV Channel 26.
From that point on, Richard Koz has been earning Chicago's respect and admiration as he even hosted "Stooge-A-Palooza" and "The Three Stooges."
@CortneyHall So happy to see you! You're the best! pic.twitter.com/TiwHycRgti

— Svengoolie (@Svengoolie) November 2, 2018
He was inducted into the Chicago Midwest Chapter of the National Academy of Television Arts & Sciences prestigious Silver Circle in 2004. He even received a Chicago Emmy Award for Best Entertainment Series.
Coming back to Koz's mustache, he used to wear a stick-on mustache but eventually had to think of a different way to implement the fake facial hair for health purposes.
RIP Regis- a great guy and a lot of fun! pic.twitter.com/o6z9WubTza

— Svengoolie (@Svengoolie) July 25, 2020
According to Rich Koz, his dentist once told him that his gums were "[really] bad," and they believed that it was all because of the spirit gum he used for his mustache.
To get the mustache in place, he had to use "a hell of a lot" of it, which would leak into his mouth and irritate his gums. After a while, they just decided to paint it on.
...we let her out! pic.twitter.com/sA2qoI4Ltc

— Svengoolie (@Svengoolie) August 14, 2018
RICH KOZ'S WIFE
As per his love life, Koz has been married to the same woman for over 38 years. Their daughter, born with spina bifida, had plenty of health struggles, especially with her bladder, kidney, and legs.
At 17, she underwent a kidney transplant surgery that helped a lot with her condition and, at the moment, is doing a lot better and working for Goodwill Industries.
@MDesbarres @Dastmalchian we've had one Murdoc on my show so far- here's hoping that, someday, we'll have another! pic.twitter.com/6KnCQz7jA1

— Svengoolie (@Svengoolie) February 1, 2018
Apart from that, Rich Koz has had two heart attacks, which is why doctors decided to perform a double bypass and put in a pacemaker. He is still quite active, though, hosting as Svengoolie on MeTV.