Tracee Ellis Ross Dazzles in a Purple Suit as She Holds Feathers While Posing in a Bathtub
Tracee Ellis Ross recently took to social media with a series of photos that featured her wearing a sparkly purple suit while holding feathers as she posed up a storm in a bathtub. 
Tracee Ellis Ross gave her fans something to moon over when she shared a montage of good photos that captured the actress posing in her bathtub.  
She was dressed in a sparkly purple suit complete with pants of the same color. Tracee complimented the outfit with a pair of purple suede pumps, and she had colorful feathers in her hair.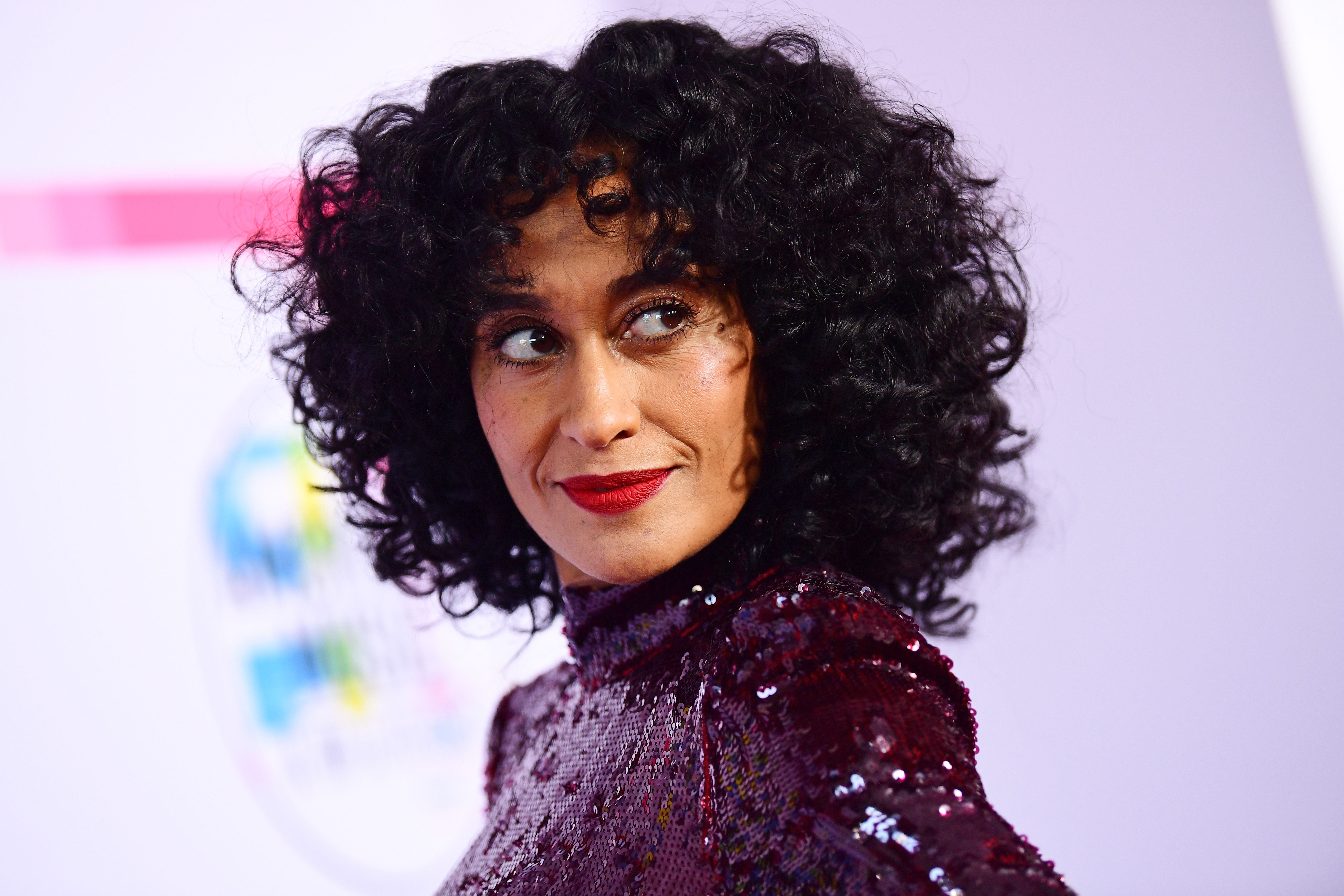 The first of the pictures captured the beautiful actress lounging fully clothed in the tub with her hands resting against her cheek. The shots that followed saw her standing in the tub with a pink feather in her hand.
In her caption, she joked about taking her fashion bath for the People's Choice Awards. She urged her fans to tune in to watch her receive "a fancy award" and tagged herself as a "fashion icon."
In the comment section, her fans had nothing but sweet things to say about the gorgeous photos. One fan gushed over the outfit, calling it a dress you wear to feel like an icon, while another just wanted to have details on the outfit that looked so good on her. 
Of course, the outfit is not the only thing that made Tracee pull off the great look. The actress has glowing skin and a great body that she keeps fit with what has been described as the most "relatable" celebrity diet and exercise routine of all time. 
Even though she has no kids of her own, the actress slipped into the mother role so easily.
Her workout routine reportedly involves resistance training a couple of times each week, and dancing, among other things, while her diet includes a balanced diet and plenty of water. 
The actress also knows when to take a break from her routine though Tracee knows she feels her best only when she exercises. 
As for her skincare routine, Tracee is more particular about hydrating her skin, getting up to 8 hours of sleep, and not "sweating the small stuff." 
She uses up to four layers of product on her face, and some of them include a Retrouvé Intensive Replenishing Facial Moisturiser, anti-fatigue contour cream, grand finishing serum, and a glowing skin perfector. 
Tracee is an actress best known for portraying Dr. Rainbow Johnson, the down to earth mother in the ABC sitcom, "Black-Ish." Even though she has no kids of her own, the actress slipped into the mother role so easily; it seemed like she had been doing it a lot longer. 
It should not be a surprise that the gorgeous woman could pull off something like that because she had inspiration from her own mother, legendary musician Diana Ross. 
Diana raised her daughter with a hands-on approach, and though she was famous, the legendary singer made sure to make time for her kids, a trait that her daughter channeled through her character in "Black-Ish."
Diana and her daughter have always shared a great bond, and this has not changed over the years. The pair has made several public appearances together, and their sight is always one to behold.