Hugh Laurie Has Been Married for over 3 Decades — inside 'House, MD' Star's Personal Life
"House, MD" star Hugh Laurie has been married to his wife Jo Green for over three decades, and despite his fame and celebrity status, he manages to keep his family life away from the public.
Lovers of the medical drama television series "House, M.D" would remember the eccentric character, Dr. Gregory House, played by British actor Hugh Laurie. What many may not know is that despite his on-screen success, Hugh lives a very private life.
He has been married for over three decades to his wife, Jo Green, and their marriage has been blessed with three adorable kids, Charlie, Bill, and Rebecca. Here is a look into his personal life and his progress over the years.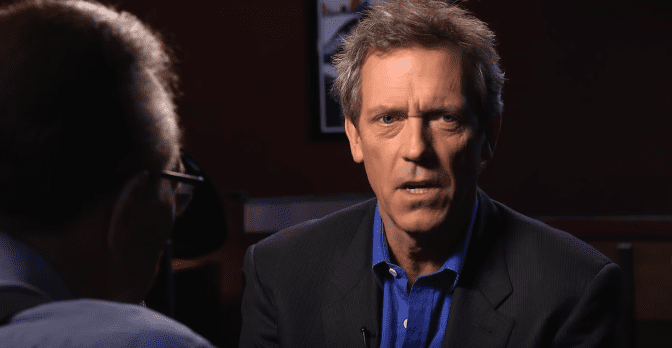 HUGH LAURIE AND JO GREEN
Hugh and Jo got married on June 16, 1989, and his colleague and good friend Stephen Fry served as the best man of the ceremony. They welcomed their first child, son Charlie, in 1988, and in 1991 they welcomed their second son Bill. In 1992, their daughter Rebecca joined her older siblings.
Interestingly, while their marriage has lasted for over three decades, things have not been smooth all the way. There was a time Hugh admitted to having had extramarital affairs with a film director when he was away from home, and this put a strain on their marriage.
Quick: what sarcastic comment is #House making now? pic.twitter.com/r3mAU0aPfg

— House (@housetv) October 15, 2020
Another surprising thing about Hugh and Jo is how they have managed to work through all the stress that comes with being in the spotlight while retaining their privacy. They have been able to keep the media away from their personal space.
The 61-year-old has often talked about how he battled depression for years, which affected his family at some point.
The doctor has arrived. #House pic.twitter.com/xm6W6fEbRM

— House (@housetv) March 6, 2020
CHARLIE, BILL, AND REBECCA
Jo, who is a theater administrator, was the one taking care of the children solely at some point. This was because Hugh had to be in the United States to shoot "House M.D" while the family was back home in the United Kingdom.
While his children might not be actively taking after their father's footsteps when it comes to acting, the three of them have had a stint in the entertainment world. His oldest son Charlie played a small role as baby William in "A Bit of Fry and Laurie." 
15 years since its premiere, #House still remains one of TV's most legendary physicians. pic.twitter.com/d4sgNvXZ7O

— House (@housetv) November 16, 2019
His second son Bill got to play a part in Hugh's sitcom, "Fortysomething," and Rebecca had a role in the film, "Wit," where she played five-year-old Vivian Bearing.
HUGH AND DEPRESSION
Although Hugh lives a private life and loathes granting interviews, the one thing he has openly shared with the public is his battle with depression. The 61-year-old has often talked about how he battled depression for years, which affected his family at some point.
We're never not thinking about the way Dr. #House and Dr. Cuddy look at each other. pic.twitter.com/MS3OR9HERN

— House (@housetv) February 14, 2020
He explained that the depression caused a serious strain on his marriage, and it was around that time he had an extramarital affair. Hugh also came clean about going to therapy for help with the situation, and ever since, he has been doing well for himself and those around him.
MULTITALENTED HUGH LAURIE
Many might think Hugh is only good at acting; incredibly, he is good at a whole lot of other things. From writing to music and storytelling, Hugh always manages to find an outlet to express his creative genius.
Show off your love for #House. The House auction is now live. https://t.co/g2zoxvQpWG pic.twitter.com/EVFqiKlZer

— House (@housetv) October 3, 2018
The multiple talents have always been a part of Hugh. After studying at Eton and Cambridge, he participated in the rowing competition at Cambridge and was part of the England Youth Team. Sadly, he was forced to give up being an oarsman when he contracted glandular fever.
Over the years, Hugh might have come across as eccentric to those who come in contact with him, but those close to him, such as his friends and family, can testify that underneath it all, is a man dedicated to success who never stops giving his all.