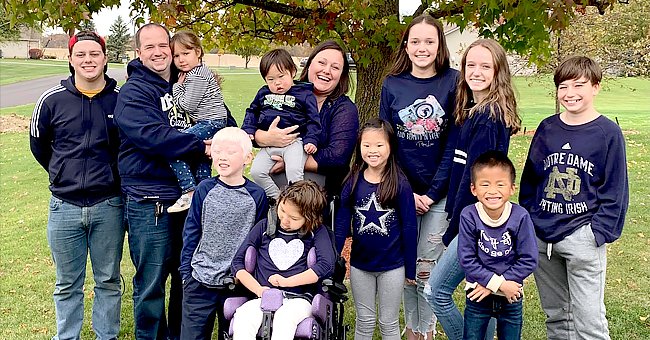 facebook.com/ashley.b.kellogg
Parents of 6 Kids Who Adopted 5 More Leave Their Hearts Open to Welcome Even More
Indiana couple Paul and Ashley Kellogg, who wanted at least six children, end up with a family of 11 beautiful kids, more than half of whom have special needs.
In an interview with PEOPLE, Paul and Ashley Kellogg said they would not have it any other way. In fact, they still have plans to have more offspring.
Paul and Ashley's parenthood journey started with six biological children. The couple soon realized that they had an invaluable set of parenting skills that could greatly benefit another child with special needs when Ashley gave birth to Myra, who has cerebral palsy.
Paul and Ashley have adopted five children over the years. They have adopted children with Down syndrome, dyslexia, vision impairment, albinism, seizure disorders, and speech delays.
Still, according to Paul and Ashley, their lives have only been enriched by their additions. These children have improved the lives of their siblings as well, they added.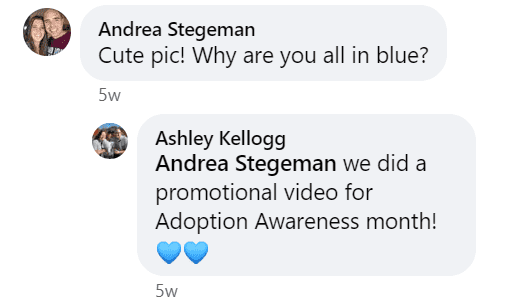 Screenshot of comments from Ashley Kellogg's Facebook post. | Photo: Facebook/Ashley Kellogg
Heather and Jamie Hejduk are already doting parents to four biological children. However, the couple decided to adopt six children to add to their happy family, as reported by Khou 11.
The couple then found out that the boys had siblings.
Heather and her husband, Jamie, were approved by Judge Charles Montemayor to become adoptive parents during a virtual ceremony with state workers and a lawyer.
According to Heather and Jamie, they did not intend to adopt six children. In August 2019, they became licensed to be foster parents and start fostering twin boys.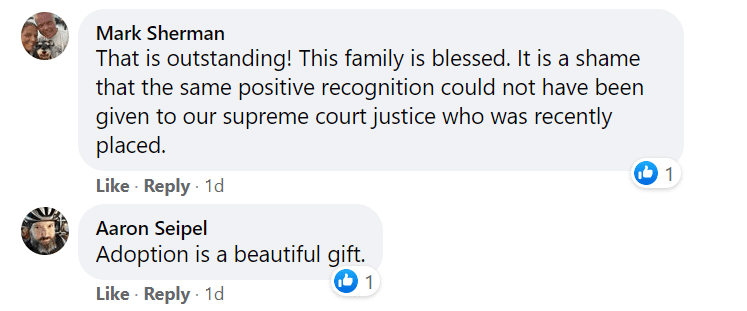 Screenshot of comments from 10TV - WBNS's Facebook post. | Photo: Facebook/10TV - WBNS
The couple then found out that the boys had siblings. Meanwhile, the goal was for the children to be reunited with their biological parents. However, the plan changed.
The family said they had rented a theater at the Park North Alamo Drafthouse to have dinner and watch "Despicable Me" as a celebration. Prior to the COVID-19 pandemic, they had initially planned to take a Disney World trip to celebrate the finalization of their adoption.
Both parents of 4-year-old Raiden Gonzalez died of the novel coronavirus disease recently, as reported by CNN. With the little boy's birthday on November 28, his great-aunt, Margie Bryant, and her family wanted to find a way to make sure Raiden knows how much he is loved.
Organized by Bryant, a dinosaur-themed drive-by parade is set for November 28 to celebrate the boy's special day. All due to participate are the local fire department, Batman entertainer, monster truck clubs, motorcycle clubs, and classic car clubs.
Please fill in your e-mail so we can share with you our top stories!