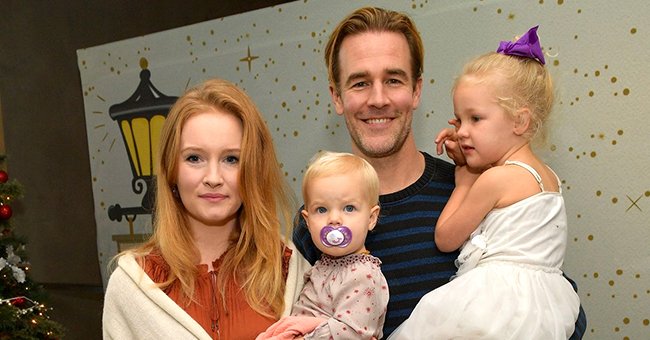 Getty Images
James Van Der Beek Posts Throwback Video Talking to His Kids about Their Unborn Brother's Death
James Van Der Beek posted a heart-wrenching video that got us very deep in our emotions. The video brought back James' pain, and it seems like it was a need for him to repost it again.
James Van Der Beek posted a throwback video talking to his kids about their unborn brother's death. He stated that he had to explain to his then 1, 3, 5, 7, and 9-year-old kids about the late-term pregnancy loss in a lengthy caption.
In a sad three-slide post, James' daughter's wore a peach matching sweater and tights. Emelia asked why they won't have a baby brother anymore.
James Van Der Beek at Sunset Tower Hotel on February 6, 2017 in West Hollywood, California | Photo: Getty Images
In the clip, James explained to his kids that their baby brother will not be coming to earth but will be going to heaven. Another daughter jumped in and said that they will not have another baby brother ever again, which James disputed not to be true.
The second clip shows Van Der Beek and his two daughters talking about the possibility of pf having another baby, and the girls said that they either want a baby sister or a baby brother.
In the last clip, his son deviated from the subject and made of their family dog instead. When he mentioned the baby situation, he shrugged his shoulders.
Fans took to the Instagram comments sections to comfort James and his wife. "You are wonderful parents; I pray to God that your family is blessed again with a little one," said one user. Another said, "Such wise words, dad, kudos to being a loving and caring daddy.
The 43-year-old shared the videos just a year later after his wife Kimberly suffered a miscarriage while 17 weeks pregnant last November.
Kimberly endured another pregnancy loss in June, which was her fifth miscarriage in nine years. Van Der Beek wrote on his Instagram account how he had to explain it to them:
"I'm not sure there's any one way to do it, since every kid is so different – one brawled immediately, one had questions, one tried to make jokes, one tried to avoid by acting crazy."
While Van Der Beek and his wife continue to raise their beautiful five kids despite their loss, the actor opened up to the HuffPost about his recent move with his family amid the pandemic.
The actor revealed what he has learned about his children during the pandemic, including practicing self-care. The dad of five moved to Texas with his lovely family.
Van Der Beer shared that he was surprised by his kids that they were able to recalibrate. "The Varsity Blues" star further stated that his kids are very creative and enjoy their new space.
On how he practices self-care, he shared that for him, self-care starts with self-love. Van Der Beek said that his self-care is on doing the things that keep him happy and healthy, not forgetting fulfilled.
In October, Van Der Beek told Today why he and his family moved to Austin, Texas. The "Dawnsons' Creek" revealed that personal tragedies and the ongoing coronavirus pandemic are the reasons why they relocated.
Van Der Beek also added that his elimination from the hit show "Dancing With the Stars back in 2019 also influenced their decision. We hope the family of seven will find solace in their new home and create more happy memories.
Please fill in your e-mail so we can share with you our top stories!