Whoopi Goldberg's Granddaughter Jerzey Shows Fit Body Posing in a Tiny White Top & Cargo Pants
The stylish granddaughter of the "Sister Act" star Whoopi Goldberg keeps stealing social media users' attention with her striking and inspiring looks, and she flaunted her incredible figure on her profile recently.
Fashion designer and aspiring model Jerzey Dean, currently around the age of 25, is one of the grandchildren of 65-year-old actress and comedian Whoopi Goldberg, and she is gradually making a name for herself in social media.
With a little more than 2,000 followers on Instagram, Dean sees her following growing day after day, thanks to her daily posts on which she always puts her excellent taste on display, trying different outfits.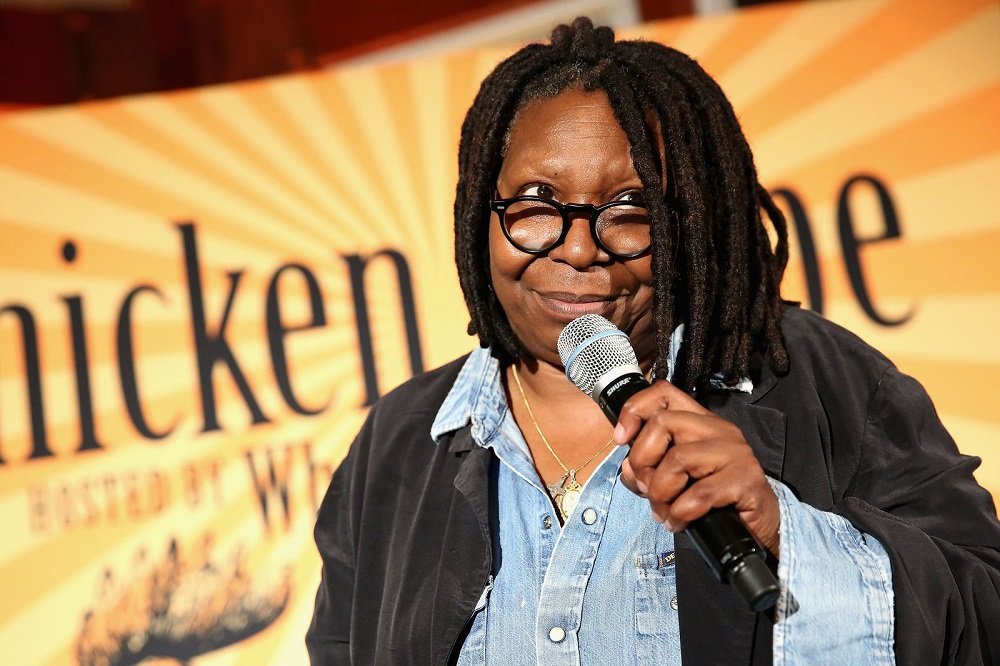 On November 24, 2020, Dean chose to wear a tiny white top and a pair of light brown cargo pants to pose for several pictures shared on three different slideshows, using her Calabasas home backyard as a setting.
In the images, Dean modeled the outfit of the day from various angles, and as she turned her back to the camera, we can see her buttock-long braided hair hanging down, giving her a relaxed urban vibe.
On one of the posts, Dean took to the caption to take a moment of gratitude on which she acknowledged the fortune of being alive and well in a troubled world, and she wrote:
"I'm Here. I'm Blessed. And I'm Growing."
CLOSE TO HER GRANDMOTHER
Dean and Goldberg famously share a love for fashion (the two are frequently spotted together at fashion shows, and Dean has modeled for Goldberg's clothing brad Dubgee), and you can tell that the two really enjoy hanging out together.
Starting in 2014, Goldberg made sure to use her celebrity status to take Dean to the first row at New York Fashion Week, to expose her as much as possible to the world of fashion design, which she is pursuing professionally.
"I am enjoying it. It's my first Fashion Week ever," then-19-year-old Dean told the New York Post while briefly interviewed after a Skingraft show at The Pavilion at Lincoln Center.
In the interview, Dean also expressed her liking for her grandmother's style, praising Goldberg's clothes of choice and revealing that she was fond of the actress's preference for oversized garments.
JERZEY'S MOTHER
Dean's mother is Goldberg's only daughter, 47-year-old also actress and film producer Alexandrea "Alex" Martin, shared with her first husband Alvin Martin. Apart from Dean, Alex has another daughter, Amarah, and a son, Mason.
Alex was born in 1973, the same year on which Goldberg and Martin married. However, that marriage didn't last long, and Goldberg went through her first divorce in 1979.
After that, it was just the mother and the daughter for a while, and Alex can still recall the hardship Goldberg went through to support her before making it big in Hollywood.
As Alex shared in 2015, she and her mother used to sleep on the same bed in a one-room space, and they survived mainly on food stamps, not having money for food, not to mention going to the movies.
It all changed when Goldberg got her breakthrough role in 1985's "The Color Purple," and her success from then on probably inspired Alex to follow her steps to become an actress, before moving on to a role behind the camera.
Via her older daughter Amarah, Alex has already made Goldberg a great-grandmother, with Amarah giving birth to a daughter named Charli Rose in 2014. Unsurprisingly, Goldberg is doing a great job in the role.