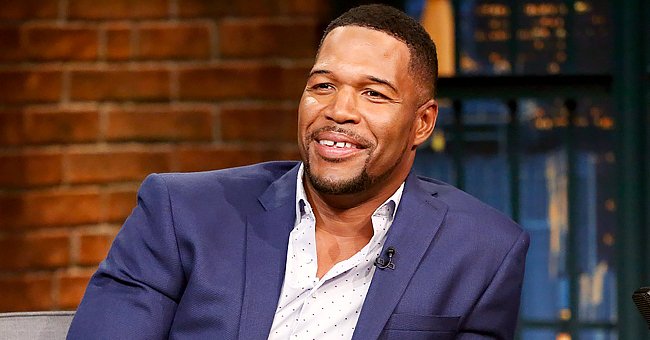 Getty Images
Michael Strahan Shares New Photo of Twin Daughter Sophia & Jokes about Her Lying on the Floor
"Good Morning America" co-anchor Michael Strahan is very amused about being the father of teenagers, and he recently couldn't resist having a little fun at his daughter's expense by sharing a funny picture on social media.
49-year-old former professional football player and TV personality Michael Strahan is the proud and loving father of four children, the youngest of which are 16-year-old twin daughters Sophia and Isabella, shared with his second ex-wife, Jean Muggli.
While he already has experience parenting teenage children, he doesn't seem to have enough of it nowadays, and he recently took to social media to jokingly comment on his daughter Sophia's peculiar way of getting comfortable.
Isabella Strahan, Michael Strahan, and Sophia Strahan attending Nickelodeon Kids' Choice Sports 2019 in Santa Monica, California, in July 2019. I Image: Getty Images.
On November 24, 2020, Strahan took to his personal Instagram profile to post a snapshot of Sophia lying on the floor in the family home's living room. She was next to her laptop and a dog as she looked at her phone with her lower body wrapped in a blanket.
"There is a couch, there is a chair, there is a bed, but nah Sophia is good with the floor LOL. Gotta love it! #kids" Strahan captioned the image, much to the enjoyment of his many fans and followers, who graced him with more than 30,000 likes.
"Just a typical teen! Wonderful," a user wrote in the comments section of the post, where Sophia made an apparition, first calling her father's attention for having shared that picture of her, and second, explaining:
"I was in yoga class."
DOTING FATHER
Sophia and Isabella's older siblings are 28-year-old Tanita, a visual artist and a podcaster, and 25-year-old Michael Jr., both a product of Strahan's first marriage, to Wanda Hutchins.
All four of Strahan's children share a close bond with one another, and nothing makes the proud father happier than having the chance to be around all of them at the same time.
In the caption to a May 2019 Instagram post documenting such a moment, Strahan called his children the reason why he woke up happy every day, making it clear to his fans and the general public that his family comes before everything else.
SETTLING A LEGAL CASE
Strahan's relationship with Sophia and Isabella's mother has been very rocky since their divorce, and the former husband and wife have settled a legal case that had them battling until early in November.
On the 7th of that month, it surfaced that Strahan had agreed to dismiss his claims about Muggli having repeatedly shown abusive conduct toward their teenage daughters.
The settlement also involved a custody deal according to which each parent will have the children for a week at a time. In order to make this work, Muggli was required to find a residence in Manhattan, where Michael currently lives.
Please fill in your e-mail so we can share with you our top stories!