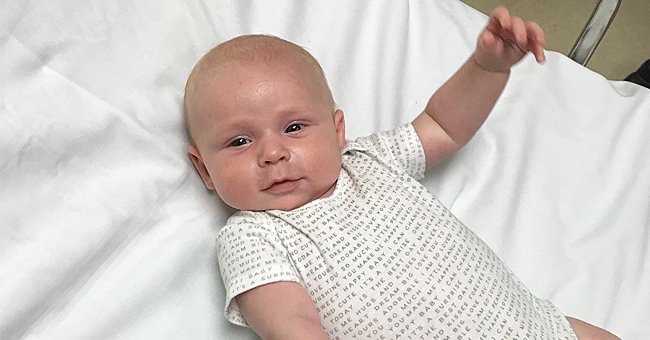 facebook.com/tafarom
Overprotective Mom's Nagging Text Message Saved Her Baby's Life in a Car Accident
A caring mom's story of how her nagging text message to her husband about their baby boy's position in the car seat saved the little tot's life has gone viral.
A Memphis mom Rebecca Tafaro Boyer shared her now-viral story on Facebook, recounting how a nagging text message she sent to her husband on their baby's sitting position saved him in an accident.
According to the overprotective mom, she went to work after the end of her maternity leave. She demanded that her husband send her hourly updates and recaps on how their baby, Williams, handled his first day without her.
Memphis mom, Rebecca Tafaro Boyer, with her husband and baby son, while speaking to Local 24 Memphis news. | Photo: YouTube/ Local 24 Memphis
Her husband obliged and sent her text messages and pictures of their son as they embarked on a trip to the grocery store. From the picture her husband sent, Rebbeca observed her baby was not in the correct position in the car seat.
She nagged about this and asked that her baby's position be corrected, telling her husband to tighten the straps and raise the chest clip which was too low, which he did.
About fifteen minutes afterward, her husband called her and told her in a panicked voice that he and their baby were involved in a car accident. He said they were fine but that their car had to be totaled.
While trying to turn left, a woman pulled into traffic. Rebecca's husband could not stop in time and collided with the front passenger side of the woman's SUV after hitting the brakes at 50mph.
Baby Williams was so well restrained in his car seat that he did not wake up during the accident despite both cars' impact. However, Rebecca's husband's foot was broken in three places. He also suffered dislocated toes.
Heather Clare, also shared her story of how her daughter, Meadow, fractured her tibia while they were going down on a slide.
Rebecca also shared her story with TODAY and stressed that it was important for infants to be rear-facing in the back seats of cars until they are two years old.
She also said they need to be secured in a five-point harness in the base of a car seat that does not move more than an inch in any direction.
Rebecca also thanked her husband for taking the time to safely position their son in his car seat after her text message.
Rebecca revealed that she had replaced the car seat and donated the old one to the NICU at Le Bonheur Children's Hospital, where her son was taken to after the accident.
The hospital will use the seat to educate parents on securing their newborns safely in the backseat of cars. Britax car seat company, where the woman bought the car seat, also offered to replace the seat for free, but Rebecca declined.
Rebecca said she and her husband already bought another seat from them. She asked them to donate a car seat to the Forrest Sence Fund in Memphis, a non-profit organization helping families of children with chronic or critical conditions.
Another mother, Heather Clare, also shared her story of how her daughter Meadow, fractured her tibia while they were going down on a slide.
Meadow's foot was caught between her mother and the slide, and Clare's efforts to stop them from sliding proved futile.
Her husband got a snapshot of his wife and their daughter at the exact moment, showing Meadow's right foot trapped and twisted between the slide.
Meadow was hurt so bad from the incident, and when they got to the hospital, doctors said she had fractured her tibia and fibula and would wear a pink cast for four weeks.
Doctors also advised her not to go to the slide with her children as slide-related injuries were common. They said only one person should go on a slide at a time.
Meadow has fully recovered from her injury, but her mom shares the picture of the moment she got injured to anyone she can, hoping to prevent another infant from going through the same pain her daughter endured.
Please fill in your e-mail so we can share with you our top stories!