Simone Biles Kisses Boyfriend Jonathan Owens during Date Night — Here's the PDA-Packed Snap
Over the weekend, Simone Biles shared a photo on Instagram with NFL player boyfriend, Jonathan Owens, featuring some major PDA.
Olympic gold medalist Simone Biles, 23, shared a photo from a dinner date with her new boyfriend, NFL player Jonathan Owens, 25, to her Instagram this weekend.
Biles confirmed their dating status back in August when she shared intimate photos of the pair. One photo series showed Jonathan kissing her neck while Simone smiles brightly into the camera.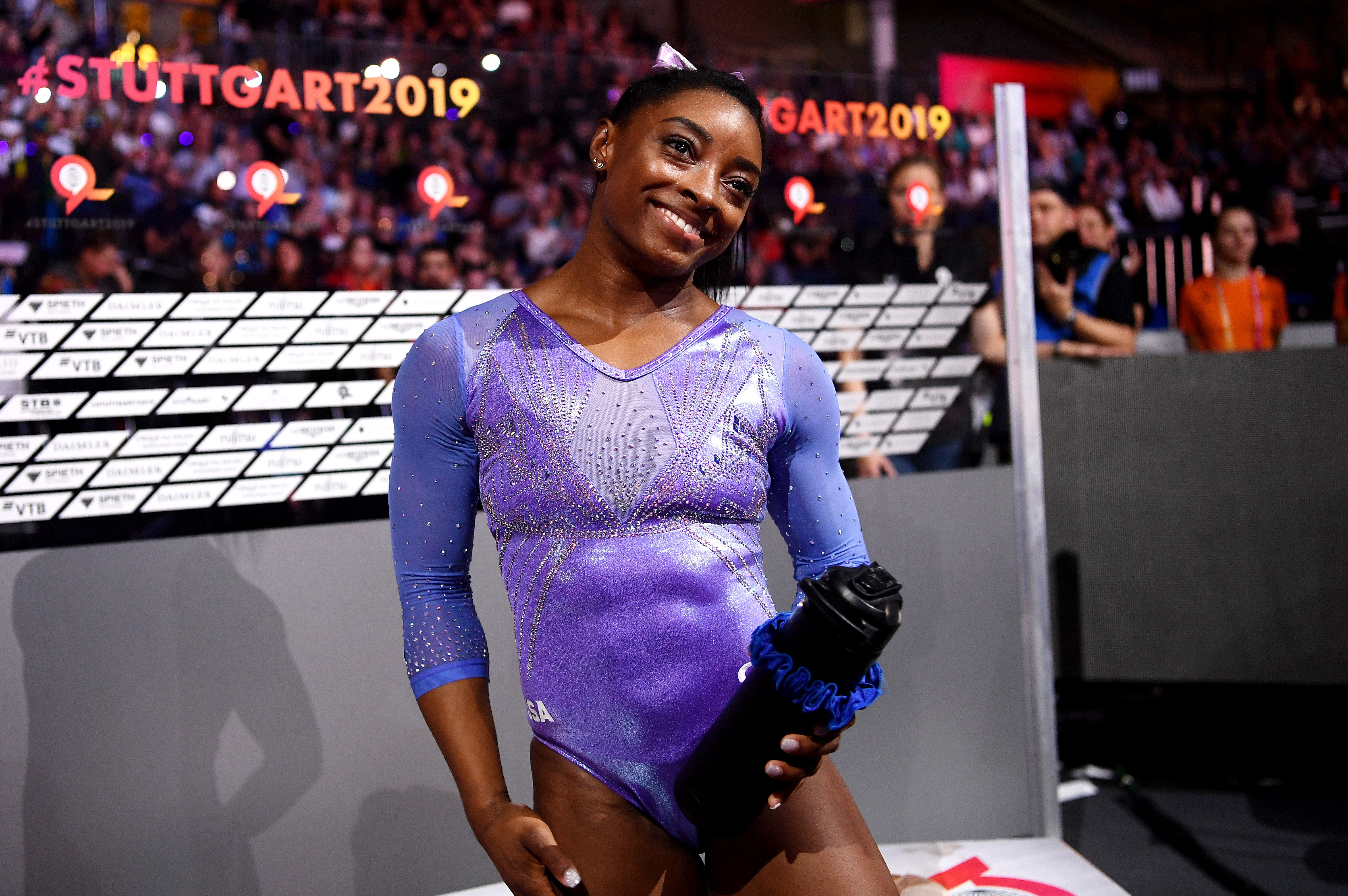 Her newest post with her everyday man crush features the couple at a restaurant. In the first photo, she is sitting on his lap; Owens is holding her while they both smile toward the camera, followed by a photo of the pair kissing
Owens sharing her sentiment, commented on her post that he always has a good time with her. Owens is not a stranger to her Instagram account as she has posted a few photos of them together, captioning the newest photo as, 
"good food better company ? " 
Biles, who lives in Texas City, has shown her support of her NFL player boyfriend, by posting photos of her at his game dressed in his team's jersey, the Houston Texans. 
The couple is not shy in sharing their love and support for each other as Biles has posted many photos of the couple together over the last couple of months. Owens replies to her posts with heartfelt replies. 
After the breakup, Biles explained that it was hard to be so young, have a long relationship and then have it end.  
In another post on her account, she shares an image of the couple in front of a black and white polka dot background, captioning that he was her man crush every day.   
Many of her followers took to the comments to share their support of the couple, such as that the couple is couple goals, and that her followers are obsessed with the new couple:
"Aw you guys are so cute ? "
In March, Biles revealed to Vogue that herself and long-time boyfriend of 3 years, Stacie Ervin Jr. had broken up. The couple had met when the Olympian's grandmother had hired Ervin as a coach at her gym. 
After the breakup, Biles explained that it was hard to be so young, have a long relationship, and then have it end. However, she believed it was for the best that the couple split up. 
Biles and her ex-boyfriend had started dating in 2017 and broke up earlier this year in March. It is believed that Ervin Jr. was her first boyfriend, as she describes that she had never had a boyfriend before him. 
Houston Texans safety, Jonathan Owens and Olympic gymnast, Simone Biles, started their romance over the summer and have commemorated their relationship on Instagram over the last couple of months.