Michael Jordan's Cute Grandson Photobombs Mom's Selfie as She Posed in Tight Top and Jeans
Michael Jordan's oldest daughter Jasmine Jordan shared a cute mirror selfie featuring her one-year-old son who photobombed the snapshot. 
Michael Jordan's daughter, Jasmine Jordan, took to her Instagram page to share an adorable selfie that also featured her baby son, who she shares with her fiancé Rakeem Christmas. 
In the snapshot, Jasmine posed in front of a mirror, holding her phone. She rocked braided hair and wore a gray turtleneck bodysuit, which she tucked into jean pants. 
Jasmine wore a white cotton cardigan duster over her outfit and accessorized her look with glasses. Behind her was the adorable baby Christmas, who photobombed his mother's picture without trying too hard. 
The cute 1-year-old wore an orange hooded top and looked to be busy with something. In the caption to the post, Jasmine called attention to her son's photobombing abilities by writing: 
"It's the photobomb for me ??? ."
Jasmine's fiancé, Christmas, commented on the post and gushed over his son's photobombing skills, while some other fans noted that the picture was cute. 
Jasmine shared another picture on her Instagram Story that showed Baby Christmas showing off his workout skills. In the snapshot, he placed his head on the carpet, spread his hands, and raised the rest of his body. 
The proud mom spoke about her motherhood journey.
The family's pet puppy watched baby Christmas closely. In the caption to the picture, Jasmine gushed over her son's energy levels, writing, "It's the energy for me!" 
Jasmine and Christmas welcomed their cute son in May 2019, making NBA legend Michael a grandfather for the first time. The former basketballer is fond of his grandson and has spoken of how he loves watching baby Christmas. 
The star also once revealed he would like baby Christmas to call him "Michael" instead of the traditional grandpa, though Jasmine did not accept such.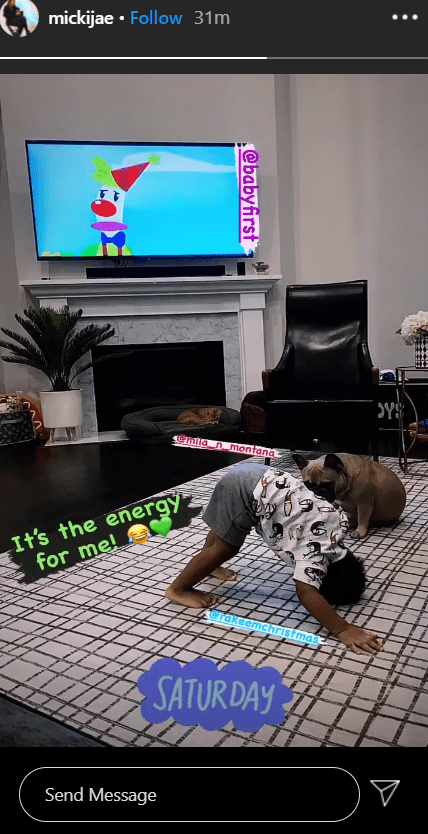 The proud mom celebrated her son's first birthday in May and posted a loving message to him on her Instagram page, saying being his mother had been beyond fulfilling. 
Jasmine also celebrated her and Christmas's anniversary two weeks ago and posted a glowing tribute to him on Instagram, saying she would love him till the wheels fall off. 
In an interview with The Undefeated in May, the proud mom spoke about her motherhood journey, saying it had been a new experience for her and that she loves it and would not trade it for anything in the world. 
Jasmine's fans would be hoping to see more of her baby son's adorable moments on her Instagram page as they continue to wait for her and Christmas to walk the aisle.