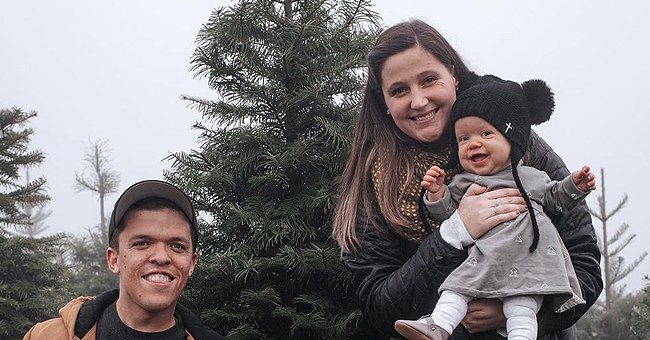 instagram.com/toriroloff
Zach Roloff's Family Look Ready for the Holidays in Adorable Photos with Their Christmas Tree
Zach Roloff's family has already gotten into the spirit of Christmas as they share adorable photos of them with their new and undecorated Christmas tree.
Christmas is just around the corner, and Zach Roloff's family has gotten a head start on virtually everyone else. The lovable family has gone on to get their Christmas tree.
Zach's wife Tori shared a series of photos from when they went tree-hunting with their children and the family dog on what looked like a gloomy day.There was visible fog seen in the background.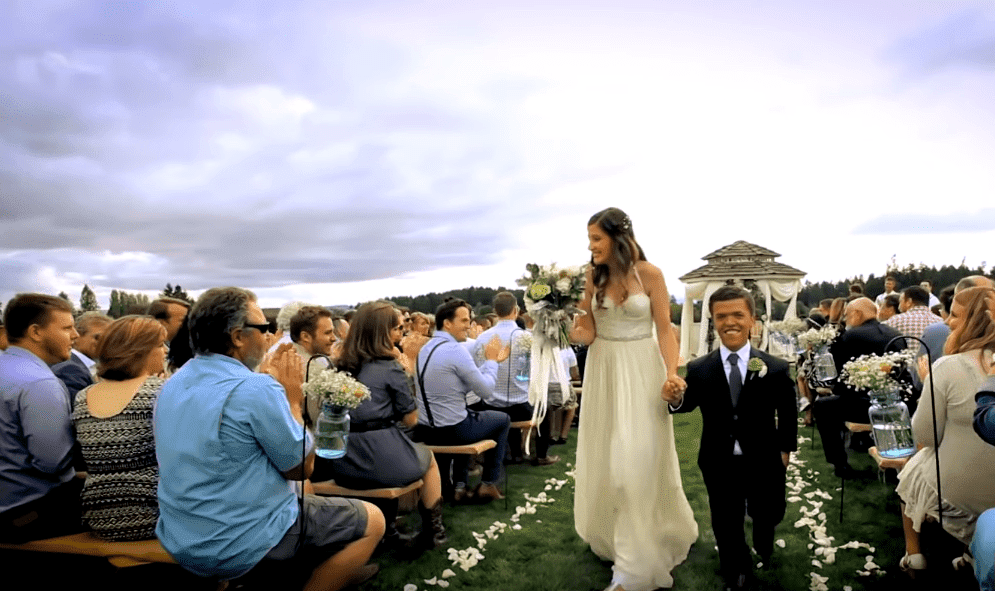 Tori and Zach Roloff walking down the aisle at the Roloff family farm on July 25, 2015 | Photo: YouTube/Nicki Swift
The first shot Tori shared showed her with Zach and their kids, Lilah and Jackson, standing in front of a medium-sized Christmas. Zach stood closer to his son Jackson while Tori carried their daughter in her arms.
In the next photo, the family dog joined the fun and sat beside Zach, who had a saw in his hand. The next image featured Zach, with his face obscured by a black face mask.
Zack stood amidst rows of identical Christmas trees with his son and their beautiful dog. It was a great shot, but it was outdone by the one that came next.
Jackson was delivered in May 2017, and two years later, the couple once more revealed they were expecting.
The image captured Lilah and Jackson in a close-up pose that no doubt melted hearts. Lilah was in a wooden cart wrapped halfway in a white blanket while Jackson stood behind her with an adorable expression on his face.
The family was dressed for cold weather with Tori wearing a puffy black jacket that reached her knee. Zach wore a brown jacket over a black top and a baggy pair of trousers.
Jackson also wore a puffy jacket with a brown head warmer, while his sister Lilah had on a simple grey dress with matching tights. Like her brother, her head was protected by a black beanie that sported two pom-poms.
In her caption, Tori revealed that they had found their Christmas tree and that even though it was just the beginning of the festive month, "it's already feeling like Christmas." And it sure is.
Their fans had only sweet words for the post, and they made sure to have their say in the comments section. They loved the photos and congratulated the family of four on their tree acquisition.
Zach and Tori tied the knot in July 2015. In the year that followed, they announced that their first child was on the way. Jackson was delivered in May 2017, and two years later, the couple once more revealed they were expecting.
Lilah was born in November 2019, and she is not likely to be the last child Zach and Tori will be having together. The two reportedly want up to four or five kids, and even though they are not pushing it, they are certainly ready for it.
Please fill in your e-mail so we can share with you our top stories!