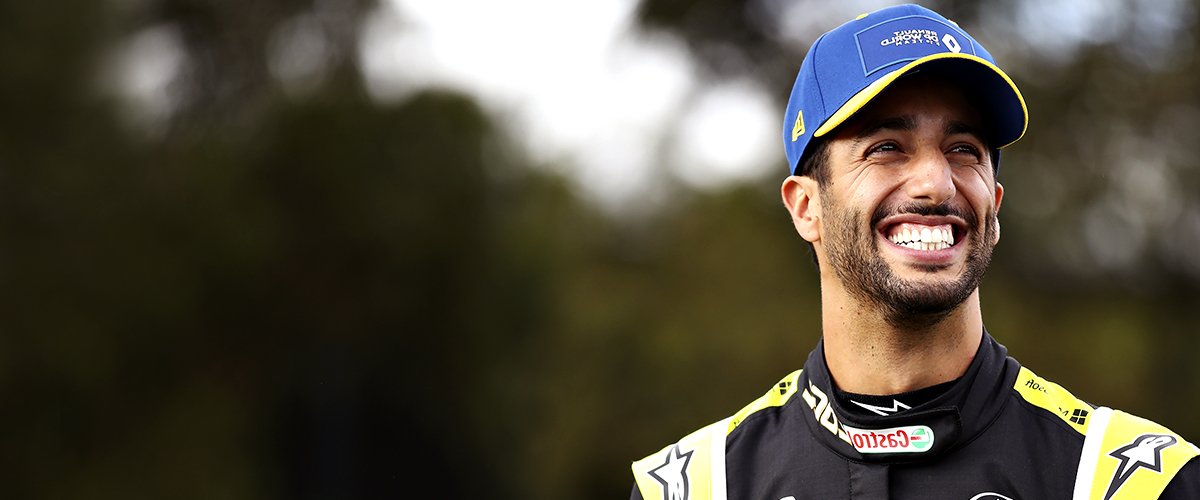 Getty Images
Daniel Ricciardo Is an Australian Heartthrob Who Is Reportedly Single — Meet the Racing Driver

Formula One driver Daniel Ricciardo is undoubtedly one of the most talented F1 drivers of his generation. However, his cheery personality and permanent smile have the hearts of millions of female fans racing.
Daniel Ricciardo is the first F1 driver from Western Australia. However, that is not what distinguishes him from the rest of the drivers in Formula One's highly exclusive world.
Nicknamed "the Honey Badger" because of his unique racing style, which deftly combines subtle and aggressive maneuvering, Ricciardo has endeared himself to millions of F1 fans due to his down-to-earth personality.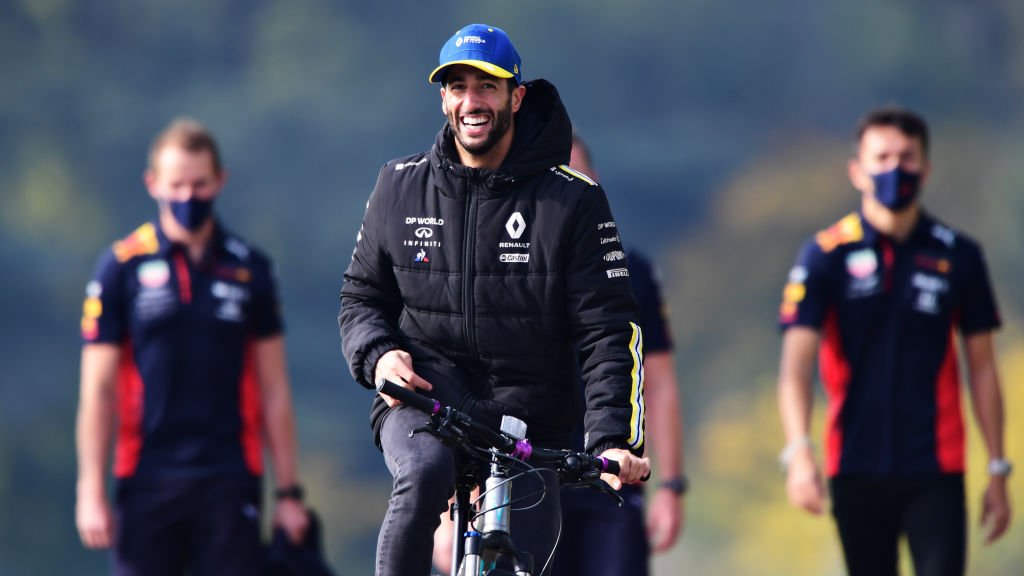 Daniel Ricciardo cycling at Autodromo Enzo e Dino Ferrari on October 30, 2020 in Italy. | Photo: Getty Images
While his dashing good looks can be put down to having good Italian genes, Ricciardo's simplicity stems from his upbringing and deep family connection.
DANIEL RICCIARDO'S EARLY LIFE
Daniel Ricciardo was born on June 1, 1989, in Perth, Western Australia, as Daniel Josepha Ricciardo, to Italian parents Giuseppe "Joe" Ricciardo and Australian-born mother Grace.
The 31-year-old F1 racer was raised by his parents in Duncraig, one of Perth's northern suburbs. Ricciardo grew up idolizing one of the greatest racing drivers of all time: Ayrton Senna. However, the Perth-born F1 driver's passion for racing can be traced back to a much more humble origin.
His father, Joe, had once dreamed of a motorsport life and regularly visited the nearby Barbagallo Raceway in Wanneroo for fun with his family. While recalling his earliest memories of racing, Ricciardo said:
"Dad was always passionate about it. Some weekends, I would be at a racetrack in my mum's arms watching him, so from a very young age, I was exposed..."
Ricciardo inadvertently became fascinated by the speed, and by the time he was nine, he got into kart racing. He quickly worked his way up the karting career ladder and later found his way into the Australian Formula Ford series as a teenager.
At 17, Ricciardo decided to move to Europe to pursue a racing career, which was a significant turning point in his life. Leaving home was crucial to his career success, but Ricciardo still held on tightly to the values instilled in him by his parents.
Even though he has become one of the most prominent F1 racers to come out of Australia, Ricciardo remains connected to his roots. While the F1 season was on hiatus amidst the novel coronavirus pandemic, Ricciardo self-isolated on his family's farm in Western Australia.
DANIEL RICCIARDO'S CAREER
Following his move to Europe, Ricciardo honed his driving skills in the British F3 and World Series by Renault, driving for the Red Bull Junior Team.
After a string of impressive performances, Daniel Ricciardo's F1 career began at the 2011 British Grand Prix as a test-driver with Red Bull Racing's sister team Scuderia Toro Rosso.
In 2012, Ricciardo joined Toro Rosso full-time and drove a Ferrari-powered car for them in 2012 and 2013. Following the retirement of Mark Webber, Ricciardo was promoted to Red Bull as his replacement.
After his split from his childhood sweetheart, Jemma Boskovich, in 2016, Ricciardo has preferred to keep his private life away from the spotlight.
His first season with Red Bull saw him record his first three Formula One wins in Canada, Hungary, and the dreaded Spa. Ricciardo remarkably finished in third place in the 2014 world championship ahead of his teammate and four-time world champion Sebastian Vettel.
During his four years with Red Bull, Ricciardo quickly established himself as one of Formula One's top drivers with another third-place finish at the 2016 world championship and a total of seven Formula 1 race wins.
In 2018, Ricciardo made the unexpected career move by signing for Renault. Although the move came with a fat paycheck, many still questioned Ricciardo's decision to swap Red Bull for the struggling Renault team. While speaking on the move, Ricciardo explained:
"I thought there was more risk staying. Renault excited me. What Lewis did with Mercedes, if I was able to do that – that was instant motivation for me."
Daniel Ricciardo's Renault tenure has been underwhelming at best. Even though he has not exactly reached the heights with the French team, Ricciardo still rates himself amongst the best drivers in Formula 1. At the end of his deal with Renault, Ricciardo will join up with McLaren for the 2021 and 2022 Formula 1 season.
DANIEL RICCIARDO'S PERSONAL LIFE
Daniel Ricciardo's fame has increased remarkably since Netflix's "Drive to Survive" series began in 2019. The Aussie driver has featured heavily on the series, and his cheery personality has endeared him to viewers.
With his dashing good looks and rising media profile, it is only natural that there would be speculations surrounding his romantic life.
After his split from his childhood sweetheart, Jemma Boskovich, in 2016, Ricciardo has preferred to keep his private life away from the spotlight. Still, that has not stopped the rumor mills from running.
More recently, he was romantically linked with Australian model Jessica Gomes, 36. Both Gomes and Ricciardo come from Perth, and they once did a photoshoot for the Herald Sun.
The news first broke that the pair were dating secretly in December 2018. However, the talented racer denied the reports while still admitting that the rumors are positive news.
Apart from the brunette bombshell, Ricciardo has only been romantically linked with his former Red Bull colleague Annemarie Horbass. But neither of them confirmed or denied the reports.
Without a doubt, Ricciardo's personal life will continue to be a subject of future media speculations. However, he seems to be unbothered by the rumors and more focused on reigniting his Formula One career.
Please fill in your e-mail so we can share with you our top stories!