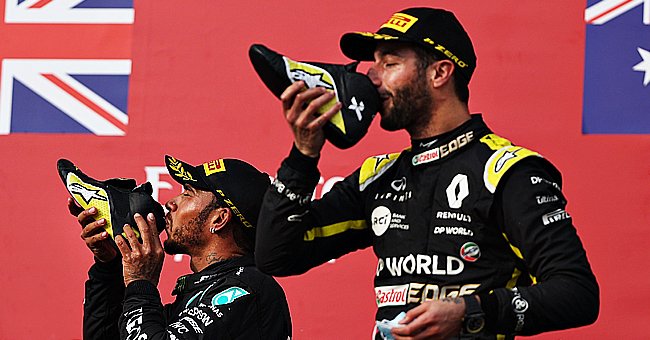 Getty Images
See F1 Champion Daniel Ricciardo's Customary Podium Finish Celebration with Lewis Hamilton
Famous Italian-Australian racing driver Daniel Ricciardo celebrated his podium finish with his customary "shoey" alongside fellow race driver Lewis Hamilton. The pair were seen going at it in a recent Instagram post.
To commemorate his latest podium finish, famous Italian-Australian racing driver Daniel Ricciardo celebrated with his customary "shoey." With equally high spirits, British race driver Lewis Hamilton also took part in the ritual.
Ricciardo posted a photo on his Instagram feed and also on his Story to mark the triumphant moment. In the first shot, the athlete was seen standing at the edge of the picture frame, fully clad in his racing gear, complete with the custom face cap.
He had in his hand a sports shoe, and with the "Emirates" logo serving as a backdrop, he took a deep swig of champagne from the shoe to fully celebrate the victory.
In the next picture, Hamilton joined the bandwagon and also took a drink from a shoe. Both athletes stood side by side as the cameras captured the moment. With a short message on the picture, Ricciardo welcomed the fellow race driver to the club.
Last month, after Ricciardo came in third at Germany's Eifel Grand Prix, he forgot to celebrate with his customary "shoey." However, with his recent victory at the Emilia Romagna Grand Prix in Italy, the sportsman remembered his iconic podium move.
As he went about pouring the Moet champagne into his shoe, it came as a surprise when Hamilton, also in a celebratory mood, asked to take part. He even went as far as asking to drink from Ricciardo's other shoe.
Later, Ricciardo revealed that he had been shocked when the race driver asked for a drink.
Though the Australian race driver had a wide smile on his face as he drank, the British sportsman had a rather displeased facial expression. Clearly, he was not enjoying the moment.
After the drink, Hamilton expressed his evident disgust. He revealed that though he naturally disliked champagne, drinking from Ricciardo's shoe definitely tasted worse. He then added that it tasted like toe jam.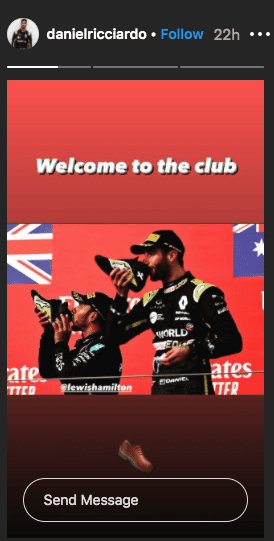 A photo of Lewis Hamilton and Daniel Ricciardo celebrating with Ricciardo's customary "shoey" on Instagram | Photo: Instagram/danielricciardo
Later, Ricciardo revealed that he had been shocked when the race driver asked for a drink, especially since he had turned down a "'shoey" offer on the podium three years ago.
For those new to the scene, watching the race drivers drink alcohol from a shoe might seem like a weird thing to do. However, it is said to be an Australian practice usually done in celebration.
Ricciardo has become well-known for this particular antic after first performing it after making the podium finish in 2016. In 2018, Formula One decided to trademark the "shoey."
The trademark was applied in the US, Singapore, Malaysia, Mexico, and Australia. Also, the Benelux Union countries, Belgium, the Netherlands, and Luxembourg made the cut. So it is safe to say that the Australian culture is breaking global grounds.
Please fill in your e-mail so we can share with you our top stories!