Michael Jordan's Daughter Holds Baby Son as She Poses with Taller Fiancé in a Family Photo
NBA legend Michael Jordan's daughter Jasmine was recently pictured holding her son while posing alongside her fiancé. The trio certainly melted hearts with how adorable they looked.
Michael Jordan's daughter Jasmine shared a new family photo featuring herself posing with her fiancé, Rakeem Christmas, and their son Rakeem Jr.
The picture saw Jasmine rocking orange cargo pants and a plain white T-shirt. The 27-year-old was captured standing in front of her beau.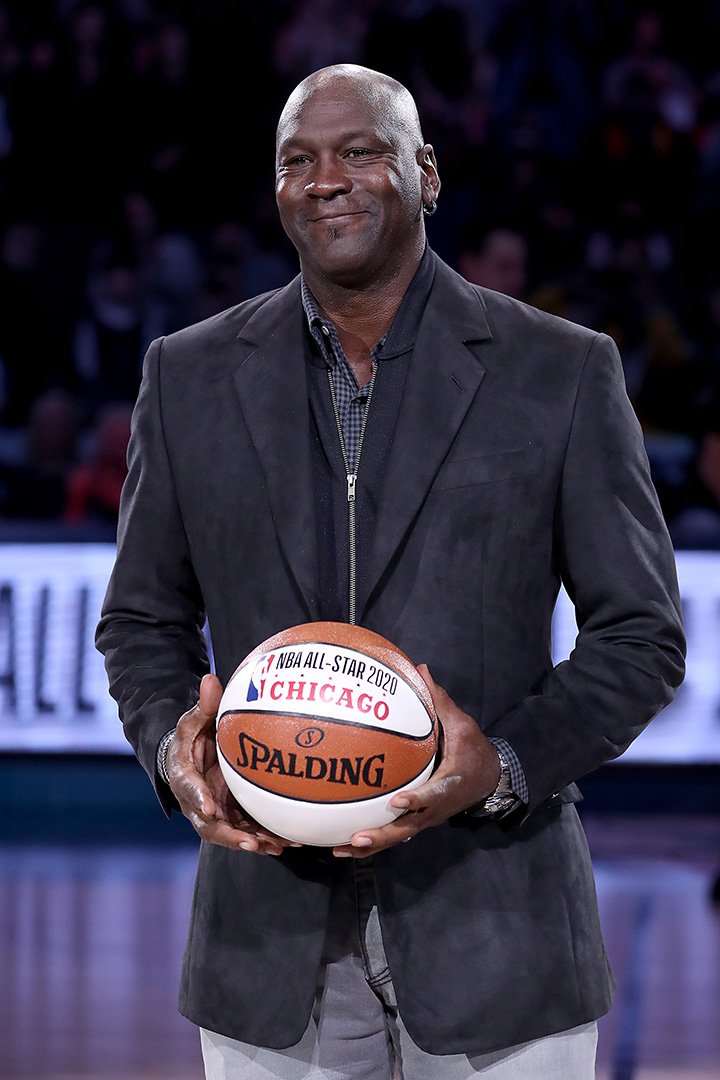 Christmas rocked a black T-shirt and matching shorts with white stripes at the hem. He accessorized with a pair of flip flops and white socks.
The couple's young son, Rakeem Jr., was seen rocking a coordinated blue outfit while sweetly resting in his mother's hands. 
The adorable family photo was accompanied by a caption where Christmas said he felt blessed to see another birthday. He added:
"Thankful For Everything I've Accomplished And Everyone Thats In My Life! Thanks For The Bday Wishes As Well…"
Christmas' adorable family photo thrilled fans and followers who took to the comments section, leaving numerous compliments and emojis in admiration.
Jasmine is Michael's oldest daughter from his first marriage to Juanita Vanoy with whom he also shares two sons, Jeffrey and Marcus. 
Although she does not have a professional basketball career like Michael, Jasmine and her dad share a close father-daughter relationship. 
Jasmine and Christmas welcomed Rakeem Jr. in May 2019, making Michael a grandfather for the first time. While the NBA star was undoubtedly excited about being a granddad, he had some unconventional ideas for his new title.
Earlier this year, Jasmine revealed that Michael had initially wanted her son to call him Mike or Michael but learned to accept Grandpa after a while.
Though she does not have a professional basketball career like Michael, Jasmine and her dad share a close father-daughter relationship. This once influenced her to try playing basketball.
While speaking about her history playing the sport, Jasmine reportedly once revealed that she played basketball from fourth grade to eighth grade in middle school. 
However, throughout her time playing basketball, Jasmine was never committed, so when it was time for high school, she dropped the sport.
Despite Michael's status as one of the greatest basketball players, he never pressured his kids to follow in his footsteps. When Jasmine decided to stop playing, he stepped up to the role of a supportive father.
Perhaps his support prompted Jasmine to study a career in sports management with which she has built a successful career.
Jasmine is currently with the NBA team Charlotte Hornets which is owned by her dad. There she is in charge of athletic apparel and media for players she manages.
She might not be a basketball champion like Michael, but there is no denying that this young lady has done well. Both in her personal life and career, Jasmine is thriving!