Omarion's Ex Apryl Jones' 2 Kids Look Just like Her as She Poses with Them in New Photos
Singer Omarion's ex-girlfriend, Apryl Jones, and their two kids, Megaa and A'mei, recently warmed the hearts of Jones's Instagram followers with the sweetest mother-children pictures.
Apryl Jones recently melted hearts with two precious photos of her and the two children she shares with Omarion, their daughter, A'mei, and their son, Megaa. She first shared a sweet selfie with her son with a caption that read:
"? when did my baby boy get so big!"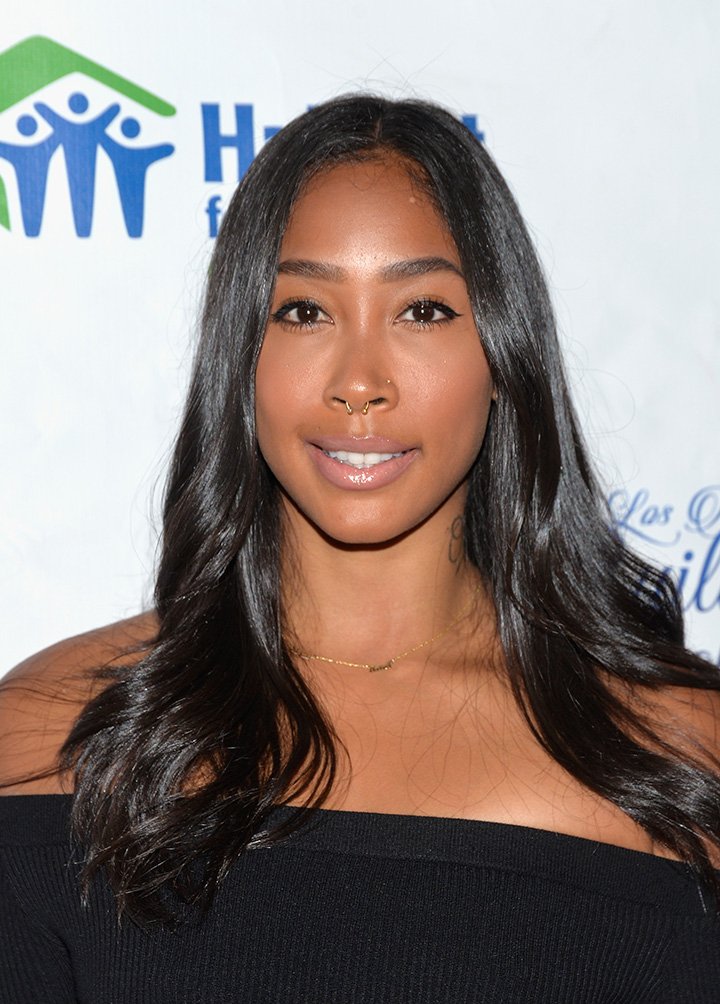 From her caption, it was clear to see that the mom of two was surprised that time had gone by so fast that her little boy had grown up so quick. She followed her surprise with mom-related hashtags.
In the adorable mother-son picture, both Jones and Megaa were on a bed as they posed side by side. The resemblance between them was incredibly uncanny.
Jones was dressed in a simple black outfit with long sleeves. She had her lush black locks pulled back in a half up and half down style while rocking a flawless make-up free face.
Beside her was her male mini-me, Megaa, in a blue and white striped shirt with dinosaurs printed on it. Apart from his super cool shirt, the young boy added some more swag with his perfect haircut.
A lot has happened since their births.
Hours after she succeeded in melting the hearts of her fans and followers with her and Megaa's picture, Jones struck again with an irresistible snap of her and her younger daughter, A'mei.
In their picture, little A'mei looked like an absolute dream in a cute blue top with her long dark hair in two pigtails. Beside her was her beautiful mom, Jones, in a figure-hugging black strapless dress. She wrote:
"Hug a little tighter. Hang on a little longer. Savor every moment!"
Jones's appreciation and zeal to savor her kids' childhoods and growth processes is not surprising as a lot has happened since their births.
It seemed like not long ago when she and her ex-boyfriend, Omarion, welcomed their daughter in March 2016. Months after, Jones and her ex hit the tabloids hard — and not for a good reason.
They parted ways after Omarion allegedly left abruptly. Jones claimed that he left her and their children without any explanation, leading to her struggling to make things work.
Their names sprung up in the tabloids years later in 2019, when Jones was reported to be dating Omarion's B2K bandmate, Lil Fizz. The singer claimed that he was unbothered by the news.
While in quarantine with her kids, the mom of two and entrepreneur has been chronicling their time —and boredom — on social media.
In April, she revealed that she opened up her expensive make-up palettes to let them use her as a make-up canvas to stop their boredom. 
Motherhood might not be easy — sometimes, she has to open make-up palettes, and other times, it is much more complicated. Still, she plans to savor every bit of it.