Zaire Wade Is 18 and Follows in His Father's Footsteps — Get to Know Dwyane Wade's Eldest Son
Former NBA star Dwyane Wade, who won three NBA titles with the Miami Heat, has four children. His eldest, Zaire Wade, plays basketball just like his dad.
Dwyane Wade's career in the NBA was nothing short of impressive. Apart from winning three championships next to LeBron James, he was part of 13 All-Star games.
Unfortunately, he faced some challenges in his personal life at the beginning of his career that involved his ex-wife Siohvaughn Funches and their two children.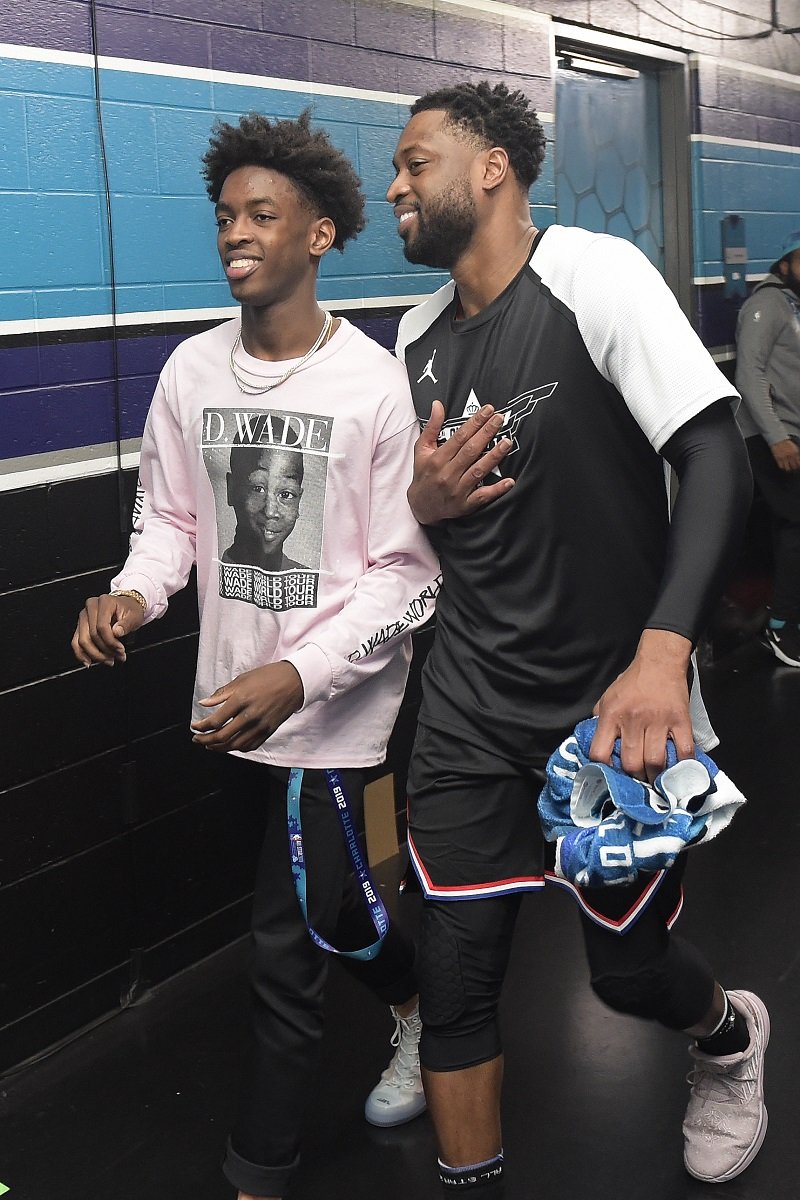 DWYANE WADE'S FIRST WIFE
The former couple met while attending Harold L. Richards High School in Oak Park, Illinois. After dating for years, they ended up tying the knot in 2002, shortly after Zaire was born.
In 2008, Dwyane and Siohvaughn welcomed their second kid, Zaya. However, only two years later, the former NBA star and Siohvaughn parted ways, citing "irreconcilable differences."
Since they didn't have a prenuptial agreement before walking down the aisle, their divorce got very contentious, and even the custody of their kids was disputed.
In March 2011, Dwyane received one of the best news of his life: he was awarded the sole care, custody, and control of his and Siohvaughn's kids.
Zaire decided to go to the private boarding school in New Hampshire.
Shortly after learning the big news, he revealed that his ordeal was the evidence that people sometimes need to fight until the end to be in their children's lives.
It is important to point out that the ruling stated that Siohvaughn had been doing everything in her power to alienate both children from the NBA star for "over two years."
In December 2019, Dwyane described that period of his life as a "tough time," especially because he didn't have many people to ask questions about the process.
Although Dwyane didn't have anyone around to give him confidence that he could "stand a chance," he went through it all with the sole purpose of being in his kids' lives.
DWYANE WADE'S SON, ZAIRE
Nowadays, Dwyane Wade's kids are doing great. Zaire Wade, for example, is a talented basketball player who has been making headlines since 2018.
At that time, he received a scholarship offer to play college basketball for the Nebraska Cornhuskers, University of Nebraska's team. Zaire admitted to feeling "blessed" about it.
When Zaire got the offer, he was a 6-feet-2-inches point guard and a class of 2020 prospect at the American Heritage School in Florida who had two years of high school ahead.
He played high school basketball at Sierra Canyon in California, as well, next to LeBron James' son Bronny James. Sadly, the coach wouldn't include him in the rotation.
ZAIRE WADE'S BASKETBALL CAREER
More recently, in April 2020, Zaire Wade attracted a lot of attention after it was announced that, instead of playing college basketball, he'd join Brewster Academy.
While he had offers from Rhode Island and DePaul, Zaire decided to go to the private boarding school in New Hampshire to boost his reputation and get scholarship offers for higher tier schools.
It is essential to remark that Brewster has won seven National Prep Championships and produced some NBA players, including Utah Jazz's Donovan Mitchell.
In August 2020, Dwyane took to Instagram to share how he felt about dropping off Zaire at Brewster for the first time, and he described it as "a set of emotions" he didn't know existed.
The former NBA player listed some of the things about Zaire that made him proud and finished his heartfelt message by admitting his son was "already built different." [sic].
Zaire Wade is definitely a promising basketball player, but he is also a protective brother willing to protect his sister, Zaya Wade after she came out as transgender. Way to go, young king!