Check Out Brittany Bell's Cute White Outfit during Her Incredible 'Brittany Blessingway' Party
Pregnant Brittany Bell and Nick Cannon just had an incredible "Brittany Blessingway" party, and it was everything that she could ever dream of! Check out these incredible snaps from the memorable day.
Nick Cannon and Britanny Bell are awaiting the birth of their baby. The duo just celebrated a Blessingway, a Navajo ceremony that celebrates a woman's rite of passage into motherhood. 
Taking to her Instagram stories, the beautiful mother-to-be celebrated some amazing snaps from the ceremony, which was complete with mouth-watering food and lavish decorations.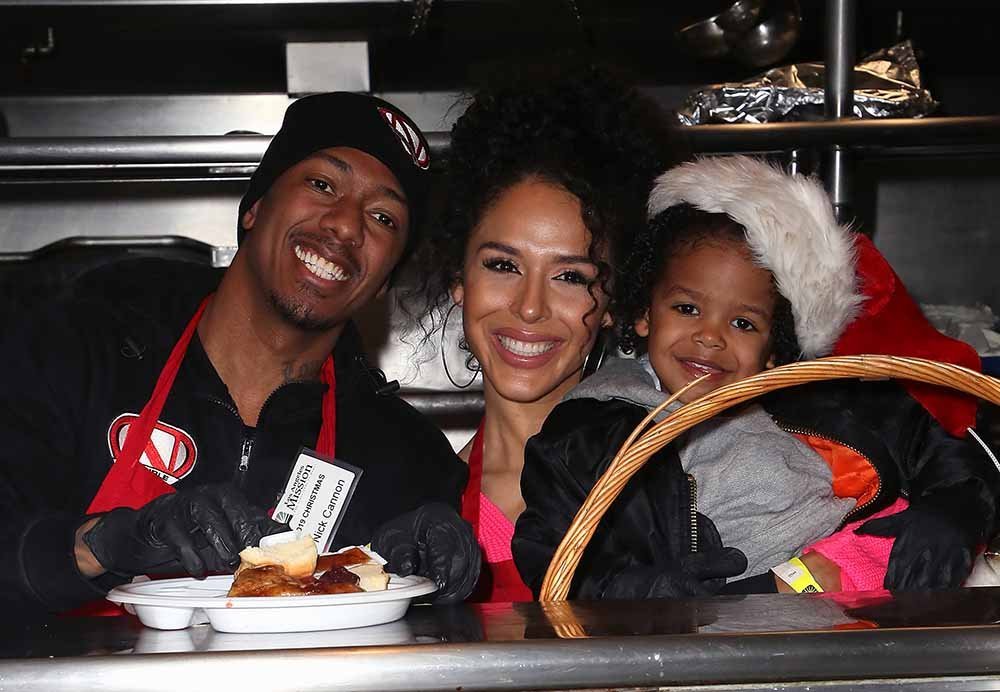 BELL'S SPECIAL DAY
Bell looked like an angel in a white outfit that exposed her growing baby bump. She wore a ruffled off-shoulder top with puffy sleeves and paired it with a matching long skirt. 
Her belly was decorated with sparkling glitter henna, which she called a belly blessing. The ceremony was held outdoors in a magical setting with plenty of roses and lights.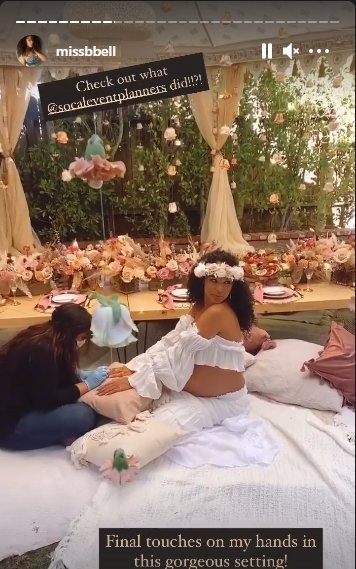 Everything was color coordinated to match the pastel aesthetics. Bell later took to Instagram to share plenty of snaps with Cannon, her rumored partner and baby daddy. 
While multiple sources reported that they had broken up for real this time, the duo was spotted holding hands...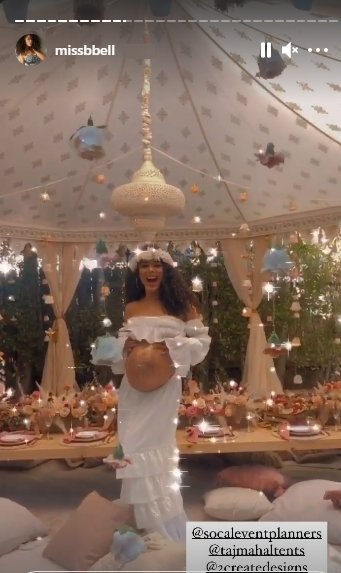 THE FAMILY CAME TOGETHER
Their 3-year-old son, Golden, also shared the frame with his parents as they happily posed together. The photos gave an up-close look at the setting and Bell's beautiful henna art. 
Cannon tenderly touched the 33-year-old's baby bump in a couple of snaps. Bell also shared a cute moment of her small family as she and Cannon held their son upside down with joy.
In the last photo, the trio scooched close to capture a precious moment. Bell wore a mask with Cannon's goofy faces printed on it. Meanwhile, Cannon wore a mask that read "mama gang."
Cannon and Bell were said to have broken up, but the photos say otherwise. They were in an on-and-off relationship before welcoming their son and were reportedly on a break in 2017. 
BELL AND CANNON'S RELATIONSHIP
While multiple sources reported that they had broken up for real this time, the duo was spotted holding hands as they left a restaurant in Malibu, California, on November 9. 
They spent Bell's 33rd birthday together that day. They reportedly laughed and joked all the way as they walked together. None of them have officially confirmed their relationship.