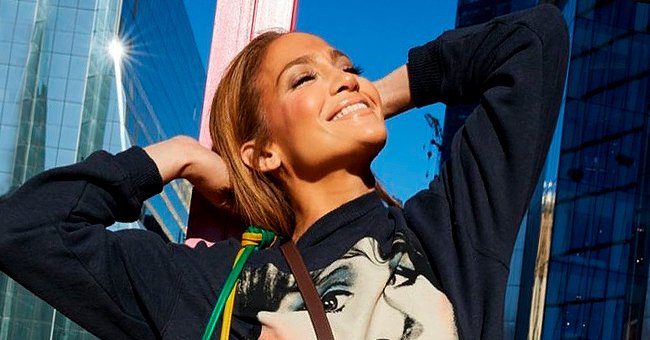 instagram.com/jlo
Jennifer Lopez Is Absolutely Glowing in a Cozy Blue Tracksuit Paired with Colorful Sneakers

The "Hustlers" star Jennifer Lopez knows how to keep things glamorous even in the comfort of her own home, and as she welcomed Christmas with a candid post, she looked amazing with a youthful, urban look.
51-year-old singer and actress Jennifer Lopez has officially welcomed the Christmas season in her social media, appearing in a candid portrait on which she seems to be decorating her backyard with Christmas lights.
On December 6, 2020, Lopez took to her Instagram feed to share a picture of herself sitting on the lawn next to a bush decorated with lights. She looked at the camera with a wide smile as she held a cellphone in her hands.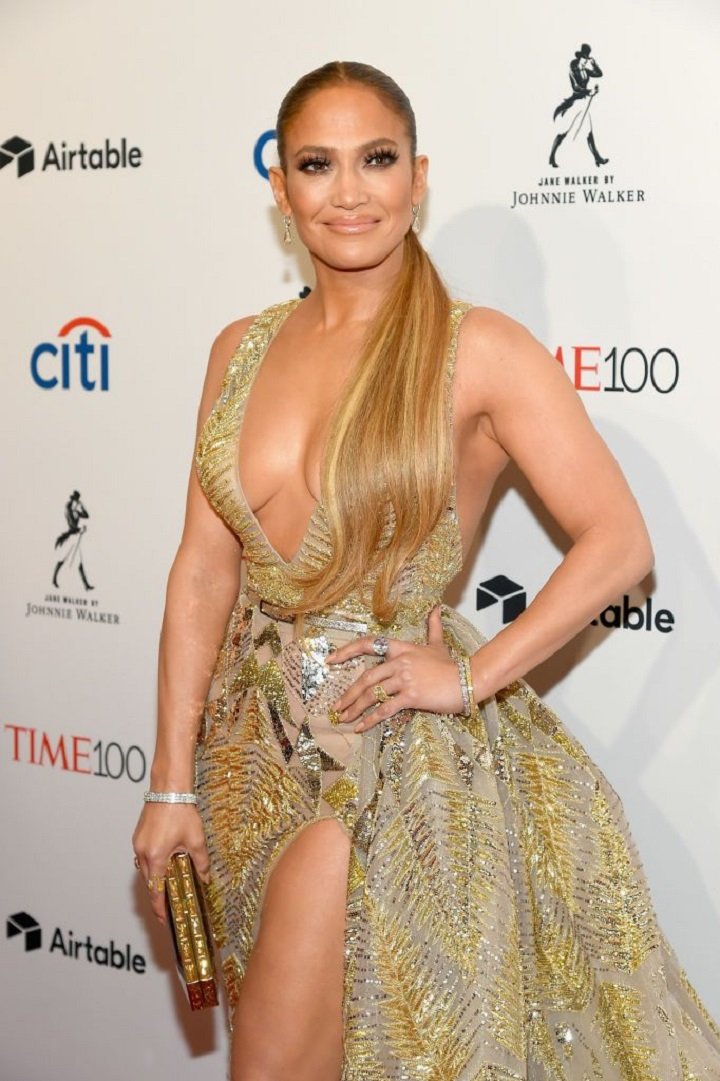 Jennifer Lopez attending the 2018 Time 100 Gala at Jazz at Lincoln Center in New York City in April 2018. | Image: Getty Images.
Lopez wore a stunning blue tracksuit that she paired with colorful sneakers designed by rapper J Balvin for Air Jordan 1, as she acknowledged by mentioning Balvin in the post caption, on which she also promoted her latest collaboration.
"It's the most wonderful time of the year," Lopez captioned the post, making a reference to her duet with celebrity voice coach Stevie Mackey for his debut album, a compilation of classic Christmas songs released in time for the holidays.
The album is titled "The Most Wonderful Time," and Lopez sang a duet with Mackey for the album's first single and title track, which is a cover of a classic Christmas song made popular by Andy Williams in 1963.
On December 3, Lopez unveiled her collaboration with her friend Mackey by sharing a clip of the two of them performing the classic Christmas song after enjoying dinner together.
A LOVING MOTHER
Lopez is the proud mother of two teenage children, twins Emme and Max, who are about to turn 13 years old in early 2021, which reminds the star that she has to snuggle and cuddle them as much as she can before they outgrow it.
Luckily for Lopez, so far her son and daughter, shared with ex-husband Marc Anthony, are still all about climbing on top of their famous mother, and she is enjoying every minute of it.
In a recent Instagram post, Lopez posed for a snapshot in her home clothes as she snuggled Emme and Max on a chair in their living room, and she wished her children a happy Saturday, affectionately referring to them as her "coconuts."
Even though Lopez is yet to marry her fiancé Alex Rodriguez, with whom she has been in a relationship for the last three years, the singer has acted as a loving stepmother to Rodriguez's two daughters Natasha,15, and Ella, 12.
After postponing her wedding to Rodriguez twice this year because of the COVID-19 pandemic, Lopez admitted that she and her fiancé, with whom she became engaged to marry in March 2019, are just giving it time.
Lopez, Rodriguez, and their children, already live like a big, happy, blended family of six, and the celebrity couple is in no rush to make things official with a marriage, so after having waited for this long, it seems better to wait for a better time.
Please fill in your e-mail so we can share with you our top stories!