32-Year-Old Man Doesn't Let Sister's Kids Read His Comic Books
In today's story, a man recounts how his nieces and nephews broke into his hobby room and tried to read some of his comic books, but things ended up being a mess.
On December 5, a 32-year-old man took to Reddit to share a story with his fellow netizens and asked them if he was at fault for how he handled the situation.
He explained that his 34-year-old sister Anne has four "bratty" kids. He didn't mind having them over as long as Anne could watch them, so they didn't touch any "delicate things" at his place.
WREAKED HAVOC
One day, he and his sister were talking in the living room and keeping an eye on his dogs (because the kids usually harass them) when they suddenly heard a "huge crash."
It came from his hobby room, which surprised him because he thought his nieces and nephews were playing in the yard. Once he entered the room, it was chaos.
The man's mom took his sister's side, too, claiming that he overreacted.
The eldest kid, an eight-year-old boy, tried to get his hands on the man's comic book collection. To do so, he stood on a chair, trying to reach the top shelves.
Unfortunately, he lost his balance and fell, bringing the bookshelf down with him. The man emphasized that it was nailed to the wall, so the boy tore it off.
Although it was an accident, the Reddit user got upset as he had told his sister and her children that they were not allowed to get into the hobby room for any reason.
The man "berated" the boy for breaking the shelf and disobeying him, but his sister didn't like it. She said he shouldn't yell at her son but instead show concern that he might be injured.
According to the man, the kid was "perfectly fine." He then told his sister that the boy wouldn't have broken anything if she wasn't "so irresponsible."
BANNED FROM THE HOUSE
The discussion ended after she told him he should share his comic book collection with the kids instead of being selfish, and he asked them to leave.
To make matters worse, he added that the only way his sister and her children were allowed to return to his house was if the boy apologized and she paid for the damages.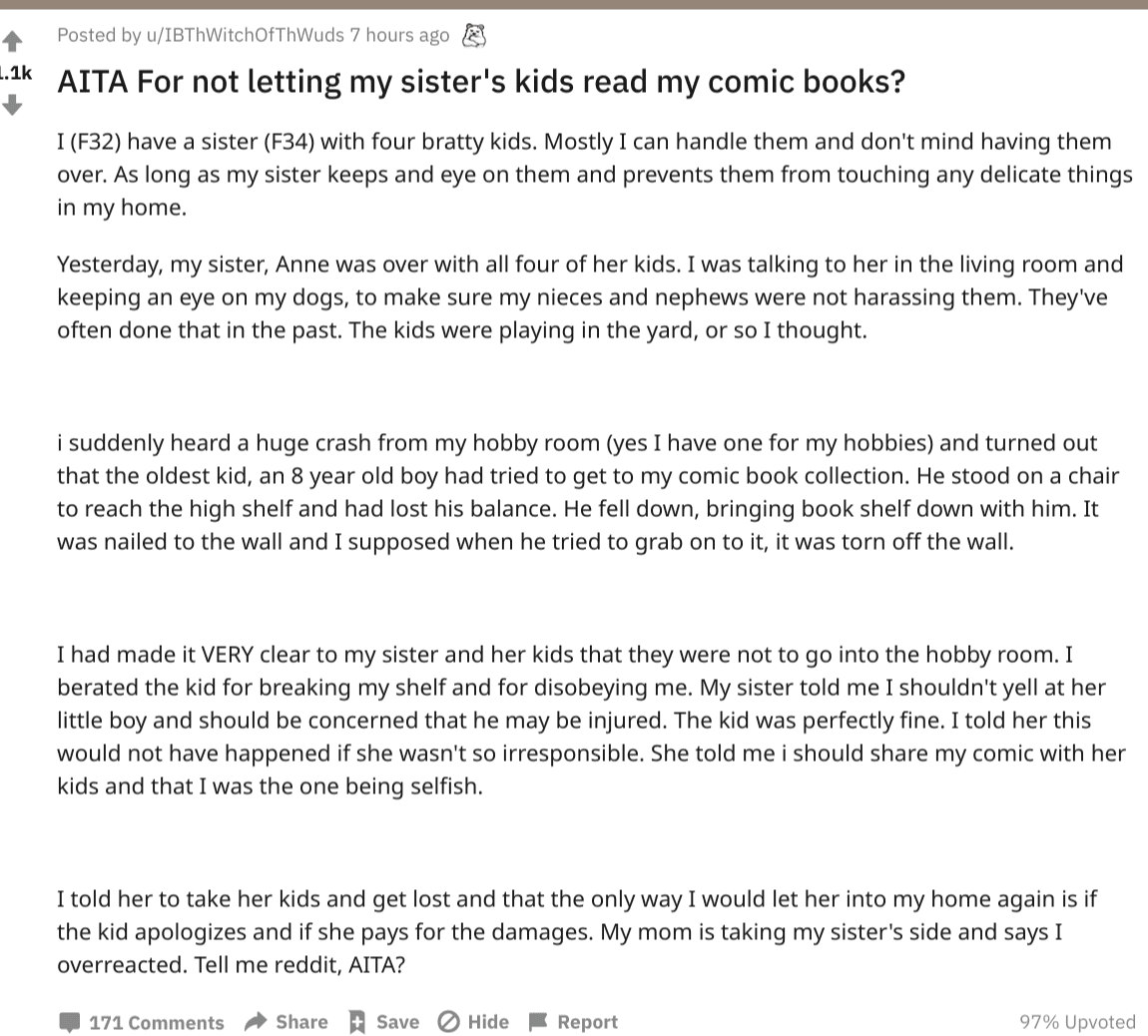 The man's mom took his sister's side, too, claiming that he overreacted, which is why he asked his fellow Reddit users which one of them was right between him and his sister.
Most people voted that he was right. One user wrote that the kids needed to learn that people's boundaries were important. However, they made it clear that the man shouldn't have yelled at the boy.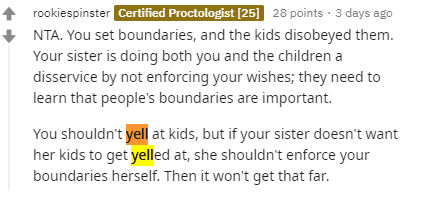 This story reminds us of another one about a woman who had issues with her boyfriend because she decided to keep her dead husband's name.
Her boyfriend felt uncomfortable about it, and although they had no plans to marry, he asked her to change her and her children's last names.