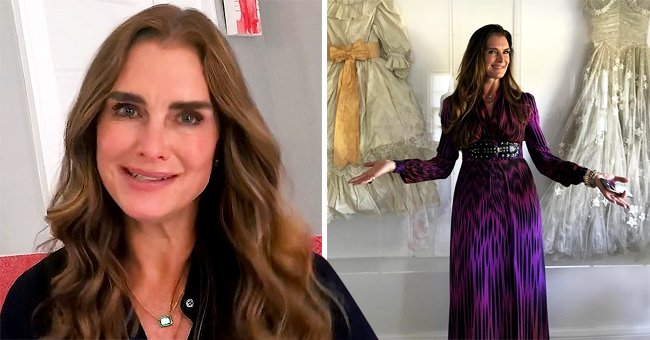 instagram.com/brookeshields
Fans Gush over Brooke Shields, 55, Flaunting Incredible Figure in Chic Belted Floor-Length Gown

Brooke Shields shared a photo of herself in a stunning belted-floor-length gown that showed for the 55-year-old's incredible figure that had fans gushing over the star.
Brooke Shields posed in front of two stunning dresses that were worn to a Royal wedding, with herself looking equally gorgeous in a purple floor-length gown.
The comment section on the post was filled with fans gushing over Shields and her gorgeous figure as well as chiming in with information surrounding the two dresses behind her.
Sticking to the theme of the royal dresses behind her, Shield captioned the post saying she had been loving the Netflix show The Crown, as it reminded her of the photo and the two dresses.
Fans replied saying that they too have been enjoying the show. However. more gushed over the "Jane the Virgin" actress with one comment reading that they had loved Shields in the show,
"You're an amazing actress. Just finished watching Jane the virgin which is incredibly funny. U r a breath of fresh air❤️"
Shields posted another gorgeous photo of herself posing in a cute sundress to Instagram that had fans equally commenting love and support for her.
The photo was of a mask clad Shields posing on a dock wearing a dark floral patterned midi dress with white sneakers and a chic tan sun hat. the caption said she was taking advantage of the weather.
Besides watching "The Crown" Shields shared with Vogue what she has been up to help herself sane during the pandemic where everyone has been encouraged to stay at home.
She has been enjoying puzzles, audiobooks, and baking. Shields shared a hilarious story of a baking mishap she experienced while making pizza dough, she said that she left the dough to rise in the fridge and then,
"It was like the Michelin man had wedged himself into my refrigerator, and then grew five times the size. It was like an alien."
Shields has two teenage daughters, Grier, 14, and Rowan, 17. She revealed earlier this year that her daughters had their first summer jobs so that they could learn the value of money.
Shield shared that they got a paycheck each week that the two girls had worked hard for and it was a great opportunity to give them a larger perspective of what exactly it means to work.
Shields had her two daughters with her husband, Chris Henchy. They have been married for 19 years. Henchy is a producer and screenwriter and worked on films such as "The Other Guys" and "The Campaign."
Shields is well known for her character River Fields on the Tv show "Jane the Virgin'', the show as 5 seasons. Shields featured in the show for 12 episodes.
Please fill in your e-mail so we can share with you our top stories!